10 things you need to know today: July 12, 2017
Donald Trump Jr. faces fresh fallout over Russia-meeting emails, McConnell delays Senate recess to work on GOP health bill, and more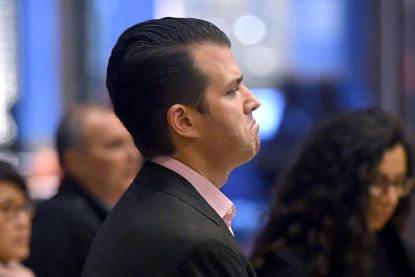 (Image credit: TIMOTHY A. CLARY/AFP/Getty Images)
Sign up to our 10 Things You Need to Know Today newsletter
A free daily digest of the biggest news stories of the day - and the best features from our website
Thank you for signing up to TheWeek. You will receive a verification email shortly.
There was a problem. Please refresh the page and try again.
1. Donald Trump Jr. faces fresh fallout after releasing emails on Russia meeting
Donald Trump Jr. on Tuesday released his "entire email chain" with publicist Rod Goldstone regarding the meeting he had with a Kremlin-linked Russian lawyer in June 2016. In the emails, Goldstone tells of "official documents and information that would incriminate Hillary [Clinton] and her dealings with Russia and would be very useful" to then-GOP presidential nominee Donald Trump's campaign. "This is obviously very high-level and sensitive information but is part of Russia and its government's support for Mr. Trump," Goldstone wrote. "If it's what you say I love it," President Trump's eldest son responded. Trump Jr. said he released the emails "to be totally transparent" and reiterated that he gleaned "no information" from this meeting. An outside ally said the revelations have set off a "Category 5 hurricane" in the White House, threatening the administration's agenda and leaving President Trump fuming.
The New York Times The Washington Post
2. McConnell delays August recess so Senate can work on health bill
Senate Majority Leader Mitch McConnell (R-Ky.) announced Tuesday that he was delaying the Senate's August recess to allow time to complete work on the GOP health bill and other legislation, such as raising the federal debt ceiling. McConnell said the extra time was needed for continuing negotiations on the GOP proposal to replace ObamaCare, with too many moderates and conservatives still opposing the bill for it to pass. He also blamed Democrats for blocking GOP priorities. "To provide more time to complete action on important legislative items and process nominees that have been stalled by a lack of cooperation from our friends across the aisle, the Senate will delay the start of the August recess until the third week of August," McConnell said in a statement. Senate Republicans plan to reveal a new draft of the proposed ObamaCare replacement plan on Thursday with a vote to come next week.
Subscribe to The Week
Escape your echo chamber. Get the facts behind the news, plus analysis from multiple perspectives.
SUBSCRIBE & SAVE
Sign up for The Week's Free Newsletters
From our morning news briefing to a weekly Good News Newsletter, get the best of The Week delivered directly to your inbox.
From our morning news briefing to a weekly Good News Newsletter, get the best of The Week delivered directly to your inbox.
3. Judge halts deportation of 1,400 Iraqis
A federal judge ruled Tuesday that 1,400 Iraqi immigrants cannot be deported from the United States while courts are reviewing their cases. The Justice Department argued that the court did not have jurisdiction in the case, but U.S. District Judge Mark Goldsmith rejected that argument. He said that, if deported, the Iraqis would be exposed to "substantiated risk of death, torture, or other grave persecution before their legal claims can be tested in a court," denying them constitutional rights. Goldsmith's case directly concerned the cases of 114 Iraqis, most of them Christians, who were arrested in Detroit and ordered deported because they had committed crimes, but he had extended it to affect all 1,400 Iraqi nationals across the U.S. facing similar removal orders. Some of the Iraqis committed their crimes years, even decades ago but were allowed to stay in the U.S. because Iraq would not issue them travel documents.
Detroit Free Press The Associated Press
4. China sends troops to first overseas base
Ships carrying Chinese troops departed China on Tuesday and headed toward the country's first overseas naval base, which is being built in Djibouti in the Horn of Africa. China launched construction of the logistics base last year. It plans to use the facility to resupply ships involved in peacekeeping and humanitarian missions off of Yemen and Somalia, and other projects. Due to Djibouti's strategic location on the northwestern limits of the Indian Ocean, India has expressed concern that the base would extend China's "string of pearls" consisting of military allies and material surrounding India.
5. Trump to leave on trip for talks with French president
President Trump is scheduled to travel to Paris late Wednesday for a meeting with French President Emmanuel Macron to discuss collaborating on Syria and efforts to fight terrorism. Trump and Macron are both political newcomers who won election upsets, but they have been divided on key issues, including climate change and trade. Macron invited Trump to celebrate France's July 14 Bastille Day national holiday and to mark the 100-year anniversary of the arrival of U.S. forces in World War I. Aides to both leaders say the visit will provide a good opportunity to push past their differences and find ways to work together.
6. Markets cautious ahead of Yellen remarks to Congress
Federal Reserve Chair Janet Yellen is due to testify to Congress on the U.S. central bank's semiannual report on Wednesday, potentially giving investors and analysts clues on the Fed's plans on interest rates. Yellen is expected to indicate that the Fed plans to add more gradual rate hikes to the three it has made since December if the economy continues to show solid job growth, even though inflation has slowed after nearing the Fed's 2 percent target level. U.S. stock market futures were mostly flat early Wednesday in a sign of investor caution ahead of Yellen's remarks, and turmoil in Washington over recent revelations regarding Donald Trump Jr.'s emails about a 2016 meeting with a Russian lawyer, in which he was promised dirt on Hillary Clinton, then his father's Democratic opponent in the race for president.
The Associated Press MarketWatch
7. U.S.-led coalition calls Amnesty report on Mosul 'irresponsible'
The U.S.-led coalition on Wednesday called an Amnesty International report accusing it of violating international law in the nine-month fight to drive the Islamic State out of Mosul, Iraq, "irresponsible." "War is not pleasant, and pretending that it should be is foolish and places the lives of civilians and soldiers alike at risk," Col. Joe Scrocca, a coalition spokesman, said. The report, released Tuesday, said that Iraqi civilians faced "relentless and unlawful attacks," and that ISIS fighters had used some of them as human shields. Amnesty said 5,805 civilians may have been killed by coalition strikes during the battle for western Mosul. Iraqi Prime Minister Haider al-Abadi declared "total victory" in Mosul on Monday, although clashes were reported on the edge of the Old City on Tuesday.
8. MSNBC host Joe Scarborough leaves Republican Party
Morning Joe co-host Joe Scarborough, a former GOP congressman, is leaving the Republican Party. The MSNBC broadcaster announced his decision Tuesday during a taping of Tuesday's Late Show With Stephen Colbert. "I'm not going to be a Republican anymore," Scarborough said. "I've got to become an independent." He said the GOP "betrayed their core values" ahead of President Trump's win in the 2016 election, with too few Republicans objecting to racially insensitive remarks during the campaign. "Time and time and time again they turned the other way," Scarborough told Colbert. "And they're doing the same thing now. And it's actually disgusting."
9. Workers strike at three New York-area airports
Hundreds of workers at New York-area airports went on strike Tuesday night in a labor dispute with PrimeFlight Inc., which subcontracts their services to airlines. About 700 people who provide services at curbside and inside the terminals, including wheelchair attendants, skycaps, baggage handlers, cleaners, and shuttle drivers, walked out at New York's JFK and LaGuardia airports, and New Jersey's Newark airport. The workers approved the walkout in a vote earlier this week. The strike could disrupt flights for United Airlines, American Airlines, and JetBlue.
10. Beachgoers form human chain to rescue swimmers caught in rip current
More than 40 good Samaritans formed a human chain to wade into the Gulf of Mexico off of Panama City, Florida, to rescue swimmers caught in a powerful rip current over the weekend, according to news reports that circulated Tuesday. Two elementary-school-age boys on boogie boards got caught in the current, then their mother, grandmother, and uncle swam out to help, as did two onlookers, Brittany Monroe, 25, and her wife, Tabatha Monroe, 35. They all got caught in the current, too. "The only thing that popped into my mind was if you've ever watched ants, when one of their babies is in trouble and can't move, they start making a chain in order to pass them down the line to get them to safety," said Derek Simmons, who came up with the rescue plan with his wife, Jessica Simmons. "That's the only thing I was thinking of, if we're arm to arm, we can get them."
Continue reading for free
We hope you're enjoying The Week's refreshingly open-minded journalism.
Subscribed to The Week? Register your account with the same email as your subscription.