10 things you need to know today: December 6, 2017
Trump says he'll recognize Jerusalem as Israel's capital, Conyers retires under pressure after sexual harassment allegations, and more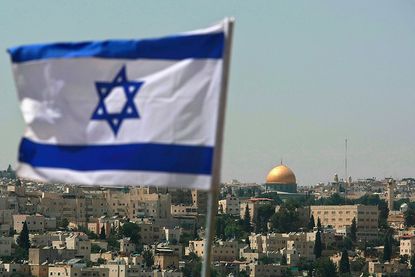 (Image credit: David Silverman/Getty Images)
Sign up to our 10 Things You Need to Know Today newsletter
A free daily digest of the biggest news stories of the day - and the best features from our website
Thank you for signing up to TheWeek. You will receive a verification email shortly.
There was a problem. Please refresh the page and try again.
1. Trump says U.S. will recognize Jerusalem as Israel's capital
President Trump told Israeli and Arab leaders on Tuesday that he will recognize Jerusalem as Israel's capital. Trump is expected to formally announce his decision on Wednesday. Trump also said he planned to move the U.S. embassy to the city, a significant holy place for Jews, Christians, and Muslims. Trump told Palestinian President Mahmoud Abbas, Egypt's Abdel Fattah el-Sisi, Saudi Arabia's King Salman, and Jordan's King Abdullah about his plans, prompting all of their countries to condemn the move and warn it would destabilize the region and undermine the Trump administration's efforts to renew peace negotiations in the Middle East.
2. Conyers retires after allegations of sexual harassment
Rep. John Conyers (D-Mich.) resigned Tuesday under rising pressure from members of his own party after a growing number of women who worked for him accused him of sexual harassment and other mistreatment. Conyers had already stepped down as the ranking Democrat on the House Judiciary Committee pending an ethics investigation into the allegations. Speaking from a Detroit hospital where he is being treated for stress-related illness, the 88-year-old congressman said he was "putting his retirement plans together." He endorsed his son John Conyers III to fill his seat. Conyers, a founding member of the Congressional Black Caucus, said his legacy "can't be compromised or diminished" by the scandal. "This, too, shall pass," he said. "My legacy will continue through my children."
Subscribe to The Week
Escape your echo chamber. Get the facts behind the news, plus analysis from multiple perspectives.
SUBSCRIBE & SAVE
Sign up for The Week's Free Newsletters
From our morning news briefing to a weekly Good News Newsletter, get the best of The Week delivered directly to your inbox.
From our morning news briefing to a weekly Good News Newsletter, get the best of The Week delivered directly to your inbox.
3. Supreme Court justices split in gay rights case
Supreme Court justices asked questions suggesting a split along ideological lines on Tuesday during oral arguments in a dispute over a Colorado baker's refusal to make a wedding cake for a same-sex couple. "Cake artist" Jack Phillips says making a cake celebrating gay marriage would violate his religious beliefs. The court's liberal justices asked whether he could refuse service to other groups or minorities if he could turn away a same-sex couple. Justices in the court's conservative majority appeared to give Phillips leeway to decide whether baking a cake for a gay wedding went against his religious and free speech rights. Swing Justice Anthony Kennedy asked pointed questions to both sides, saying denying service is "an affront to the gay community" but that Colorado officials had shown "hostility to religion" by cracking down on Phillips.
4. Senate confirms Kirstjen Nielsen as homeland security secretary
The Senate confirmed Kirstjen Nielsen as the next homeland security secretary on Tuesday in a 62-37 vote. Nielsen served as deputy chief of staff at the department when John Kelly, now White House chief of staff, ran it. She has served as Kelly's deputy at the White House and is considered his loyal confidant. Nielsen, 45, is an attorney and cybersecurity expert, and she will be the first DHS secretary with previous experience working at the agency, which handles border patrol, immigration enforcement, domestic counterterrorism, and disaster response. Her confirmation gives President Trump a DHS chief familiar with his immigration enforcement policies. Democrats who voted against Nielsen said she lacked the leadership experience necessary to run the department free from White House interference.
5. Russian team barred from 2018 Winter Olympics
The International Olympic Committee barred Russia's Olympic team from competing in the 2018 Winter Games in Pyeongchang, South Korea, as punishment after confirming Moscow's extensive state-backed doping program. Russian officials also were banned due to the government's role in cheating at the 2014 Sochi Games, where operatives of Russia's sports ministry tampered with more than 100 urine samples to hide star athletes' steroid use. Olympic officials have tossed out performances by more than two dozen athletes and rescinded numerous medals. Russian officials have called the penalties insulting and threatened to boycott the IOC. Some athletes cleared in an investigation will be allowed to compete wearing a neutral uniform.
6. Arrests along Mexico border drop
The number of people caught crossing illegally from Mexico into the U.S. fell to the lowest level in 46 years in the last year, according to Homeland Security figures released Tuesday. Border agents made 310,531 arrests, down 24 percent from the previous year. The number of people being caught fell sharply immediately after President Trump's election, a possible reaction to his harsh rhetoric against undocumented immigrants. Arrests of people living in the U.S. illegally have surged. Immigration and Customs Enforcement officers detained 110,568 undocumented people from Trump's inauguration to the end of September, a 42 percent increase over the same period last year.
7. Winds fuel California wildfire that has forced tens of thousands to evacuate
Dry Santa Ana winds on Tuesday continued to fan a fast-moving wildfire that has forced tens of thousands of Southern California residents to flee their homes. The blaze, named the Thomas Fire, broke out Monday night and quickly scorched more than 45,000 acres and destroyed hundreds of homes and other buildings, burning out of control. "This fire is very dangerous and spreading rapidly, but we'll continue to attack it with all we've got," California Governor Jerry Brown said in a written statement. "It's critical residents stay ready and evacuate immediately if told to do so."
8. British intelligence agency foils alleged assassination plot
Britain's domestic intelligence agency, MI5, reportedly foiled a plot by Islamist terrorists to assassinate Prime Minister Theresa May. MI5 leaders reportedly revealed the plot to cabinet members on Tuesday. Two men — Naa'imur Zakariyah Rahman, 20, and Mohammed Aqib Imran, 21 — are to appear in a London court Wednesday to face terror charges in the case. The suspects allegedly plotted to detonate a bomb outside the gates at the entrance to Downing Street, where the prime minister's residence is located, and stab May in the ensuing chaos. May's spokesman declined to discuss the details of the alleged plot. The suspects reportedly were arrested last week.
9. Trump lawyer asks judge to dismiss defamation lawsuit
President Trump's private lawyer on Tuesday asked a state judge to dismiss a sexual harassment allegation filed by a woman, Summer Zervos, who was a contestant on the TV reality show The Apprentice when Trump was host. Trump accused Zervos of lying when she said he grabbed her breast, forcibly kissed her, and thrust his genitals, saying she "made up" the allegations to help Democrat Hillary Clinton beat him in last year's election. Zervos filed a defamation suit, and her lawyer said Tuesday that Trump "cannot be allowed to attack a woman who has factually described his sexual groping and be allowed to get off scot-free." Trump's lawyer said he was immune from such suits in state court while serving as president.
10. Former employees accuse gossip editor of sexual misconduct
Twelve former employees of gossip publications owned by American Media Inc., including National Enquirer and Us Weekly, said top editor Dylan Howard frequently engaged in inappropriate sexual behavior, including openly describing sexual partners and forcing women to watch or listen to pornography, The Associated Press reported Tuesday. Howard allegedly gave himself the nickname "Dildo" and made inappropriate comments in the office, including telling colleagues that "he wanted to create a Facebook account on behalf of [another employee's] vagina," AP writes. Another editor said Howard "encouraged her to have sex with people for information." He quit after an internal investigation in 2012, but was rehired. He called the new claims "baseless."
Continue reading for free
We hope you're enjoying The Week's refreshingly open-minded journalism.
Subscribed to The Week? Register your account with the same email as your subscription.
Sign up to our 10 Things You Need to Know Today newsletter
A free daily digest of the biggest news stories of the day - and the best features from our website
Harold Maass is a contributing editor at TheWeek.com. He has been writing for The Week since the 2001 launch of the U.S. print edition. Harold has worked for a variety of news outlets, including The Miami Herald, Fox News, and ABC News. For several years, he wrote a daily round-up of financial news for The Week and Yahoo Finance. He lives in North Carolina with his wife and two sons.