10 things you need to know today: July 29, 2018
California's Carr Fire kills 2 children and their great-grandmother, Giuliani says Cohen's tapes prove Mueller's 'investigation is going nowhere,' and more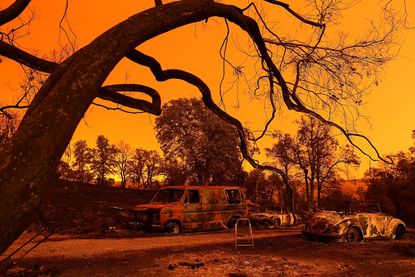 (Image credit: Justin Sullivan/Getty Images)
1. California's Carr Fire kills 2 children and their great-grandmother
California's Carr Fire grew from 48,000 to 80,000 acres Saturday and claimed the lives of three more people. James Roberts, 5, and Emily Roberts, 4, were trapped by a wall of flames with their great-grandmother, Melody Bledsoe, 70, on their family's property near Redding. Two firefighters were previously killed by the blaze, one, Ray Smith, a bulldozer operator who was clearing vegetation, and the other, Jeremy Stoke, a Redding fire inspector. More than a dozen other people are missing. Two other fires started about 100 miles southwest of Redding Friday, and California is dealing with a total of 14 large wildfires in locations across the state.
2. Giuliani says Cohen's tapes prove Mueller's 'investigation is going nowhere'
The secret recordings of President Trump made by his former personal attorney, Michael Cohen, prove Special Counsel Robert Mueller's "investigation is going nowhere," Trump's current personal attorney, Rudy Giuliani, argued Sunday. "Donald Trump didn't do anything wrong; he didn't commit a crime of any kind," Giuliani said on an early morning radio appearance on New York's AM 970. "This is exactly what the president has always said it is, whether he meant it or not, this is turning out to be a witch hunt."
Subscribe to The Week
Escape your echo chamber. Get the facts behind the news, plus analysis from multiple perspectives.
SUBSCRIBE & SAVE
Sign up for The Week's Free Newsletters
From our morning news briefing to a weekly Good News Newsletter, get the best of The Week delivered directly to your inbox.
From our morning news briefing to a weekly Good News Newsletter, get the best of The Week delivered directly to your inbox.
3. Midterms reach 100-day mark
Saturday marked 100 days left until the 2018 midterm elections. The main prize to be won in national politics is control of the House of Representatives, which Republicans have held since the Tea Party election in 2010. Democrats need to gain 23 seats to flip the House, and current polling gives them a slight edge to win. President Trump's approval rating has stabilized in the low-40s; for comparison, President Obama's rating was around 45 percent when his party lost 63 seats in 2010, the first midterm race of his administration.
4. Koch network meeting slams Trump tariffs
A conference of donors in Charles Koch's political network on Saturday blasted President Trump's trade war. "The divisiveness of this White House is causing long-term damage," said Brian Hooks, one of Koch's top deputies. "When in order to win on an issue, somebody else has to lose, it makes it very difficult to unite people to solve the problems of this country. You see that on trade: In order to get to a good place on trade, convince the American people that trade is bad." Koch himself labeled Trump's approach to tariffs a "destructive" tendency of "protectionism."
5. Zimbabwe holds first post-Mugabe election
Zimbabweans go to the polls Monday in the first election since the country's longtime dictator, former President Robert Mugabe, was ousted in November. The race pits Mugabe's successor and former ally, acting President Emmerson Mnangagwa, 75, against Nelson Chamisa, 40, an opposition leader. Most expect Mnangagwa to win, particularly because his party, Zanu-PF, controls state-run media and is far better funded than Chamisa's campaign. Nevertheless, opposition activists intend to protest if they believe the election is rigged. Mugabe on Sunday backed Chamisa, saying he would not "vote for those who have tormented me."
6. Indonesian earthquake kills at least 14
At least 14 people were killed and 160 injured when a 6.4-magnitude earthquake struck Indonesia's Lombok Island on Sunday. The island is a popular tourist destination close to Bali, and the initial quake was followed by about 60 smaller tremors as well as a landslide. More than 1,000 houses were damaged, and utility outages are widespread. "The main focus now is evacuation and rescue," said Sutopo Purwo Nugroho of Indonesia's disaster relief agency. "Some of the injured are still being treated at clinics."
The Wall Street Journal BBC News
7. New Orleans shooting leaves 3 dead, 7 wounded
Three people were killed and seven wounded, one critically, in an apparently indiscriminate shooting in New Orleans Saturday night. The two suspects responsible, thought to be armed with a rifle and a handgun, remain on the loose. The shooters targeted a crowd outside a daiquiri shop, firing at random before seeming to aim at one person in particular. They then fled on foot. "There is no place in New Orleans for this kind of violence," said Mayor LaToya Cantrell, pledging to devote "every resource necessary to ending this horror and seeing justice done."
8. Apparent murder-suicide leaves 5 dead in Texas
Five people were found dead Friday night in what police believe to be a murder-suicide in Robstown, Texas, a small town near the state's southern coast. Three of the people killed were discovered at a nursing home, and two were at the shooting suspect's house. The suspect was identified as Richard Starry, 60, and the victims named were his father, stepmother, the stepmother's son, and the couple's adopted son. "Our hearts go out to the victims' families and the residents, visitors, and employees at Retama Manor [Nursing Center] who experienced this tragedy," said Robstown police chief Erasmo Flores.
9. Civil rights icon Rep. John Lewis hospitalized
Rep. John Lewis (D-Ga.) was hospitalized Saturday night for "routine observation" for an undisclosed illness. The civil rights icon, 78, is "resting comfortably" and expects to be released from the hospital Sunday, his office reports. Lewis reportedly became ill while flying home to Atlanta on Saturday, and he is being cared for in the metro area. As a young man, Lewis marched with Martin Luther King Jr. for voting rights in Selma, Alabama. Images of the beating he suffered at the hands of police helped spur support for the Voting Rights Act.
10. Palestinian teen released from prison
A Palestinian teenager jailed for slapping an Israeli soldier was released from prison in Israel and returned to her village Sunday. Ahed Tamimi, 17, was 16 when she was arrested and charged with aggravated assault for the slap in December. Amid international uproar, she pleaded guilty to reduced charges and was sentenced to eight months in a closed-door trial. Saleh Higazi of Jerusalem's branch of Amnesty International said Tamimi served an "unjust sentence based on the ridiculous premise that she posed a threat to armed and heavily protected soldiers." Israel Minister of Culture Miri Regev labeled the teenager a "terrorist."

Continue reading for free
We hope you're enjoying The Week's refreshingly open-minded journalism.
Subscribed to The Week? Register your account with the same email as your subscription.