10 things you need to know today: November 1, 2018
Trump increases potential border troop deployment to 15,000, mourners gather for a second day of funerals in Pittsburgh, and more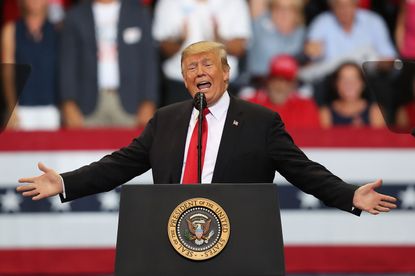 (Image credit: Joe Raedle/Getty Images)
1. Trump now says 15,000 troops could be sent to southern border
President Trump told reporters Wednesday that he might sharply increase the number of troops he is deploying to the Mexican border. He already increased the deployment from 800 to 5,200 troops, but on Wednesday he said the number could rise to 15,000, roughly the number of troops the U.S. has in Afghanistan. Trump's statement reportedly caught the Defense Department by surprise. Trump says the massive deployment of active-duty troops is necessary to block a "caravan" of about 4,000 migrants slowly moving through Mexico to the U.S. border. "You have caravans coming up that look a lot larger than it's reported actually," Trump told ABC News on Wednesday. "I'm pretty good at estimating crowd size." Critics have accused Trump of politicizing the use of the military.
2. Mourners gather for second day of funerals in Pittsburgh
Mourners gathered Wednesday for a second day of funerals for victims of Saturday's mass shooting at the Tree of Life synagogue in Pittsburgh. At Beth Shalom Synagogue, people mourned Joyce Fienberg, 75, a well-loved University of Pittsburgh researcher. At Rodef Shalom Temple, people lined up for visitation to honor Irving Younger, 69. "He wasn't the tallest guy, but he had the biggest heart," said longtime friend Marsha Mintz, 74. Seven of the victims have now been buried, with some burials held up due to the investigation. The last funeral, for Rose Mallinger, 97, is scheduled for Friday. It was delayed partly because her daughter was shot in the arm and is still recovering in a hospital.
Subscribe to The Week
Escape your echo chamber. Get the facts behind the news, plus analysis from multiple perspectives.
SUBSCRIBE & SAVE
Sign up for The Week's Free Newsletters
From our morning news briefing to a weekly Good News Newsletter, get the best of The Week delivered directly to your inbox.
From our morning news briefing to a weekly Good News Newsletter, get the best of The Week delivered directly to your inbox.
3. Suspect in Pittsburgh synagogue massacre indicted on 44 federal charges
Robert Bowers, the man accused of killing 11 people at Pittsburgh's Tree of Life synagogue on Saturday, has been indicted on 44 federal charges. They include federal hate crimes and violent crimes involving a firearm, and could land Bowers with the death penalty, Attorney General Jeff Sessions announced Wednesday. The federal charges add to the dozens of state and local charges Bowers was hit with this weekend, including 11 counts of homicide. Victims mentioned in the charges include not just the 11 killed in the deadliest anti-Semitic attack in U.S. history, but also two injured victims, nine who escaped unharmed, and four injured law enforcement officers.
The Washington Post Pittsburgh Post-Gazette
4. Trump slams Paul Ryan for dismissing his claim he can end birthright citizenship
President Trump criticized House Speaker Paul Ryan (R-Wis.) on Wednesday for dismissing Trump's claim that he can end birthright citizenship with an executive order. Trump tweeted that Ryan "knows nothing about" the issue and "should be focusing on holding the Majority" in the House in next week's midterm elections. Trump said at a Wednesday rally that birthright citizenship was a "crazy policy," and that he can end it without action from Congress or a change to the Constitution. Ryan has said he "obviously" can't. Legal experts on the left and the right agree that the 14th Amendment guarantees citizenship to those born in the U.S. An aide defended Ryan, saying attacking him was "a great way to screw up the message a week before the election."
5. Turkey: Saudis strangled Khashoggi shortly after he entered consulate
Journalist Jamal Khashoggi was strangled shortly after entering Saudi Arabia's consulate in Istanbul a month ago, then dismembered inside the building, Turkey's public prosecutor announced Wednesday, citing the government's findings. The official investigation also concluded that Khashoggi's murder was premeditated and conducted by a 15-person team, though it could not produce "concrete" findings. Saudi Arabia's prosecutor left after two days of talks in Istanbul without revealing where Khashoggi's body might be, making Turkey's statement the most official report to date. Saudi Arabia first claimed that Khashoggi left alive after going to the consulate to get marriage documents, then it said he was killed in a "botched interrogation." Later, it said rogue operatives pre-planned the killing.
6. Divers recover crashed Lion Air jetliner's flight data recorder
Divers in Indonesia recovered the flight data recorder from Lion Air Flight JT610 on Thursday, a key step in determining why the two-month-old Boeing 737 MAX 8 jetliner crashed early Monday minutes after taking off from the Indonesian capital of Jakarta. All 189 people on board were killed. Divers recovered the black box from the sea floor at a depth of 98 feet. The search for the cockpit voice recorder continued. Meanwhile, relatives buried the first victim to be identified, 24-year-old Jannatun Cintya Dewi, and prayed over her flower-covered grave. Other funerals will have to wait, as DNA tests to identify remains could take up to eight days.
7. Report: Senate committee looks at Bannon's campaign role
The Senate Intelligence Committee is conducting a broad investigation into the activities of Stephen Bannon, President Trump's former chief strategist, during the 2016 presidential election, including his role at Cambridge Analytica, Reuters reported Wednesday, citing three people with knowledge of the matter. The committee is examining what Bannon might know about contacts between two Trump campaign advisers, George Papadopoulos and Carter Page, and Moscow. They also want to know about his time as vice president of Cambridge Analytica, a defunct data analysis company. Two people told Reuters investigators hope to interview Bannon in late November. Bannon's lawyer told Reuters the committee "has never suggested that he's under investigation himself."
8. Trump, Brady say no middle-class tax cut this year
President Trump and Rep. Kevin Brady (R-Texas), the top Republican tax-writer in Congress, acknowledged that there was no way to deliver on Trump's pledge to pass a tax cut for middle-class Americans this year. Trump made the promise at a Nevada rally less than two weeks ago. Critics said Trump was making an empty promise to win Republican votes in next week's midterm elections. "There was never a plan," said Howard Gleckman, a senior fellow at the Tax Policy Center. Trump and Brady, chairman of the House Ways and Means Committee, said they remained "committed to delivering an additional 10 percent tax cut to middle-class workers across the country," but that it would have to be passed by the new Congress next year.
9. U.S. workers get biggest wage increase in years
Wages for U.S. workers rose by 2.9 percent from September 2017 to September 2018, their biggest increase (not adjusted for inflation) since 2008, the Labor Department reported Wednesday. The gains came as the unemployment rate dropped to a 49-year low and companies faced increasingly tough competition for recruiting and keeping qualified employees. The jump in wages came as prices rose, especially for gas and rent. Adjusting for inflation, wages rose by 0.6 percent, still the largest increase since 2016. Slow pay growth has been a key problem through the recovery from the Great Recession. "Wages are grinding higher as the labor market continues to tighten," said Justin Weidner, an economist at Deutsche Bank.
10. No-fly zone and military drill ban take effect on North, South Korea border
North and South Korea implemented a no-fly zone and a ban on military drills near their heavily fortified border on Thursday, marking a significant step in their efforts to defuse tensions. The two sides agreed to the measures in a military accord reached last month in a summit in Pyongyang in which they pledged to halt "all hostile acts" and gradually remove landmines and guard posts in the Demilitarized Zone. The U.S. has expressed concern that the efforts are going too fast, and could hurt defense readiness as Washington presses North Korea for more progress toward keeping its promises on denuclearization.

Continue reading for free
We hope you're enjoying The Week's refreshingly open-minded journalism.
Subscribed to The Week? Register your account with the same email as your subscription.