10 things you need to know today: November 13, 2018
Democrat Kyrsten Sinema wins Arizona's Senate race, Trump says Florida should end its recounts, and more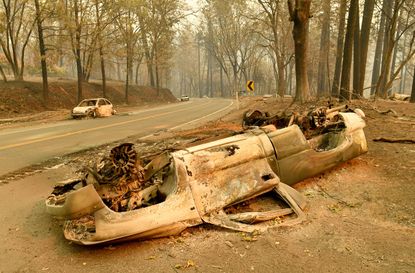 (Image credit: JOSH EDELSON/AFP/Getty Images)
1. Sinema wins Arizona's Senate race in pickup for Democrats
Democratic Rep. Kyrsten Sinema won Arizona's tight Senate race against Republican Rep. Martha McSally, flipping the seat and reducing the GOP's Senate gain coming out of last week's midterms. The seat was left open when Sen. Jeff Flake (R) decided not to run for re-election. Sinema was behind on election night but gained as more ballots were tallied, with her lead growing to 1.7 percentage points in the last few days, putting the contest out of reach for McSally. Sinema overcame GOP attacks over her liberal record in the Arizona state legislature, and pledged in her victory speech to "put country ahead of party" the way the late Sen. John McCain (R-Ariz.) did. McSally, a House freshman, had been considered a moderate but allied herself closely with President Trump in the Senate campaign.
2. Trump calls for ending Florida recounts
President Trump on Monday called on Florida election officials to end recounts in the too-close-to-call Senate and gubernatorial races, and declare fellow Republicans Rick Scott and Ron DeSantis the winners. Both held narrow leads on election night that have grown even thinner as more votes were counted in heavily Democratic Broward County. Scott, the state's outgoing governor, now leads incumbent Sen. Bill Nelson and DeSantis leads Tallahassee Mayor Andrew Gillum by less than 0.5 percent, the threshold to trigger automatic recounts that are now underway. Nelson is within 0.25 percent, close enough to qualify for a manual recount. Trump and Scott have claimed Democrats are resorting to fraud to win, but state law enforcement and elections officials say there is no evidence supporting their allegations.
Subscribe to The Week
Escape your echo chamber. Get the facts behind the news, plus analysis from multiple perspectives.
SUBSCRIBE & SAVE
Sign up for The Week's Free Newsletters
From our morning news briefing to a weekly Good News Newsletter, get the best of The Week delivered directly to your inbox.
From our morning news briefing to a weekly Good News Newsletter, get the best of The Week delivered directly to your inbox.
3. Northern California fire becomes deadliest in state history
The death toll from the Camp Fire in Northern California's Butte County rose to 42 on Monday, making it the deadliest fire in the state's history. The fire was still just 30 percent contained after burning 117,000 acres and destroying 7,177 homes and businesses, many in the devastated town of Paradise, according to the California Department of Forestry and Fire Protection or Cal Fire. Two more fires threatened communities in Southern California. One of the blazes, the Woolsey Fire, grew to 93,662 acres on Monday in Los Angeles and Ventura counties. It has killed two people and destroyed 435 homes and other structures in the celebrity enclaves of Malibu, West Lake Village, and Calabasas.
4. Roger Stone associate expects to be indicted
Conservative conspiracy theorist Jerome Corsi, an associate of Roger Stone, who is a confidant of President Trump, said Monday that he expects to be indicted under Special Counsel Robert Mueller's investigation into Russian election meddling and possible collusion by Trump campaign associates. "I'm going to be indicted," Corsi said on his YouTube show. "That's what we were told. Everyone should know that, and I'm anticipating it." Corsi's attorney and Mueller's office declined to comment. Mueller reportedly has been investigating alleged connections between Stone and WikiLeaks, which intelligence agencies have concluded got hacked Democratic emails from Russian agents. Corsi, former Washington bureau chief for the conspiracy theory outlet Infowars, said he did not remember ever meeting with WikiLeaks founder Julian Assange.
5. Remark in recording points to Saudi crown prince in Khashoggi case
A member of the team of Saudi operatives who killed dissident journalist Jamal Khashoggi last month told a superior by phone to "tell your boss" that the assassination had taken place, The New York Times reported Monday, citing three people familiar with a recording obtained by Turkish intelligence. The "boss" the operative is referring to is believed to be Crown Prince Mohammed bin Salman of Saudi Arabia, who has denied advance knowledge of any plan to kill Khashoggi. The man who was speaking, Maher Abdulaziz Mutreb, is a security officer who frequently traveled with the crown prince. Turkish intelligence officers believe he was speaking with one of the crown prince's aides. The recording was shared last month with CIA Director Gina Haspel.
6. Lawsuit filed after suburban Chicago police kill black security guard
The mother of a black security guard, Jemel Roberson, who was killed by police at a suburban Chicago bar, filed a lawsuit seeking $1 million on Monday, saying the officer fired without provocation. Roberson, 26, had detained a man who allegedly opened fire in Manny's Blue Room Bar in Robbins, Illinois, after a confrontation involving several men early Sunday. Roberson returned fire and caught a suspect before officers from suburban police departments responded. Roberson was holding a gun and subduing the suspect when officers arrived. "Everybody was screaming out, 'He was a security guard,'" witness Adam Harris told WGN. Midlothian Police Chief Daniel Delaney said the officer from his department "encountered a subject with a gun" and shot him.
The Associated Press The Washington Post
7. Vatican tells U.S. bishops to delay vote on abuse accountability
U.S. Roman Catholic bishops met in Baltimore on Monday planning to vote on measures to hold themselves accountable for the church's child sexual abuse scandal, but in a last-minute surprise the Vatican told them to hold off until next year. Pope Francis plans to hold a summit in Rome in 2019 to discuss the abuse crisis with bishops from around the world. The U.S. bishops learned of the delay minutes before their meeting, and many were stunned. "We are not ourselves happy about this," said Cardinal Daniel DiNardo of Houston, the president of the United States Conference of Catholic Bishops. "We are working very well to move to action, and we'll do it. We just have a bump in the road." Abuse survivors denounced the delay.
8. Federal government releases new physical fitness guidelines
The Department of Health and Human Services released new physical fitness guidelines on Monday, calling for adults to get at least 150 minutes of moderate-intensity aerobic physical activity per week. The guidelines also recommended two sessions of muscle-strengthening activity per week. Less than a third of Americans meet the guidelines. The government said children ages 6 through 17 should get 60 minutes of moderate-intensity aerobic exercise per week, or more. Children should get three weekly sessions of muscle strengthening. Moderate-intensity activities include bike riding and brisk walking, while muscle-strengthening includes weight training, "heavy gardening," and yoga.
9. Trump reportedly plans to oust Nielsen as Homeland Security secretary
President Trump has told advisers he wants to push out Homeland Security Secretary Kirstjen Nielsen as soon as possible, The Washington Post reported Monday, citing five current and former White House officials. An announcement could come as soon as this week, three of the officials said. Trump has complained about Nielsen for months and does not think she is doing a good enough job securing the borders, the officials said. People close to Nielsen said Trump gets frustrated when she tries to tell him about immigration laws and regulations, and he has berated her during Cabinet meetings. White House Chief of Staff John Kelly, who once served as the department's secretary, is Nielsen's biggest defender in the administration, and is trying to either fight her dismissal or postpone it.
10. Marvel Comics' Stan Lee dies at age 95
Stan Lee, the legendary Marvel Comics writer and editor who helped revolutionize the comic book industry and created dozens of iconic superheroes, died Monday after being rushed to a hospital in Los Angeles. He was 95. The cause of death was not immediately known. Lee was forced to cancel numerous appearances earlier this year after he fell ill with pneumonia. Lee created heroes like the Fantastic Four, Iron Man, Thor, the Incredible Hulk, the X-Men, and Black Panther. He also had cameos in nearly every Marvel Comics film adaptation. "Stan Lee was as extraordinary as the characters he created," Disney chairman and CEO Bob Iger said. "A superhero in his own right to Marvel fans around the world, Stan had the power to inspire, to entertain, and to connect."
NBC News The Hollywood Reporter

Continue reading for free
We hope you're enjoying The Week's refreshingly open-minded journalism.
Subscribed to The Week? Register your account with the same email as your subscription.