10 things you need to know today: November 28, 2018
Republican Cindy Hyde-Smith beats Democrat Mike Espy in Mississippi Senate runoff, Manafort reportedly met with WikiLeaks' Assange, and more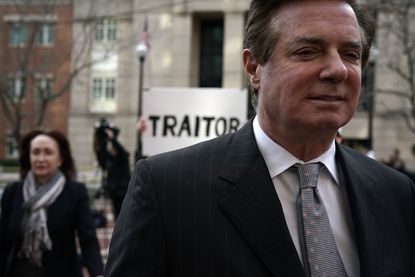 (Image credit: Alex Wong/Getty Images)
1. Hyde-Smith beats Espy in Mississippi runoff, increasing GOP Senate majority
Republican Sen. Cindy Hyde-Smith won Mississippi's runoff election, beating Democrat Mike Espy to become the first woman elected to the U.S. Senate from the state. Hyde-Smith received 54 percent of the vote to Espy's 46 percent. Espy, a former congressman and agriculture secretary, would have been Mississippi's first African-American senator since Reconstruction. Hyde-Smith was appointed to the seat by Gov. Phil Bryant earlier this year after fellow Republican Sen. Thad Cochran stepped down. Hyde-Smith faced intense scrutiny in the racially charged campaign, particularly after saying she would be willing to join a supporter if he invited her to a public hanging. President Trump endorsed Hyde-Smith and participated in two rallies for her on Monday. Hyde-Smith's win boosted the GOP's Senate majority to 53-47.
2. Manafort reportedly met with Assange
Paul Manafort, President Trump's former campaign chairman, secretly met with WikiLeaks founder Julian Assange at the Ecuadorian embassy in London in 2013, 2015, and again in 2016, months before the whistleblower website released Democratic emails stolen by Russian intelligence operatives, The Guardian reported Tuesday. Manafort denied it. "I have never met Julian Assange or anyone connected to him," Manafort said. A day earlier, Special Counsel Robert Mueller's office said Manafort had violated his plea deal on financial fraud and other charges by repeatedly lying to FBI agents and prosecutors. Trump lawyer Rudy Giuliani told The New York Times that Manafort's lawyer continued to brief Trump's legal team on Manafort's discussions with Mueller's team after the plea deal, giving Trump's lawyers insight into Mueller's focus.
Subscribe to The Week
Escape your echo chamber. Get the facts behind the news, plus analysis from multiple perspectives.
SUBSCRIBE & SAVE
Sign up for The Week's Free Newsletters
From our morning news briefing to a weekly Good News Newsletter, get the best of The Week delivered directly to your inbox.
From our morning news briefing to a weekly Good News Newsletter, get the best of The Week delivered directly to your inbox.
The Guardian The New York Times
3. Russia says it still expects Putin and Trump to meet
Russia said Wednesday that it still expects President Vladimir Putin and President Trump to meet as planned later this week in Argentina, where both will be attending a G-20 gathering. Trump told The Washington Post on Tuesday that he might cancel his talk with Putin over Russia's seizure of three Ukrainian naval ships over the weekend near Crimea, which Russia annexed from Ukraine in 2014. "Maybe I won't even have the meeting," Trump told The Post on Tuesday. "I don't like that aggression. I don't want that aggression at all." Kremlin spokesman Dmitry Peskov said the meeting was still scheduled to take place, and that Moscow had received no information from the U.S. indicating it would be scrapped.
The Associated Press The Washington Post
4. Trump and leading GOP lawmakers meet to discuss averting shutdown
President Trump and leading Republican lawmakers met Tuesday at the White House to discuss a spending deal to beat a deadline to avert a partial government shutdown in 10 days. Trump wants $5 billion in funding for his promised wall on the Mexico border, and said it could be a "good time" for a shutdown if he doesn't get it. House Republicans pushed approval for the $5 billion through a key committee, but the Senate's bipartisan bill includes just $1.6 billion for the border. House Majority Leader Kevin McCarthy called the Tuesday meeting "very productive."
5. Fox & Friends gave former EPA chief interview script in advance
Fox & Friends once gave former Environmental Protection Agency Administrator Scott Pruitt part of the show's script before he appeared on the show, The Daily Beast reported Tuesday, citing emails revealed in a Freedom of Information Act request. The emails showed that the show allowed Pruitt's team to choose interview topics and fed him some questions before other appearances. The moves were contrary to journalistic standards, although producers often conduct pre-interviews to determine what information a subject has to provide. David Hawkins, a CBS News and CNN veteran who teaches journalism at Fordham University, said the soft treatment of Pruitt, who faced numerous ethics scandals, violated "a cardinal sin" of journalism, and "would and should get you fired from any news organization with integrity."
6. Lion Air pilots struggled to keep plane's nose up before crash
Data from the Lion Air jet that crashed into the Java Sea last month indicate that the pilots struggled to keep the plane's nose up as it was apparently forced down by an automatic system getting bad readings from a faulty sensor, The New York Times reported Tuesday, citing a preliminary report due to be released Wednesday by Indonesian crash investigators. The Boeing 737 crashed into the ocean at 450 miles per hour, killing all 189 people on board. The black-box data is consistent with the theory that a computerized system in the new-generation plane designed to prevent a stall by keeping the nose from getting too high instead forced the nose too far down.
7. 3 U.S. service members killed in blast in Afghanistan
Three U.S. service members were killed Tuesday when their armored vehicle hit a roadside bomb in Afghanistan. Three other service members and one American contractor were injured in the blast, which took place near the city of Ghazni. The Taliban claimed responsibility for the attack, the deadliest against Americans in months of escalating attacks by Taliban militants. The wounded are currently being treated, but the victims have not yet been identified. The news followed confirmation by the Pentagon that an American soldier, 25-year-old Leandro Jasso, was killed in a firefight with Al Qaeda in Afghanistan on Saturday.
8. Trump threatens to strip GM's electric-car subsidies
President Trump on Tuesday threatened to cut General Motors' government subsidies, including those for electric cars, due to the automaker's decision to close several North American plants and lay off thousands of workers. "Very disappointed with General Motors and their CEO, Mary Barra, for closing plants in Ohio, Michigan and Maryland," Trump tweeted. "Nothing being closed in Mexico & China. The U.S. saved General Motors, and this is the THANKS we get!" GM shares fell by 3.5 percent after Trump's criticism. GM and its subsidiaries have received $76 million in government grants and tax credits so far this year, although the $7,500 plug-in tax credit goes to the consumer, not GM.
9. Migrant teen detention camp reportedly sidesteps abuse prevention rules
The Trump administration waived background checks and child-abuse prevention requirements at a temporary shelter opened for migrant children in Texas, potentially compromising the safety of thousands of teens, according to an Associated Press investigation and a new federal watchdog report. None of the 2,100 staffers at the tent city, which holds more than 2,300 teens, are getting tough FBI fingerprint background checks, according to a Health and Human Services inspector general memo published Tuesday. The memo said the former director of the federal Office of Refugee Resettlement personally signed off on waiving the requirements. Most of the teen residents arrived unaccompanied at the border. Taxpayer-funded costs for the camp have gone 50 percent higher than the government has disclosed, exceeding $430 million.
10. SpongeBob SquarePants creator Stephen Hillenburg dies at 57
SpongeBob SquarePants creator Stephen Hillenburg has died of Lou Gehrig's disease, or ALS, Nickelodeon announced Tuesday. He was 57. Hillenburg announced that he had the disease in March 2017. Hillenburg conceived, wrote, produced, and directed the SpongeBob cartoon series, which started in 1999 and expanded into two movies and a Broadway show. The show's nearly 250 episodes have won four Emmy Awards and 15 Kids' Choice Awards. "The fact that it's undersea and isolated from our world helps the characters maintain their own culture," Hillenburg told The Associated Press in 2001. "The essence of the show is that SpongeBob is an innocent in a world of jaded characters. The rest is absurd packaging."

Continue reading for free
We hope you're enjoying The Week's refreshingly open-minded journalism.
Subscribed to The Week? Register your account with the same email as your subscription.