10 things you need to know today: March 28, 2019
Judge rejects Kentucky and Arkansas Medicaid work requirements, Neo-Nazi pleads guilty to Charlottesville hate crime, and more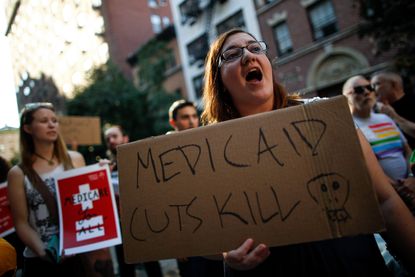 (Image credit: Drew Angerer/Getty Images)
1. Judge throws out Kentucky, Arkansas Medicaid work requirements
A federal judge on Wednesday blocked new Medicaid work requirements in Kentucky and Arkansas, dealing a blow to the Trump administration's effort to reform the health-care safety net. Judge James E. Boasberg of the Federal District Court for the District of Columbia rejected for a second time Kentucky's work requirement, along with a similar rule in Arkansas that has resulted in more than 18,000 people being thrown off Medicaid since last summer because they couldn't show they worked or volunteered at least 80 hours per month. Boasberg said the federal government had failed to demonstrate the requirements advanced Medicaid's basic purpose of providing health coverage. Seema Verma, the Trump appointee in charge of Medicaid, has said such reforms aim to help people "rise out of poverty and government dependence."
2. Neo-Nazi convicted in Charlottesville car attack pleads guilty to hate crime
James Alex Fields Jr., an avowed neo-Nazi, pleaded guilty to hate crimes on Wednesday for plowing his car into counterprotesters at the infamous white supremacist rally in Charlottesville, Virginia, in 2017. The plea in federal court came as part of a deal with prosecutors, who agreed not to seek the death penalty. Fields was sentenced to life in prison by a state court last year after his first-degree murder conviction for the death of Heather Heyer, 32, who was killed in the incident at the Unite the Right Rally. Dozens of others were injured. The guilty plea marked a major shift in Fields' account: His attorneys argued in the state court trial that he feared for his safety when he sped toward the crowd.
Subscribe to The Week
Escape your echo chamber. Get the facts behind the news, plus analysis from multiple perspectives.
SUBSCRIBE & SAVE
Sign up for The Week's Free Newsletters
From our morning news briefing to a weekly Good News Newsletter, get the best of The Week delivered directly to your inbox.
From our morning news briefing to a weekly Good News Newsletter, get the best of The Week delivered directly to your inbox.
3. Trump, Comey clash in rival interviews
President Trump and former FBI director James Comey clashed Wednesday in dueling interviews touching on the end of Special Counsel Robert Mueller's investigation into Russian election meddling. Trump, who once said he fired Comey in May 2017 over his supervision of the early days of the Russia inquiry, said in an interview with Fox News host Sean Hannity that the former FBI chief was "a terrible guy" whose leadership was "not clean, to put it mildly." Comey told NBC News' Lester Holt that Mueller's report establishes "to all people no matter where they are on the spectrum, that the FBI is not corrupt, not a nest of vipers, of spies, but an honest group of people trying to find out what is true."
4. British lawmakers reject Brexit plan alternatives
British lawmakers on Wednesday rejected eight Brexit options, most narrowly voting against joining a customs union with the European Union. A proposal to mandate a referendum to confirm any Brexit deal failed 268 votes to 295. The Brexit secretary, Stephen Barclay, said the results showed Prime Minister Theresa May's Brexit deal is the best option. May confirmed earlier in the day that she would step down if lawmakers approve her twice-rejected agreement with the EU and the United Kingdom leaves the trading bloc. Some Brexiteers have complained that May's plan would leave the U.K. too closely tied to the EU. May said she recognized "there is a desire for a new approach — and new leadership."
The Guardian The Associated Press
5. Boeing unveils 737 Max software fix
Boeing on Wednesday proposed software changes to an automated flight-control system in an effort to restore confidence in its 737 Max aircraft following two crashes that killed a total of more than 300 people. The company also said mandated pilot training would help. The announcement came as Boeing faces rising pressure as airlines cancel an increasing number of flights due to the grounding of the popular jet. Also on Wednesday, acting FAA Administrator Daniel Elwell testified before a Senate panel on the agency's certification of the Max 8, the new fuel-efficient version of the 737, and its decision to let the planes keep flying for days after an Ethiopian Airlines crash earlier this month killed all 157 people on board the Boeing plane.
6. Border official says influx of migrant families reaches 'breaking point'
Kevin McAleenan, the commissioner of U.S. Customs and Border Protection, made an appeal to lawmakers on Wednesday for more resources to confront a migration surge he said has pushed the agency to "the breaking point." "CBP is facing an unprecedented humanitarian and border security crisis all along our southwest border," McAleenan told reporters gathered near an improvised El Paso holding pen for processing newly arrived parents and children. Border apprehensions remain below record levels seen in 2000, when most migrants were single men who were often quickly repatriated. The Department of Homeland Security now faces a growing influx of migrant families. It has more than 13,000 in custody, most of them people from Guatemala and Honduras seeking asylum, and no room for new arrivals.
7. Maltese military takes control of tanker hijacked by rescued migrants
Maltese soldiers boarded and took control of a small tanker that was hijacked by migrants the crew rescued off the coast of Libya, the Armed Forces of Malta said Thursday. The tanker, the Elhiblu 1, had picked up the 108 migrants at sea, and they took over the ship after seeing the captain planned to return them to Libya. "The captain repeatedly stated that he was not in control of the vessel and that he and his crew were being forced and threatened by a number of migrants to proceed to Malta," the Maltese military said. Patrol boats escorted the tanker to Valletta harbor for an investigation, and four migrants were escorted off the ship in handcuffs. Italian Deputy Prime Minister Matteo Salvini said Wednesday that Italy would not receive a vessel carrying "criminals" who had committed an act of piracy.
8. Trump calls for Russia to withdraw troops from Venezuela
President Trump on Wednesday called for Russia to withdraw its troops from Venezuela, where the U.S. backs opposition leader Juan Guaidó's claim as interim leader and Russia backs embattled President Nicolás Maduro. Guaidó in January declared himself interim president under the South American nation's constitution, arguing that Maduro's 2018 re-election was illegitimate. "Russia has to get out," Trump said alongside Guaidó's wife, Fabiana Rosales, at the Oval Office. He added that "all options are open" to remove Russian forces from the country. Russia's deputy United Nations ambassador, Dmitry Polyanskiy, said via Twitter that Moscow has bilateral commitments to Venezuela and its military, and that it will honor them.
9. Facebook bans white nationalist posts
Facebook said Wednesday that it would start banning posts referencing white nationalism and white separatism in response to criticism of racism on the social network. Facebook previously focused on prohibiting content that glorified white supremacy, but civil rights advocates complained the policy did not cover white nationalist and white separatist messages that were essentially the same thing. Facebook reviewed the matter and agreed, saying in a blog post that "praise, support, and representation of white nationalism and separatism" were not acceptable. "It's clear that these concepts are deeply linked to organized hate groups and have no place on our services." The policy applies to Instagram, too.
10. Rising temperatures threaten 'doomsday vault'
The Norwegian town hosting the world's "doomsday vault," which was chosen for its consistently cool climate, is facing rising temperatures that could threaten the safety of the vault. The city of Longyearbyen has experienced a temperature increase of 3.7 degrees Celsius over the last century, which is more than triple the global average of around 1 degree Celsius. The vault stores nearly one million copies of the world's seed supply, with seeds from almost every country. Longyearbyen was chosen to hold the seeds because the area isn't prone to volcanoes or earthquakes and because Norway has an "extremely stable" political system. Rising temperatures have begun to melt the permafrost the vault is built on, and the ground surrounding the vault's entrance has failed to refreeze.

Continue reading for free
We hope you're enjoying The Week's refreshingly open-minded journalism.
Subscribed to The Week? Register your account with the same email as your subscription.