10 things you need to know today: April 11, 2019
Barr says "spying did occur" against Trump's campaign, Trump says "dangerous people" are entering the U.S., and more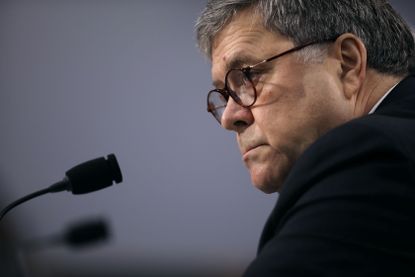 (Image credit: Chip Somodevilla/Getty Images)
1. Barr says 'spying did occur' against Trump campaign
Attorney General William Barr said in a Senate budget hearing on Wednesday that he thinks "spying did occur" targeting President Trump's 2016 campaign. The comments seemed to amount to an endorsement of claims by Trump and other Republicans that biased FBI leaders ordered inappropriate surveillance on Trump associates in an effort that led to Special Counsel Robert Mueller's investigation into Russian election meddling. Barr told members of the Senate Appropriations Committee that he would look into the matter, but had no "specific evidence" yet. Trump endorsed Barr's comments, saying he would see what started the "illegal witch hunt." Democrats harshly criticized Barr for the remarks, which House Speaker Nancy Pelosi (D-Calif.) called "very dismaying." Sen. Richard Blumenthal (D-Conn.) said Barr should "retract his unfounded, irresponsible claim."
2. Trump says migrants dying, 'dangerous people' getting across border
President Trump said at a Texas fundraiser on Wednesday that more migrants are dying trying to cross into the U.S. from Mexico than "the fake news" is reporting. He also said donors had told him that gang members are coming from Central America and threatening American ranchers. "Dangerous people are coming here and the good people are dying," Trump said. He added that his donors told him building his long-promised border wall would solve the problems. Julián Castro, a Democratic presidential candidate who served as housing secretary under former President Barack Obama, hosted a rally in his hometown of San Antonio that countered Trump's visit to the state, repeating his call for resistance to Trump's hardline border policies.
Subscribe to The Week
Escape your echo chamber. Get the facts behind the news, plus analysis from multiple perspectives.
SUBSCRIBE & SAVE
Sign up for The Week's Free Newsletters
From our morning news briefing to a weekly Good News Newsletter, get the best of The Week delivered directly to your inbox.
From our morning news briefing to a weekly Good News Newsletter, get the best of The Week delivered directly to your inbox.
3. WikiLeaks' Julian Assange arrested in London
London's Metropolitan Police on Thursday arrested WikiLeaks founder Julian Assange at Ecuador's embassy "on a warrant issued by Westminster Magistrates' Court on 29 June, 2012, for failing to surrender to the court." The police were "invited into the embassy by the ambassador, following the Ecuadorian government's withdrawal of asylum," the Met said. Assange was taken into custody pending an appearance before the court. Ecuador's president, Lenín Moreno, said he withdrew Assange's asylum status because of his "repeated violations" of the terms of his protection. Assange has been living inside the Ecuadorian Embassy since 2012, when he sought refuge from extradition to Sweden on a sexual assault charge.
The Guardian Metropolitan Police
4. Netanyahu challenger Gantz concedes defeat
The Blue and White alliance led by Benny Gantz conceded defeat Wednesday in Israel's elections, putting Prime Minister Benjamin Netanyahu in position to win a fourth consecutive term, which would be a record fifth term overall. It's up to President Reuven Rivlin to decide which leader can best pull together a parliamentary majority. Netanyahu, despite lingering corruption allegations, has the backing of enough conservative parties to form a governing coalition. The centrist Gantz, a retired lieutenant general and former chief of staff of the Israel Defense Forces, said he would respect Rivlin's choice, but vowed to continue fighting "in any way I can," saying, "The war is not over."
5. Trump issues order making it harder for states to block pipelines
President Trump on Wednesday signed executive orders aiming to make it harder for states to delay oil and gas pipeline projects. Industry executives have complained about protests and court challenges that have held up high-profile pipelines and other energy industry construction projects. Trump's action came after Washington state blocked construction of a coal terminal, and New York regulators derailed plans for a natural gas pipeline they found had failed to meet standards for protecting waterways. Critics of Trump's orders argued that he was robbing states of their powers under the Clean Water Act and other laws.
6. Winter storm hammers Plains, upper Midwest
Winter Storm Wesley crashed through six states in the Plains and upper Midwest on Wednesday, prompting blizzard warnings in six states. The storm gained "bomb cyclone" status, meaning it would grow as air pressure drops rapidly. It hit parts of Texas and New Mexico with wind gusts of 60 miles per hour, knocking down power lines in Amarillo and creating dangerous travel conditions. The winds sent clouds of dust from northern Mexico and southeastern Arizona through southeastern New Mexico to the Texas panhandle. Areas farther north were blasted with heavy snow, with some parts of South Dakota getting 10 inches in the first hours of the storm on the way to potential spring records of more than two feet.
7. EU offers a longer Brexit delay than May requested
European leaders on Thursday offered to delay Britain's departure from the European Union until Oct. 31. British Prime Minister Theresa May, whose Brexit deal lawmakers have repeatedly rejected, had requested a delay until June 30, but European leaders frustrated by the U.K.'s indecision and "emergency summits" decided to give Britain more time to get its act together. The proposed delay, which May accepted, avoids a potentially catastrophic "no-deal" Brexit that was scheduled for Friday. "We've spent a lot of time, a lot of energy, on this issue," said Swedish Prime Minister Stefan Lofven, giving voice to widespread frustration, "and we have so many important issues on the agenda that we need to get on with."
The Washington Post The Associated Press
8. Mnuchin says IRS won't meet deadline for releasing Trump tax returns
Treasury Secretary Steven Mnuchin sent a letter Wednesday to the House Ways and Means Committee to announce that his department would not meet the panel's deadline for turning over six years of President Trump's tax returns. Last week, the committee's chair, Rep. Richard Neal (D-Mass.), sent a formal request to the IRS for the returns, setting a deadline of April 10; he is one of three congressional leaders with the authority to request the tax returns of individuals. Mnuchin wrote that he is discussing the request with the Justice Department, and feels it "raises serious issues concerning the constitutional scope of congressional investigative authority, the legitimacy of the asserted legislative purpose, and the constitutional rights of American citizens."
9. New Zealand lawmakers overwhelmingly approve assault-style weapon ban
New Zealand's Parliament voted 119 to 1 on Wednesday to ban military-style semi-automatic weapons like those used by a gunman to kill 50 people at two mosques in the city of Christchurch, less than a month after the attack. Prime Minister Jacinda Ardern, who declared in the days after the attack that the country's gun laws would change, told lawmakers they had given "a voice" to the people who were killed in what she called "the darkest of days in New Zealand's history." A gun buyback program is planned to make sure the regulations don't hurt law-abiding citizens. The bill could take effect as soon as Friday, after it is granted royal assent by the country's governor-general.
10. Scientists release first-ever photo of a black hole
The National Science Foundation on Wednesday held a press conference during which the first-ever photo of a black hole was revealed to the public. The image comes after a years-long effort from the Event Horizon Telescope project, which used data from several different radio telescopes to compile a high-resolution photo of something that cannot be captured from a single telescope. The black hole itself emits no light, but the event horizon around it is visible as a bright halo that is being pulled inward by the black hole's force of gravity. The black hole pictured is from the nearby galaxy dubbed M87.

Continue reading for free
We hope you're enjoying The Week's refreshingly open-minded journalism.
Subscribed to The Week? Register your account with the same email as your subscription.