10 things you need to know today: April 14, 2019
Tornadoes kill four, leave severe damage throughout southern states, Mnuchin hopeful U.S., China "getting close" to trade deal, and more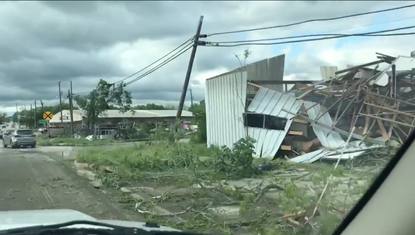 (Image credit: Screenshot/Deborah Wrigley)
1. Tornadoes kill four, leave severe damage throughout southern states
At least 13 tornadoes have swept across the southern United States this weekend. Three children and one woman were killed on Saturday during the extreme weather in Texas and Louisiana. In Franklin, Texas a tornado destroyed homes and left approximately a dozen people wounded. More than 150,000 people were reportedly without power on Sunday morning in Texas, Missouri, Mississippi, Alabama, and Louisiana. Tornado watches remained in effect on Sunday morning in the South, including in parts of Alabama, Tennessee, and Florida. Much of the East Coast also faces severe weather threats for Sunday, with possible thunderstorms stretching from Florida to New York.
2. Mnuchin hopeful U.S., China 'getting close' to finalizing trade deal
Treasury Secretary Steve Mnuchin said on Saturday that the United States and China are progressing in trade talks. The two sides are reportedly "getting close to the final round of concluding issues." Mnuchin and U.S. Trade Representative Robert Lighthizer will reportedly have two telephone calls with their Chinese counterparts this week. He also said that the potential agreement would go "way beyond" any previous efforts to open China's markets to U.S. companies. While Mnuchin was reportedly hopeful, he did also express caution. "We are making progress," Mnuchin said. "I want to be careful. This is not a public negotiation...this is a very, very detailed agreement covering issues that have never been dealt with before."
Subscribe to The Week
Escape your echo chamber. Get the facts behind the news, plus analysis from multiple perspectives.
SUBSCRIBE & SAVE
Sign up for The Week's Free Newsletters
From our morning news briefing to a weekly Good News Newsletter, get the best of The Week delivered directly to your inbox.
From our morning news briefing to a weekly Good News Newsletter, get the best of The Week delivered directly to your inbox.
Reuters The Wall Street Journal
3. Ways and Means Committee again demands IRS for Trump's taxes
Rep. Richard Neal (D-Mass.), the chair of the House Ways and Means Committee, doubled down on his demand for access to President Trump's tax returns on Saturday. In a letter to IRS Commissioner Charles Rettig, Neal reportedly wrote that he believes his committee is well within its rights to gain access to Trump's tax returns. Neal added that he expects a decision from the IRS within the next 10 days, at which point if the IRS does not respond, Neal would consider the request denied. That denial could reportedly then launch a court battle. The Treasury Department recently told Neal that it would not meet a one-week deadline to turn over Trump's tax information and would instead consult with the Justice Department before taking any further action.
4. Sudan protesters present demands to military council
The Alliance for Freedom and Change, a coalition leading the protests in Sudan, submitted a list of demands to the country's newly-installed military council on Saturday two days after a coup led to the ousting of longtime leader Omar al-Bashir. The demands came after the council's chief, Gen. Abdel Fattah Burhan, pledged to "uproot the regime" by restructuring state institutions, ending the country's night curfew, and releasing political prisoners. The protesters, however, want an immediate transition to civilian power, though they now say the military can play a role in the new government. The list of demands also reportedly includes restructuring Sudan's National Intelligence and Security Service. The two sides have reportedly met to discuss "transitional agreements."
5. 120 killed in Libya fighting as Haftar's forces prepare to move into Tripoli
Forces loyal to rebel Gen. Khalifa Haftar are preparing to move into Libya's capital city, Tripoli, on Sunday. Haftar said he was planning an attack on Tripoli on April 4 to capture the capital from the United Nations-backed Government of National Accord. Hafter's forces have continously launched airstrikes on the outskirts of Tripoli since the army began advancing toward the city in April, though the GNA's army has largely kept Haftar's offensive at bay. The U.N. said on Sunday that more than 120 people have been killed in the fighting. Haftar reportedly met with Egypt's President Abdel Fattah el-Sisi, who has been a vocal support of Haftar and his troops, on Sunday in Cairo, though there are no reports on the details of the meeting.
Al Jazeera The Washington Post
6. Finland holds parliamentary elections
Finland's citizens are taking to the polls on Sunday to vote in the country's parliamentary elections. Polls before the elections showed the Social Democrats, a left-wing party, who campaigned on a pledge to strengthen Finland's welfare system, leading by several percentage points. If that holds true, Finland will have its first leftist leader in two decades. However, several parties — such as the right-wing Finns — are vying for second place, and could possibly form coalitions that could provide challenges for the Social Democrats' ability to govern. The elections take place a little over a month after former Prime Minister Juha Sipila's entire government resigned over its failure to achieve a key policy goal on social welfare and health care.
7. Seychelles president calls for environmental action while deep beneath the surface of the Indian Ocean
The president of the Seychelles, Danny Faure, delivered a "striking" speech on Sunday, calling for global action toward protecting the Earth's oceans. Faure's speech was also notable for its location — he was deep beneath the ocean's surface in a submersible watercraft in the water off the coast of Desroches, one of the islands that makes up the Seychelles archipelago. Faure spoke during a visit to a British-led expedition which is exploring the depths of the Indian Ocean. The Seychelles and other small island nations are considered among the most vulnerable places in the world as they face the threat of rising sea levels caused by climate change.
8. World's largest plane takes flight
The world's largest plane took flight for the first time on Saturday. Built by rocket launch company Stratolaunch, the 500,000-pound plane, which has a 385-foot wingspan took off from the Mojave Air and Space Port in Mojave, California. The plane is designed to fly at an altitude of 35,000 feet from where it can drop rockets which will then ignite their engines and boost themselves into orbit around the planet, though the test flight did not include dropping any rockets. Northrup Grumman plans to use the plane to launch its Pegasus XL rocket into space. The flight's pilot, Evan Thomas, reportedly said the experience was "fantastic" and the plane mostly flew as predicted.
9. Molinari holds two stroke lead over Woods at Masters
Italian golfer Francesco Molinari holds a two-stroke lead as the Masters heads into the final day of play on Sunday at the Augusta National Golf Club in Augusta, Georgia. Molinari has never won the green jacket, but he did lock up his first major championship in 2018 when he won the Open Championship in Scotland. Tiger Woods, however, looms in second place after shooting a 67 on Saturday. Woods, who is seeking his first major championship since 2008, is tied with Tony Finau at 11-under par through the tournament's first three rounds. Brooks Koepka sits just a stroke behind Woods and Finau in fourth place. Coverage of the final round will continue throughout the day.
10. Eighth and final season of Game of Thrones to premiere Sunday evening
The eighth and final season of the blockbuster show Game of Thrones will premiere on Sunday evening at 9 p.m. on HBO. The season will consist of six episodes, the final four of which will be one hour and 20 minutes long each. The previous season last saw protagonists Jon Snow and Daenerys Targaryen heading via ship back to Jon's ancestral home Winterfell, where he will likely reunite with several long-lost friends and family members. In less pleasant news for the characters, it appears that the show's heroes are also on a collision course with the villainous Night King and his massive "army of the dead," who now have an undead dragon at their disposal.
The Los Angeles Times Entertainment Weekly

Continue reading for free
We hope you're enjoying The Week's refreshingly open-minded journalism.
Subscribed to The Week? Register your account with the same email as your subscription.