10 things you need to know today: August 13, 2019
The Trump administration moves to cut legal immigration, Barr promises a "thorough" investigation of Epstein case, and more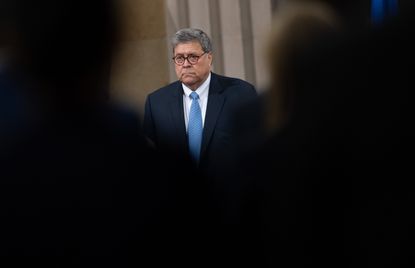 (Image credit: SAUL LOEB/AFP/Getty Images)
1. Trump administration rule would sharply cut legal immigration
The Trump administration on Monday announced a new rule that would make it easier to block some migrants from obtaining a green card or visa. Immigrant advocates said the change could cut legal immigration in half. The "Inadmissibility on Public Charge Grounds" policy, set to take effect in two months, will tighten restrictions on immigration for legal migrants using or likely to need public benefits such as Medicaid, food stamps, or housing assistance. The State Department denied 5,343 Mexicans visas on "public charge" grounds between October and July, a significant uptick from the seven denied applicants in 2016. The practice is now official policy, and will reportedly factor in wealth, education, age, and English-language skills more than before.
2. Barr vows 'thorough' investigation of Epstein case
Attorney General William Barr on Monday promised a "thorough investigation" of "serious irregularities" at the Metropolitan Correctional Center where financier and sex offender Jeffrey Epstein was found hanging dead in his cell in an apparent suicide. Epstein, who was facing sex trafficking charges, was supposed to be checked on every 30 minutes, but overworked guards reportedly failed to follow the protocol in the hours before his death. Barr said he was "appalled" and "angry" to learn of Epstein's death, calling out the federal jail's "failure to adequately secure this prisoner," who had recently been taken off suicide watch. "Any co-conspirators should not rest easy," Barr said. "The victims deserve justice and they will get it."
Subscribe to The Week
Escape your echo chamber. Get the facts behind the news, plus analysis from multiple perspectives.
SUBSCRIBE & SAVE
Sign up for The Week's Free Newsletters
From our morning news briefing to a weekly Good News Newsletter, get the best of The Week delivered directly to your inbox.
From our morning news briefing to a weekly Good News Newsletter, get the best of The Week delivered directly to your inbox.
3. Protesters force suspension of Hong Kong airport activity for 2nd day
Anti-government protesters reoccupied Hong Kong's airport for a second straight day Tuesday, forcing airlines to suspend check-in for departing flights. The escalating dissent came after the sternest warning from Beijing in the 22 years since Britain returned the semi-autonomous financial hub to Chinese control. "The radical demonstrators in Hong Kong have repeatedly attacked police with extremely dangerous tools in recent days, which constitutes a serious violent crime, and now they are descending into terrorism," said Yang Guang, a spokesman for the Hong Kong and Macao Affairs Office in Beijing. It was the first time China had referred to the protests as "terrorism," raising fears it could resort to military force to quiet the demonstrations. A Chinese paramilitary unit reportedly massed near Hong Kong's border.
4. Federal deficit increases by 27 percent
The Treasury Department reported on Monday that the U.S. budget deficit grew to $867 billion for the first 10 months of the fiscal year, an increase of 27 percent compared to this time in 2018. The deficit for fiscal year 2018 was $779 billion. The fiscal year ends on September 30, and the White House's Office of Management and Budget predicts by that point, the deficit will reach $1 trillion for the year. Experts say the 2017 Republican tax plan, which included $1.5 trillion in tax cuts, is one reason why the deficit is growing so much. Spending is also up, and while tax revenue increased by 3 percent since October 1, federal spending is up 8 percent. Spending is only going to continue to increase, as a two-year budget deal signed into law by President Trump this month will raise spending by $320 billion.
5. White House relaxes protections for endangered species
The White House announced on Monday that it would change the way the Endangered Species Act, which was signed into law by President Richard Nixon in 1973, is applied. The New York Times reports that the changes could clear the way for new mining, drilling, and development in areas where protected species live. The new rules would also make it more challenging to consider the effects of climate change when determining whether a species deserves protection, make it easier to remove a species from the list, and weaken protections for threatened species. Another major tweak is the modification of language that prohibits economic factors when deciding a species' fate. Currently, determinations must be made solely on science.
6. Bolton says U.S. ready to discuss post-Brexit trade deal
National Security Adviser John Bolton said Monday that the U.S. is ready to negotiate a post-Brexit trade deal with Britain. Bolton said after meeting with the new British prime minister, Boris Johnson, in London that the U.S. and the U.K. could pull together an agreement "in pieces" to get it done faster as Britain pushes to exit the European Union on October 31. "I think here we see the importance and urgency of doing as much as we can agree on as rapidly as possible," Bolton said. Bolton added that the two allies could start with areas where they could agree easily, and move on from there, with touchy topics such as U.S. sanctions on Iran and a ban of Chinese tech giant Huawei delayed until after the U.K.-EU divorce.
7. Canadian police: Fugitive teenage murder suspects killed themselves
Canadian police said Monday that two teenage fugitives suspected of killing three people appear to have died of self-inflicted gunshot wounds several days before they were found. The Manitoba Medical Examiner conducted autopsies and confirmed that two bodies found last week near a river in northern Manitoba province were those of 19-year-old Kam McLeod and 18-year-old Bryer Schmegelsky, the suspects in the murders of a North Carolina woman, Chynna Deese, and her Australian boyfriend, Lucas Fowler, as well as another man, University of British Columbia lecturer Leonard Dyck. Authorities found the fugitives' bodies after a nationwide manhunt.
8. Prosecutors: Dayton killer's friend bought him body armor
Federal prosecutors in Ohio filed criminal charges against a friend of the gunman who killed nine people in Dayton last week for allegedly buying body armor and other equipment for the attacker, Connor Betts. The friend, 24-year-old Ethan Kollie, also told authorities he helped Betts assemble the weapon used in the rampage, according to a court filing unsealed Monday. Benjamin C. Glassman, U.S. attorney for the Southern District of Ohio, emphasized that the charges did not include any suggestion that Kollie knowingly played a role in the attack. "Mr. Kollie does not stand accused of intentionally participating in the planning of that shooting," Glassman said at a news briefing. An attorney for Kollie said he spoke with federal authorities several times to help investigators.
9. New Ebola treatments offer hope of cure
Scientists announced Monday that two experimental antibody-based treatments for Ebola work so well that doctors will offer them to all patients in the Democratic Republic of Congo. "Now we can say that 90 percent can come out of treatment cured," one scientist said. Patients might feel "more comfortable about seeking care early" now that there is real hope for a cure, Dr. Anthony S. Fauci, director of the National Institute of Allergy and Infectious Diseases, said as the World Health Organization and the Congolese government made the announcement. The development boosted the chances that health officials will be able to stop the deadly epidemic in eastern Congo, and prevent the spread of future outbreaks. Until now, Ebola has been widely viewed as a likely death sentence.
10. Leading Democrats renew call for assault-weapons ban
Top Democrats are renewing a push to reinstate a federal assault-weapons ban in the wake of the most recent deadly mass shootings in Dayton, Ohio, and El Paso, Texas. "We have to get these weapons of war off our streets," former Vice President Joe Biden, an architect of a now-expired 1994 assault-weapons ban, wrote in a New York Times op-ed. Two centrist Democrats on Monday joined the push. "Mass shootings are occurring at an alarming rate and will continue unless we stop the easy access to weapons of war," Reps. Mikie Sherrill (D-N.J.) and Jason Crow (D-Colo.) wrote in an op-ed published on Monday in USA Today. They added that as Army and Navy veterans, they knew the weapons well, saying that the guns are "not for hunting or for civilian self-defense," but for "warfare." A new ban is seen as having no chance in the Republican-controlled Senate.

Continue reading for free
We hope you're enjoying The Week's refreshingly open-minded journalism.
Subscribed to The Week? Register your account with the same email as your subscription.