10 things you need to know today: September 26, 2019
Trump asked Ukraine to investigate Biden as a "favor," the Ukraine-call whistleblower complaint is expected to be released, and more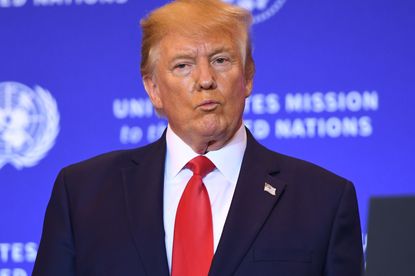 (Image credit: SAUL LOEB/AFP/Getty Images)
1. Call record shows Trump pushing Ukraine to investigate Biden as 'favor'
The White House on Wednesday released a rough record of President Trump's July phone call with Ukrainian President Volodymyr Zelensky that sparked a whistleblower complaint. During the call, Trump asked Zelensky to investigate 2020 Democratic presidential candidate and former Vice President Joe Biden, and his son, Hunter. Trump said the U.S. had been good to Ukraine. Zelensky agreed, and mentioned the need for more U.S. military equipment to counter Russia. Trump then replied, "I would like you to do us a favor, though." He then asked for Ukraine to look for information on a Democratic server hacked by Russians, and to investigate the Bidens. Trump defended the call, which came shortly after Trump froze nearly $400 million in aid to Ukraine. Trump said there was "no quid pro quo."
2. Trump administration expected to release whistleblower complaint
The Trump administration has declassified the whistleblower complaint over President Trump's phone call with Ukraine's president, and is expected to release it early Thursday, NBC News reported, citing sources familiar with the matter. Members of Congress got to see the complaint on Wednesday. Democrats described it as more detailed and troubling than the rough transcript of the call, in which Trump pressed for Ukraine to investigate 2020 Democratic presidential candidate and former Vice President Joe Biden and his son as "a favor." Some Republicans dismissed the complaint, but others said it looked bad. Sen. Ben Sasse (R-Neb.) said Democrats shouldn't be pushing for impeachment yet. He added: "Republicans ought not to be rushing to circle the wagons and say there's no 'there' there when there's obviously a lot that's very troubling there."
Subscribe to The Week
Escape your echo chamber. Get the facts behind the news, plus analysis from multiple perspectives.
SUBSCRIBE & SAVE
Sign up for The Week's Free Newsletters
From our morning news briefing to a weekly Good News Newsletter, get the best of The Week delivered directly to your inbox.
From our morning news briefing to a weekly Good News Newsletter, get the best of The Week delivered directly to your inbox.
3. Report: Whistleblower agrees to testify on Trump call with Ukraine leader
The anonymous whistleblower who filed the complaint about President Trump's phone call earlier this year with Ukrainian President Volodymyr Zelensky tentatively has agreed to testify to Congress, CNN reported Wednesday, citing documents it reviewed. Before the meeting can take place, acting Director of National Intelligence Joseph Maguire would need to approve security clearances for the whistleblower's lawyers so they can participate. House Intelligence Committee Chair Adam Schiff (D-Calif.) said he doesn't know yet whether details had been worked out for the whistleblower to testify before Congress, however. Trump, meanwhile, said he informed House Republicans that he supports the transparency, but he expects the same out of former Vice President Joe Biden and his son, Hunter, about the younger Biden's past activities in Ukraine.
4. Netanyahu to get first crack at forming new Israeli government
Israeli President Reuven Rivlin on Wednesday decided that Prime Minister Benjamin Netanyahu will have the first crack at pulling together a coalition government following the country's deadlocked parliamentary election. The decision came after Netanyahu and rival Benny Gantz, head of the centrist Blue and White party, failed to reach a power-sharing deal. Netanyahu, whose allies earned one more seat than Gantz's, will have 28 days to form a government. Netanyahu currently has 55 seats and needs at least six more to form a government. If Netanyahu can't form a government after 28 days, which could be extended by another 14, Gantz will get a shot. Avigdor Lieberman, whose nationalist party won eight seats, will presumably play the role of king-maker.
5. Senate again votes against Trump border emergency declaration
The Senate voted 54-41 on Wednesday to rebuke President Trump for trying to build his promised border wall without funding approved by Congress. It is the second time senators have passed a resolution, without a veto-proof majority, against Trump's use of an emergency declaration to gain access to money for the barrier on the U.S.-Mexico border. Eleven of Trump's fellow Republicans joined Democrats in the vote against him. The Trump administration is diverting $3.6 billion in funding earmarked for military construction projects to pay for the wall. Senate Minority Leader Chuck Schumer (D-N.Y.) said Trump was "slashing support for critical military projects in red states as well as blue." Senate Majority Leader Mitch McConnell (R-Ky.) criticized the resolution as a "show vote."
6. Intelligence director to testify on whistleblower complaint
Acting Director of National Intelligence Joseph Maguire is scheduled to testify Thursday about the whistleblower complaint stemming from President Trump's phone call with Ukraine's president, in which Trump asked for Ukraine to investigate former Vice President Joe Biden and his son, Hunter. The Washington Post, citing current and former U.S. officials familiar with the matter, reported Wednesday that Maguire had threatened to resign if the White House tried to pressure him to withhold information from Congress. Maguire denied he had suggested he might step down over the matter. "I have never quit anything in my life," he said, "and I am not going to start now." The Justice Department received two criminal referrals but dismissed them, saying Trump's call did not rise to a criminal level.
The Washington Post The New York Times
7. Iranian leader warns 'single blunder' could trigger conflict
Iranian President Hassan Rouhani on Wednesday warned that a "single blunder" could threaten peace in the Persian Gulf. Rouhani, in a closely watched speech at the United Nations General Assembly, accused the United States of "merciless economic terrorism" against his country since President Trump withdrew the U.S. from the 2015 Iranian nuclear deal. Rouhani said the Trump administration had committed "international piracy" against his country by reimposing economic sanctions. Iran "will never negotiate with an enemy that seeks to make Iran surrender with the weapon of poverty," Rouhani said. "Stop the sanctions so as to open the way for the start of negotiations." The speech came shortly after Secretary of State Mike Pompeo announced fresh sanctions targeting Iran's ability to sell its oil.
8. U.K.'s Johnson dismisses opposition calls to resign
A defiant British Prime Minister Boris Johnson dismissed opposition calls to step down during a contentious appearance in Parliament on Wednesday. A day earlier, the U.K.'s highest court ruled Johnson's suspension of Parliament ahead of a late October Brexit deadline was illegal. Opposition Labour Party leader Jeremy Corbyn said Johnson "should have done the honorable thing and resigned" after the ruling. Johnson, who has vowed to lead the U.K. out of the European Union with or without a divorce deal, dared the opposition to push for a new election if it wants a change. "This Parliament must either stand aside and let this government get Brexit done or bring a vote of confidence and finally face the day of reckoning with the voters," Johnson said.
9. Family health insurance costs hit record high
Family health coverage costs in the U.S. have risen to a record high above $20,000, according to an annual Kaiser Family Foundation survey released Wednesday. The higher cost has caused more American workers to switch to cheaper plans that provide less coverage, or to simply go without insurance altogether. "It's as much as buying a basic economy car," said Drew Altman, chief executive officer of the Kaiser Family Foundation, "but buying it every year." The nonprofit health research group found that health-care premiums and deductibles are going up faster than wages or prices across the rest of the economy. The average deductible for a single person, for example, has gone up to $1,396 in 2019. In 2009, it was $533.
10. Goldman Sachs: Cities face costly, 'significant' climate change risks
Goldman Sachs on Wednesday released a report warning of costly, "significant" potential risks to some of the world's largest cities as climate change hits them with more frequent and extreme storms, higher temperatures, and rising sea levels. The bank's Global Markets Institute noted that New York, Tokyo, and Lagos are high on the list of major cities that could face harmful flooding from storm surges. Miami, Alexandria, Dhaka, and Shanghai also face flood threats because they are just above sea level. The report also pointed out that 80 percent of global GDP comes out of cities, and half the world's population lives in them.

Continue reading for free
We hope you're enjoying The Week's refreshingly open-minded journalism.
Subscribed to The Week? Register your account with the same email as your subscription.