10 things you need to know today: February 12, 2020
Sanders wins the New Hampshire Democratic primary, prosecutors quit the Roger Stone case after sentencing reversal, and more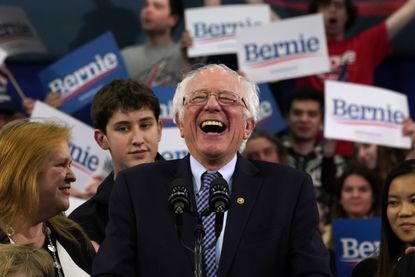 (Image credit: TIMOTHY A. CLARY/AFP via Getty Images)
1. Sanders wins N.H. primary with Buttigieg close behind
Sen. Bernie Sanders (I-Vt.) won Tuesday's New Hampshire Democratic primary, with former South Bend, Indiana, mayor Pete Buttigieg close behind. Sanders said his victory was "the beginning of the end for Donald Trump." With nearly all precincts reporting, Sanders had 25.9 percent of the vote and Buttigieg 24.4 percent. Both won nine delegates. A surging Sen. Amy Klobuchar (D-Minn.) got 19.8 percent, splitting the moderate vote with Buttigieg and securing six delegates. Sen. Elizabeth Warren (D-Mass.), who is battling Sanders for control of the party's liberal wing, came in a distant fourth with 9.3 percent, followed by former Vice President Joe Biden with 8.4 percent. Biden moved on to South Carolina, where he told a crowd in the capital city of Columbia, "It ain't over, man."
2. All 4 Roger Stone prosecutors quit over DOJ sentencing reversal
Four prosecutors quit the Roger Stone case on Tuesday after their superiors overruled their recommendation that the longtime President Trump adviser be sentenced to up to nine years in prison. The Justice Department said it would reduce the prison term it's seeking for Stone, who was convicted in 2017 of lying to Congress about his efforts to get hacked information on Democrats from WikiLeaks to help Trump's campaign. A senior Justice Department official said that the original recommendation was "grossly disproportionate to Stone's offenses." The prosecutors had said "aggravating offenses," including a witness tampering charge, justified their call for a longer prison term. Trump tweeted Monday that the original recommendation was unfair. The Justice Department said it decided to push for a lighter sentence before Trump's remarks.
Subscribe to The Week
Escape your echo chamber. Get the facts behind the news, plus analysis from multiple perspectives.
SUBSCRIBE & SAVE
Sign up for The Week's Free Newsletters
From our morning news briefing to a weekly Good News Newsletter, get the best of The Week delivered directly to your inbox.
From our morning news briefing to a weekly Good News Newsletter, get the best of The Week delivered directly to your inbox.
3. Trump easily wins New Hampshire's Republican primary
President Trump easily won the New Hampshire Republican primary on Tuesday, as expected. With most precincts reporting, Trump had nearly 86 percent of the vote, and former Massachusetts Gov. Bill Weld had 9 percent. Weld, who said he "exceeded expectations," was hoping a surprisingly strong showing in New Hampshire would show he could lure away a big portion of Republican voters, and boost his longshot bid for the party's nomination. "If I got 20 percent, they'd be like, holy s--t, what's happening here?" Weld told The Hill last month. Trump won the state in the 2016 primaries but lost it to Democratic nominee Hillary Clinton in the general election. His campaign reportedly is aiming to make a strong push to flip the state this year.
4. Andrew Yang, Michael Bennet end presidential campaigns
Andrew Yang dropped out of the race for the Democratic presidential nomination on Tuesday after weak showings in the Iowa caucuses and New Hampshire primary. "I am a numbers guy," said Yang, an entrepreneur who called for giving every American adult $1,000 a month in guaranteed income. "In most of these [upcoming] states, I'm not going to be at a threshold where I get delegates, which makes sticking around not necessarily helpful or productive in terms of furthering the goals of this campaign." Yang did not immediately endorse any of the remaining candidates, but said he would consider backing someone if it becomes clear "there's a particular candidate that gives us a superior chance of beating Donald Trump." Colorado Sen. Michael Bennet, another longshot candidate, also dropped out.
5. Federal judge rules in favor of the T-Mobile and Sprint merger
A federal judge on Tuesday approved the proposed $26 billion T-Mobile and Sprint merger. The Justice Department and the Federal Communications Commission last year signed off on combining the third and fourth largest wireless carriers in the U.S., but the deal faced a lawsuit from state attorneys general. New York Attorney General Letitia James (D) last year called the merger "exactly the sort of consumer-harming, job-killing mega merger our antitrust laws were designed to prevent." On Tuesday, U.S. District Court Judge Victor Marrero ruled that the merger wasn't likely to "substantially lessen competition." The companies say they need to join forces to compete and deliver new 5G service. The California Public Utilities Commission will still need to approve the merger.
6. Sudan agrees to hand over former leader wanted for war crimes
Sudan's transitional government has agreed to send ousted former leader Omar al-Bashir to face war-crime and genocide charges at the International Criminal Court, The Associated Press reported Tuesday, citing a top Sudanese official. The decision reportedly was part of a deal with rebels to hand over anyone wanted by the ICC, based in The Hague, Netherlands. "We agreed that everyone who had arrest warrants issued against them will appear before the ICC. I'm saying it very clearly," said Mohammed Hassan al-Taishi, a member of the council and a government negotiator. He did not mention al-Bashir by name, or provide a timetable for turning over wanted suspects. "We can only achieve justice if we heal the wounds with justice itself," he said.
7. China reports slowing rise of new coronavirus infections
Chinese authorities said Wednesday the spread of the coronavirus outbreak was showing signs of slowing, although 97 new deaths pushed the toll above 1,100. In an attempt to avoid stigma, the World Health Organization has come up with a new name for the coronavirus illness now affecting people in 25 countries: COVID-19, which stands for "coronavirus disease 2019." Director General Tedros Adhanom Ghebreyesus tweeted on Tuesday that WHO "had to find a name that does not refer to a geographical location, an animal, an individual, or group of people, and which is also pronounceable and related to the disease." The coronavirus originated in Wuhan, China, and was first detected at the end of last year. About 400 cases have been reported in 24 other countries.
8. Fed chair tells Congress economy 'in a very good place'
Federal Reserve Chair Jerome Powell told the House Financial Services Committee on Tuesday that the economy is "in a very good place." Powell added that there was "no reason" that the nation's record long economic expansion of 11 years and counting should not continue. He warned, however, that the coronavirus epidemic centered in China will affect the world's second largest economy, its neighbors, and trading partners. There will "very likely be some effects on the United States," he said. Powell also repeated the Fed view that its current target range for its benchmark short-term interest rate of 1.50 percent to 1.75 percent is "appropriate."
9. Anti-bias group says white supremacist propaganda cases doubled in 2019
The number of incidents of white supremacist propaganda distributed across the nation increased by more than 120 last year compared to 2018, the Anti-Defamation League reported Tuesday. There were 2,713 cases of fliers, banners, and other propaganda being circulated by white supremacist groups in 2019, up from 1,214 cases in 2018. It was the second straight year that the number of cases more than doubled, with a more than 180 percent jump from 2017 to 2018. Oren Segal, director of the League's Center on Extremism, said some of the white supremacist material included more subtle rhetoric using terms such as "patriotism," signaling a possible attempt "to make their hate more palatable for a 2020 audience."
10. Siba the standard poodle wins Best in Show at Westminster Dog Show
Siba, a 3-year-old standard poodle, was the big winner at the 144th Westminster Kennel Club Dog Show, with the judges naming her Best in Show. A whippet named Bourbon came in second. "She's just a great dog," Siba's co-owner, Connie Unger, told USA Today. "She loves the showing, she's in her element when she's being shown. She's really an all-around great dog." This is the fifth time a standard poodle has been crowned Best in Show, with the previous wins in 1935, 1958, 1973, and 1991. Siba's handler, Chrystal Clas, said the poodle would celebrate by eating some chicken.

Continue reading for free
We hope you're enjoying The Week's refreshingly open-minded journalism.
Subscribed to The Week? Register your account with the same email as your subscription.