10 things you need to know today: February 13, 2020
The Senate advances Iran War Powers Resolution, Barr agrees to testify to House amid Stone controversy, and more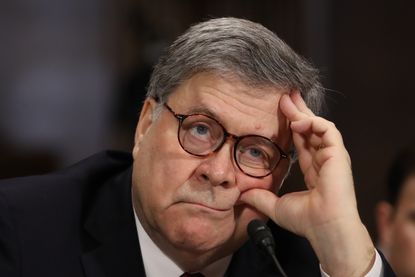 (Image credit: Getty Images)
1. Senate advances Iran War Powers Resolution in bipartisan vote
The Senate voted 51-45 on Wednesday to advance a resolution that would limit President Trump from pursuing military action in Iran without congressional approval. Eight Republicans sided with all Democrats to move Sen. Tim Kaine's (D-Va.) resolution to a floor vote. Sens. Bernie Sanders (I-Vt.), Elizabeth Warren (D-Mass.), and Amy Klobuchar (D-Minn.) didn't vote as they were likely on the presidential campaign trail, and recent 2020 dropout Sen. Michael Bennet (D-Colo.) didn't vote either. Trump tweeted earlier Wednesday to encourage senators to vote against the resolution, saying "this is not the time to show weakness" to Iran. It comes as Trump continues to escalate tensions with Iran after authorizing a strike that killed top Iranian general Qassem Soleimani. Trump is expected to veto the bill.
2. Barr to testify to House as Democrats question Stone sentencing move
Attorney General William Barr has agreed to testify before the House Judiciary Committee on March 31 as questions mount about the Justice Department's decision to overrule prosecutors and recommend a light sentence for President Trump's longtime adviser Roger Stone. Democrats on the committee said Wednesday in a letter to Barr confirming the arrangement that they plan to discuss concerns about "the misuse of our criminal justice system for political purposes." The announcement came a day after all four prosecutors involved in the Stone case quit when the Department of Justice overruled their sentencing recommendation of seven to nine years for Stone, who was convicted of lying to Congress and other charges. On Wednesday, Trump congratulated Barr on Twitter "for taking charge" of the case.
Subscribe to The Week
Escape your echo chamber. Get the facts behind the news, plus analysis from multiple perspectives.
SUBSCRIBE & SAVE
Sign up for The Week's Free Newsletters
From our morning news briefing to a weekly Good News Newsletter, get the best of The Week delivered directly to your inbox.
From our morning news briefing to a weekly Good News Newsletter, get the best of The Week delivered directly to your inbox.
The Hill House Judiciary Committee
3. Several GOP senators criticize Trump tweets on Stone sentencing
Several Republican senators on Wednesday said President Trump should not have criticized prosecutors for recommending up to nine years in prison for Roger Stone, a longtime Trump adviser who was convicted in November of lying to Congress and obstructing the Russia investigation. "I don't think he should be commenting on cases in the system," said Sen. Lindsey Graham (R-S.C.). "I don't think that's appropriate." Several other senators, including Susan Collins (R-Maine) and John Kennedy (R-La.) made similar comments. On the same day as Trump's tweet, the Justice Department said it would overrule the recommendation and propose a lighter sentence. Four prosecutors quit the case after the announcement, and Democrats called for investigations.
4. Deval Patrick ends presidential campaign
Former Massachusetts Gov. Deval Patrick ended his campaign for the 2020 Democratic presidential nomination on Wednesday. Patrick, the last African-American candidate in the Democratic field, entered the race late but failed to draw significant support. He never attracted enough donors or polling support to qualify for a spot on a debate stage. He placed second to last with 0.4 percent of the vote in Tuesday's New Hampshire primary. "The vote in New Hampshire last night was not enough for us … to go on to the next round of voting," Patrick said in a statement. Two other Democrats, Andrew Yang and Michael Bennet, dropped out on Tuesday as the remaining candidates moved on to campaign for the next contests, in South Carolina and Nevada.
The Associated Press NBC Boston
5. Confirmed coronavirus cases soar as China changes diagnostic rules
Chinese public health officials on Thursday reported a huge increase in the number of coronavirus cases in Hubei province on Thursday. The 14,840 new cases, lifting total infections to about 60,000, marked a 10-fold increase over the number reported a day earlier. The 242 new deaths more than doubled the most recorded in a single day. It was not immediately clear what the figures indicated about how fast the flu-like virus was spreading, because the spike came after the health commission in Hubei, the epicenter of the virus, changed its diagnostic criteria for confirming cases, giving doctors more discretion in identifying new cases. Still, the news cooled hopes that the spread of the epidemic was slowing, halting a rally in Asian stock markets.
South China Morning Post Reuters
6. China shakes up Hubei leadership amid questions about virus response
China's Communist Party on Thursday fired several senior officials in Hubei province, the center of the new coronavirus outbreak, in a move to firm up Beijing's control of the response to the outbreak. The Central Committee said Jiang Chaoliang, Hubei's party secretary since 2016, will be replaced by Shanghai Mayor Ying Yong, an ally of Chinese President Xi Jinping. The Communist Party also fired Ma Guoqiang, party boss in the city of Wuhan, where the coronavirus outbreak originated. Chinese citizens have complained about how long it took the government to acknowledge the outbreak, saying a slow response allowed the virus to spread. The number of confirmed cases jumped to nearly 50,000 in Hubei alone, and about 60,000 overall cases and 1,367 deaths.
7. Iowa Democratic Party chair resigns
Iowa Democratic Party Chair Troy Price resigned Wednesday following the state's chaotic caucuses, the first contest in the presidential primary season. "Democrats deserved better than what happened on caucus night," Price wrote in a resignation letter to fellow party leaders. "As chair of this party, I am deeply sorry for what happened and bear the responsibility for any failures on behalf of the Iowa Democratic Party." Democratic National Committee Chairman Tom Perez angrily called on the state party to recanvass after a delay due to problems with a smartphone app used to report results. The party said Wednesday it would recanvass precincts as requested by the campaigns of Sen. Bernie Sanders (I-Vt.) and former South Bend, Indiana, mayor Pete Buttigieg, who both claimed victory.
8. Marie Yovanovitch says State Department leaders lack 'moral clarity'
Former Ambassador to Ukraine Marie Yovanovitch on Wednesday told an audience at Georgetown University that the State Department is "in trouble," with leaders lacking "policy vision" and "moral clarity." Yovanovitch was ousted from her post last May, following what her supporters have called a smear campaign orchestrated by President Trump's personal lawyer Rudy Giuliani. She retired from the State Department last month, and told the crowd that when it comes to foreign policy, the U.S. needs to be "principled, consistent, and trustworthy. To be blunt, an amoral, keep-them-guessing foreign policy that substitutes threats, fear, and confusion for trust cannot work over the long haul." Yovanovitch was at Georgetown to accept an award from the School of Foreign Service, and received a standing ovation.
9. Deficit rises 25 percent in first 4 months of fiscal 2020
The federal deficit hit $389.2 billion in the first four months of the 2020 fiscal year, a 25 percent increase over the same period the previous year. The shortfall over those four months is already roughly 40 percent of the entire 2019 deficit of $1.06 trillion. The government is bringing in more, with receipts totaling $1.18 trillion through January, up from $1.1 trillion in the same period a year earlier. But spending is up by more, hitting $1.57 trillion in the first four months of the new fiscal year compared to $1.42 trillion last year. President Trump has said economic growth would pay the cost of his tax cuts, but GDP growth slowed from 2.9 percent in 2018 to 2.3 percent in 2019.
10. Trump says Duterte's curbing of U.S.-Philippines military ties not a problem
President Trump on Wednesday brushed off Philippines President Rodrigo Duterte's announcement that he would end a two-decade-old military arrangement that let U.S. soldiers train in the country. "I don't really mind if they would like to do that, it will save a lot of money," Trump told reporters at the White House. "My views are different from others." Trump often calls for bringing home American military personnel stationed overseas. He also consistently presses allies to pay more for their own defense, including that provided by U.S. troops. An Asia Times analysis, however, warned this week that Duterte's decision was a "shock move" that could severely hurt U.S.-Philippine ties and "have ramifications for the region's strategic balance of power including in the hotly contested South China Sea."

Continue reading for free
We hope you're enjoying The Week's refreshingly open-minded journalism.
Subscribed to The Week? Register your account with the same email as your subscription.