10 things you need to know today: March 28, 2020
Trump signs $2.2 trillion coronavirus stimulus bill, Trump invokes Defense Protection Act to mandate GM's ventilation production, and more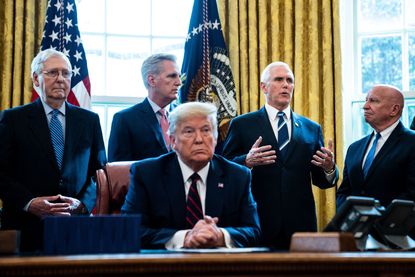 (Image credit: Erin Schaff-Pool/Getty Images)
1. Trump signs $2.2 trillion coronavirus stimulus bill
President Trump on Friday signed into law a $2.2 trillion emergency spending bill intended to help the economy recover from the COVID-19 coronavirus pandemic. The historic stimulus bill was passed in the House just hours earlier, after members of Congress were forced to return to Washington D.C. to overrule an objection by Rep. Thomas Massie (R-Ky.), whose opposition to a unanimous voice vote required the House to form a 216-member quorum. The bill authorizes the Treasury Department to send Americans $1,200 payments, and provides billions in small business loans. It also expands unemployment benefits and sends additional funding to hospitals in COVID-19 hotspots. There are now 100,000 confirmed cases of COVID-19 in the U.S.; Congress has scrambled to contain the economic fallout.
2. Trump invokes Defense Protection Act to mandate GM's ventilation production
President Trump on Friday invoked the Defense Protection Act to force General Motors to produce ventilators to aid in the COVID-19 coronavirus pandemic. Trump utilized certain provisions of the DPA, first used as a wartime measure, last week, but since many companies immediately shifted their usual manufacturing to medical supply production, he didn't feel a need to invoke the part of the Act that can compel any company to produce supplies. Trump noted negotiations with GM had been ongoing, but said GM was "wasting time" at a critical point in the response effort, so the government will now "require General Motors to accept, perform, and prioritize federal contracts for ventilators." COVID-19 hotspots have reported ventilator shortages, and the shortage is expected to become more dire.
Subscribe to The Week
Escape your echo chamber. Get the facts behind the news, plus analysis from multiple perspectives.
SUBSCRIBE & SAVE
Sign up for The Week's Free Newsletters
From our morning news briefing to a weekly Good News Newsletter, get the best of The Week delivered directly to your inbox.
From our morning news briefing to a weekly Good News Newsletter, get the best of The Week delivered directly to your inbox.
3. U.S. tops 100,000 coronavirus cases
The United States became the first country to top 100,000 confirmed cases of the novel coronavirus, as the death toll rose past 1,700, per Johns Hopkins University. Meanwhile, New York City appears poised to become the next epicenter of the pandemic, which has quickly overwhelmed the city's hospitals. While its makeshift 1,000-bed facility in the Javits Center is ready to open, New York Gov. Andrew Cuomo (D) is calling on President Trump to allow the city to create 4,000 more. Mayor Bill de Blasio said he expects the city to run out of resources to fight the virus and treat patients by April 5, and suggested "half of all New Yorkers" or more may contract the disease.
4. FDA approves 15-minute coronavirus test
The Food and Drug Administration approved Friday a novel coronavirus test for emergency use that can reportedly provide diagnostic results in less than 15 minutes, a major improvement from most tests, many of which take days. The test is produced by Abbot Laboratories, which plans to begin delivering 50,000 per day starting April 1 to places they are most needed like emergency rooms, urgent-care clinics, and doctors' offices. The testing equipment is small and portable, and can reportedly be used just about anywhere. Abbot also received approval on another testing system earlier in the week that takes longer to deliver results, but can churn out more tests on a daily basis. Between the two systems, the lab hopes to eventually provide 5 million per month.
5. British Prime Minister Boris Johnson tests positive for coronavirus
British Prime Minister Boris Johnson announced Friday he has tested positive for the COVID-19 coronavirus. Johnson said he received a coronavirus test after developing a fever and a persistent cough, and he has now self-isolated. "That's entirely the right thing to do, but be in no doubt that I can continue, thanks to the wizardry of modern technology, to communicate with all of my top team to lead the national fight back against coronavirus," he said. Johnson recently imposed strict lockdown measures in the United Kingdom amid the coronavirus pandemic, ordering every non-essential shop to close and effectively banning public gatherings. Not long after Johnson's announcement, British Health Secretary Matt Hancock said he also tested positive for COVID-19 with "mild symptoms."
6. Stocks take sharp fall to end volatile week
The Dow Jones Industrial Average sank 915 points at closing on Friday, marking the end of a volatile week as the COVID-19 coronavirus pandemic continued to ripple through the economy and Congress rushed to pass a historic emergency spending bill to soften the blow and aid Americans who logged a record 3.3 million unemployment claims last week. The S&P 500 dropped 3.4 percent, and the Nasdaq Composite slid 3.7 percent. The plunge came after a strong three-day streak of gains, as investors looked ahead to a bill that could reinvigorate the economy. Markets have yo-yoed wildly over the past several weeks, and further volatility is expected.
7. Civil rights leader Joseph Lowery dies at 98
Civil rights leader Joseph Lowery died peacefully from natural causes Friday evening in Atlanta, his family said. He was 98. Lowery was among the ministers who founded the Southern Christian Leadership Conference with Rev. Martin Luther King Jr., which practiced civil disobedience amid the height of racial unrest in the South. He went on to serve as the group's president for 20 years, during which he helped revive the struggling organization after years of turmoil following King's 1968 assassination. Lowery was known for working in the background behind King, who was the face of the movement. In 1965 in Alabama, after a five-day, 54-mile voting rights march from Selma to Montgomery, Lowery took protesters' demands to the state's segregationist Gov. George Wallace. He is survived by his three daughters.
8. Instacart shoppers plan strike to demand coronavirus protections
Shoppers for the grocery delivery service Instacart will stop accepting orders starting Monday to demand better protections amid the COVID-19 pandemic. They're seeking additional "hazard pay" for every delivery, paid protections such as hand sanitizer and gloves, and expanded sick leave. "It's so scary to be in a grocery store right now," said Instacart shopper and strike organizer Vanessa Bain. "While Instacart's corporate employees are working from home, Instacart's [gig workers] are working on the frontlines," she said. "The health and safety of our entire community ... is our first priority," said an Instacart spokesperson. The company offered additional benefits to workers on Friday, adding 30 more days to its 14-day sick leave for those quarantined or sick from COVID-19, but only for those who've tested positive for the disease.
9. China closes all movie theaters again after hundreds reopen
Some movie theaters in China recently started to reopen after closing amid the COVID-19 coronavirus crisis, but they didn't remain in operation for long. Beijing's Film Bureau in a notice on Friday ordered all of China's movie theaters to once again close despite more than 600 cinemas having previously been given approval to reopen. The few hundred theaters that were resuming operations in China represented a fairly small percentage of the theaters in the country, and reports indicated they weren't selling very many tickets. The notice offered no explanation for the reversal but the government reportedly may be worried about a potential second wave of coronavirus infections.
10. Severe weather threatens much of Midwest
Severe weather is forecast for Saturday afternoon and evening in the Midwest, threatening several states. The expected thunderstorms have reportedly put anywhere between 30 million and 70 million people at risk. Some of the stronger storms could potentially bring with them tornadoes, powerful winds, and hail. The weather may extend as far north as central Iowa and southern Wisconsin and stretch all the way down to northeastern Texas and northwestern Louisiana. The storms would reportedly be the result of unseasonably warm, moist air ahead of a rapidly intensifying, low-pressure system. Missouri, Iowa, and Indiana are all at enhanced risk of tornadoes.

Continue reading for free
We hope you're enjoying The Week's refreshingly open-minded journalism.
Subscribed to The Week? Register your account with the same email as your subscription.