10 things you need to know today: October 10, 2020
2nd presidential debate canceled after Trump objects to virtual format, U.S. hits 2-month coronavirus case high, several states report record hospitalizations, and more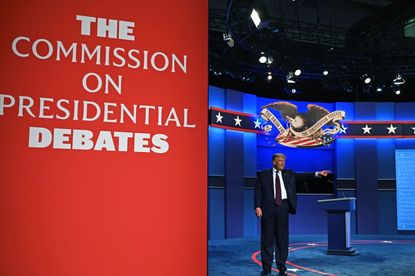 (Image credit: JIM WATSON/AFP via Getty Images)
Sign up to our 10 Things You Need to Know Today newsletter
A free daily digest of the biggest news stories of the day - and the best features from our website
Thank you for signing up to TheWeek. You will receive a verification email shortly.
There was a problem. Please refresh the page and try again.
1. 2nd presidential debate canceled after Trump objects to virtual format
The Commission on Presidential Debates on Friday announced that the 2020 presidential debate that was scheduled to take place on Oct. 15 in Miami has been canceled. Organizers on Thursday said that this debate between President Trump and former Vice President Joe Biden would proceed virtually "in order to protect the health and safety of all involved." But Trump, who announced he had tested positive for COVID-19 days after the first 2020 debate, objected to the idea of not holding the event in person and said he would not attend the virtual debate. "It is now apparent there will be no debate on Oct. 15, and the CPD will turn its attention to preparations for the final presidential debate scheduled for Oct. 22," organizers said.
Commission on Presidential Debates CNN
2. U.S. hits 2-month coronavirus case high, several states report record hospitalizations
The United States reported more than 58,000 coronavirus infections Friday, a two-month high, Reuters reports. The Reuters analysis also found that 10 states, including several in the Midwest, reported record one-day case increases. Wisconsin and Illinois, for example, both reported more than 3,000 new infections for the second consecutive day. Overall, 19 states have seen record 24-hour jumps in the month of October, which is just more than a week old. Per Reuters, seven states — Arkansas, Kansas, Missouri, Montana, North Dakota, Oklahoma, and Wisconsin — also reported highs for hospitalizations Friday, and there are now more than 34,000 patients hospitalized with COVID-19 nationally, up 18 percent in the last two weeks. Deaths continue to trend downward, although the average is still around 700 per day, and fatalities are generally considered a lagging factor, usually rising weeks after cases climb.
Subscribe to The Week
Escape your echo chamber. Get the facts behind the news, plus analysis from multiple perspectives.
SUBSCRIBE & SAVE
Sign up for The Week's Free Newsletters
From our morning news briefing to a weekly Good News Newsletter, get the best of The Week delivered directly to your inbox.
From our morning news briefing to a weekly Good News Newsletter, get the best of The Week delivered directly to your inbox.
3. Trump gives 1st televised interview since COVID-19 diagnosis
President Trump gave his first televised interview Friday night since his COVID-19 diagnosis and subsequent hospitalization and discharge, telling Fox News medical contributor Dr. Marc Siegel at one point that he had been "medication free" for eight hours. Later in the interview, however, Siegel asked Trump what medications he was on, to which the president replied "pretty much nothing." Trump said he "didn't feel very vital" or "like the president of the U.S. should feel" before he was flown to Walter Reed hospital last week, but said he "didn't have a problem with breathing." He praised the hospital's medical staff who treated him, as well as the medications he received, for helping him recover quickly. The president also said he's been re-tested for the virus, and while he doesn't know the results, he said he was "either at the bottom of the scale or free."
4. White House pitches $1.8 trillion relief bill, but negotiations remain stagnant
Treasury Secretary Steven Mnuchin, who has represented the White House in negotiations with Congress in seeking a new coronavirus stimulus bill, presented a $1.8 trillion offer on Friday, just days after President Trump declared talks should be on hold until after the November election. After making the pitch to House Speaker Nancy Pelosi (D-Calif.), however, Pelosi's spokesperson said the bill lacked "a strategic plan" to control the COVID-19 pandemic. After Trump spiked negotiations earlier in the week, he reversed and said Friday he "would like to see a bigger stimulus package than either Democrats or Republicans are offering." Democrats have been seeking a $2.2 trillion bill. Senate Majority Leader Mitch McConnell (R-Ky.) told reporters a deal on another coronavirus stimulus bill is still "unlikely in the next three weeks," as some Senate Republicans are reportedly wary of passing any additional aid package.
5. Armenia, Azerbaijan accuse each other of violating ceasefire
Armenia and Azerbaijan have agreed to a temporary ceasefire, which went into effect Saturday after nearly two weeks of violent conflict in the disputed Nagorno-Karabakh region so the two sides could exchange prisoners and recover bodies. Both countries quickly accused the other of breaking it. The agreement was reached after 10 hours of negotiations in Moscow. Russian Foreign Minister Sergei Lavrov said Yerevan and Baku would now begin "substantive talks," but Armenian Foreign Minister Zohrab Mnatsakanyan said Armenia wants Nagorno-Karabakh — officially recognized as part of Azerbaijan, but mostly governed by ethnic Armenians — to be an independent state, while Azeri Foreign Minister Jeyhun Bayramov said not enough pressure was placed on Armenia during the discussions, adding that Azerbaijan expects to take control of more territory and the ceasefire will only last as long as it takes for the Red Cross to arrange for bodies to be exchanged.
6. Trump to host 100s of people at White House on Saturday
President Trump is reportedly scheduled to host hundreds of guests on the South Lawn of the White House for a "law and order" event on Saturday, just one week after he was hospitalized with COVID-19, possibly picking up the virus at another large event. Trump will reportedly stay far away from the crowds and deliver "remarks to peaceful protesters for law and order" from the balcony over the South Lawn. Trump revealed his COVID-19 diagnosis last week, several days after leading Amy Coney Barrett's Supreme Court nomination in the Rose Garden, where few wore masks. Several attendees later tested positive as well, leading White House medical staff to reportedly conclude that was the source of the outbreak. Trump will also reportedly hold his first post-coronavirus rally Monday night.
7. Federal judge blocks Texas governor's ballot drop-off location limit
U.S. District Judge Robert Pitman ruled late Friday night that Texas counties can have multiple drop-off locations for absentee ballots this election cycle. Texas Gov. Greg Abbott (R) had previously issued an order limiting drop-off locations to one per county, a decision that he said was made to increase election security. Democrats had accused Abbott of trying to suppress the vote, and while Pitman's ruling didn't make that specific claim, it did say Abbott's order placed an extra burden on older and disabled Texas voters in the state's larger counties who "must travel further distances to more crowded ballot return centers where they would be at an increased risk of being infected by the coronavirus." Texas may appeal the ruling, NPR reports.
8. Report: Trump 'windfall' preceded last-minute 2016 campaign cash boost
The New York Times obtained a slew of President Trump's hidden tax records, including his returns from 2016, the year he won the presidency. They reveal a series of "highly unusual one-off payments" totaling $21 million from Trump's Las Vegas hotel, which he may have funneled to his cash-strapped campaign, the Times reports. As he ran short on campaign money, Trump sold off $38.5 million in stocks, and reportedly "engineered a sudden financial windfall" in the form of payments from the Las Vegas hotel. The $21 million in payments flowed from Trump-controlled companies to Trump, written off as business expenses. If not used for business, claiming a deduction would be illegal, as would be if any of his $10 million campaign contribution in October came from the payments.
9. Delta downgraded to tropical storm, remains threat over Gulf Coast states
Hurricane Delta made landfall in Louisiana on Friday night as a category 2 storm. Though it has since been downgraded to a tropical storm, more than 700,000 power outages were reported across Texas, Louisiana, and Mississippi on Saturday morning, and the Gulf Coast remains at risk of storm surge, heavy rainfall, flooding, and severe winds — which previously topped out at 100 miles per hour — as the system heads north, the National Weather Service said. Delta hit the same region as Hurricane Laura just weeks earlier. Many residents are still struggling to recover from that event, with thousands of people still living in emergency lodging. Delta is the fourth named storm to hit Louisiana this year.
10. Yankees legend Whitey Ford dies at 91
Hall of Fame pitcher Whitey Ford, who led the New York Yankees to six World Series titles and 11 American League pennants in his 16-year career, died at age 91, the Yankees announced on Friday. A cause of death was not given. A 10-time all-star and the winner of the 1961 Cy Young Award, Ford won more games as a Yankee than any other pitcher, compiling a career record of 236-106 and a .690 winning percentage — the best of any pitcher with at least 300 career decisions. Ford was also an eight-time Game One starter in the World Series, and holds World Series records for wins (10), starts (22), strikeouts (94), and innings pitched (146). Ford is the latest baseball legend to pass away in 2020, following the deaths of Al Kaline, Tom Seaver, Lou Brock, and Bob Gibson.