10 things you need to know today: November 3, 2020
Election Day arrives after final flurry of Trump, Biden rallies, Birx calls for "more aggressive action" against pandemic, and more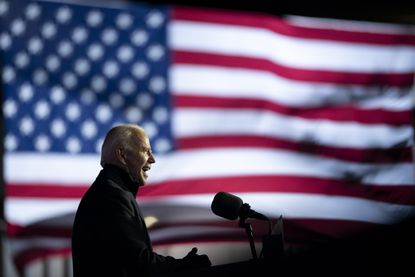 (Image credit: Drew Angerer/Getty Images)
1. Trump, Biden make final appeals for vote as Election Day arrives
President Trump and his Democratic rival, Joe Biden, made a flurry of appearances in battleground states on Monday, making final pitches for votes ahead of Tuesday's election. Biden held a drive-in rally in Ohio, where he trails narrowly in polls, and returned to Pennsylvania, where a win could get him to the 270 Electoral College votes needed to take the Electoral College. Biden slammed Trump's handling of the coronavirus crisis, telling a mostly Black crowd in Pittsburgh: "We're done with the chaos, we're done with the tweets, the anger, the hate, the failure, the irresponsibility." Trump, flouting anti-pandemic guidelines, held large rallies in North Carolina, Pennsylvania, Michigan, and Wisconsin, telling supports at one event: "This is not the crowd of a second-place finisher." Trump framed the election as a choice between his promised economic boom and "a deadly Biden lockdown."
The New York Times Pittsburgh Post-Gazette
2. Birx calls for 'more aggressive action' against COVID-19
Top White House coronavirus adviser Deborah Birx on Monday warned in an internal report that the administration must take "much more aggressive action" as the coronavirus crisis enters a deadly new phase, contradicting President Trump's assurances that the United States is "rounding the turn" in the fight against the pandemic. "We are entering the most concerning and most deadly phase of this pandemic ... leading to increasing mortality," Birx said in the Nov. 2 report. "This is not about lockdowns — It hasn't been about lockdowns since March or April. It's about an aggressive balanced approach that is not being implemented." Birx, the coordinator of the White House coronavirus task force, disputes Trump's suggestion that the recent surge in cases is due to increased testing.
Subscribe to The Week
Escape your echo chamber. Get the facts behind the news, plus analysis from multiple perspectives.
SUBSCRIBE & SAVE
Sign up for The Week's Free Newsletters
From our morning news briefing to a weekly Good News Newsletter, get the best of The Week delivered directly to your inbox.
From our morning news briefing to a weekly Good News Newsletter, get the best of The Week delivered directly to your inbox.
3. Early votes near 100 million on eve of election
The nationwide total of early votes cast surpassed 95 million Monday on the eve of Election Day, according to a tally from the University of Florida's U.S. Elections Project. That was more than double the 47 million Americans who voted early in the 2016 presidential election, and meant that turnout was already 69 percent of the votes cast four years ago. More than 45 percent of registered voters mailed in their ballots or voted in person before Tuesday, and the early vote total was expected to exceed 100 million before the polls opened on Tuesday. In addition to the intensity of feelings about President Trump and Democratic nominee Joe Biden, an unprecedented number of Americans chose to mail their ballots to avoid the risk of coronavirus infection at crowded polls.
4. Massachusetts, Oregon governors order National Guard on stand-by
Governors Charlie Baker (R) of Massachusetts and Kate Brown (D) of Oregon on Monday ordered the National Guard to stand by in case of unrest following Tuesday's presidential election. Baker put 1,000 troops on alert. Brown declared a state of emergency for the Portland area due the possibility of violence. Her plan calls for the Oregon State Police and the Multnomah County Sheriff to take over public-safety management in the city. "We know that there are some people who might use peaceful election night protests to promote violence and property destruction," Brown said. "That behavior is not acceptable." Several other states, including New Jersey and Wisconsin, have called up hundreds of National Guard troops to handle election tasks, but in civilian clothes to avoid alarming voters. "It creates a sense of normalcy," said Major Joe Trovato, a spokesman for the Wisconsin National Guard.
5. Federal judge rejects GOP bid to disqualify drive-thru votes
A federal judge on Monday rejected a challenge by Republicans seeking to throw out more than 127,000 drive-thru votes cast in Harris County, home to Houston. The Republican-led petition argued that "drive-thru voting is not recognized in the Texas Election Code." The judge, Andrew Hanen, said the plaintiffs lacked legal standing to challenge the decision to use 10 drive-thru voting locations in the massive, Democratic-leaning county. A day earlier, the Texas Supreme Court denied a similar petition without issuing an opinion. The plaintiffs appealed the ruling, which came just a day before the election, but lost. Still, Harris County election officials said that as a precaution they would close down nine of their 10 drive-thru voting sites on Election Day.
Houston Chronicle The Dallas Morning News
6. Suspected ISIS gunmen kill 22 at Kabul University
Two gunmen apparently associated with the Islamic State stormed Kabul University's campus in Afghanistan's capital on Monday, killing at least 22 people and injuring 22 more. The gunmen held students and staff members hostage after blasting into campus and trapping dozens of people inside. "God give patience, my classmates martyred and wounded in front of my eyes, and I am taken hostage," fourth-year public policy student Qaseem Kohestani posted on Facebook during the five-hour siege. The Islamic State claimed responsibility for the attack. "Afghan President Ashraf Ghani's office condemned the attack and declared a national day of mourning Tuesday," writes The Washington Post. The Interior Ministry said campus has since been secured and hostages were freed.
7. Twitter unveils warning labels for premature election victory claims
Twitter on Monday spelled out its plan to place warning labels on tweets from any candidate claiming victory before the announcement of official results after tomorrow's elections. The count is expected to be markedly different from past elections due to a historic wave of mail-in ballots cast by people hoping to avoid the risk of coronavirus infections at crowded polls. Twitter said it would start using warning labels on election night with statements such as "official sources called this election differently," or "official sources may not have called the race when this was tweeted." Social media companies have faced intense pressure to crack down on misinformation in the run-up to the election.
8. Gunmen kill at least 4 in Vienna 'terror attack'
Multiple gunmen opened fire in central Vienna on Monday night, killing at least four people and injuring several others, including a police officer, Austrian authorities said. One of the gunmen was fatally shot in what Austrian Interior Minister Karl Nehammer called a "terror attack." The shooting erupted hours before the start of a nationwide lockdown intended to fight a resurgence of coronavirus infections. Police said several suspects "armed with rifles" fired from six locations in an area bustling with bars and restaurants, and near the city's main synagogue. During the response, authorities urged the public to avoid the area and refrain from sharing photos or videos on social media.
9. Judge rejects Trump administration's 'public charge' rule
A federal judge in Chicago on Monday rejected a Trump administration rule seeking to deny green cards to immigrants receiving food stamps and other public benefits. The decision by U.S. District Judge Gary Feinerman applies nationwide. The Illinois Coalition of Immigrant and Refugee Rights and Cook County filed a lawsuit in September 2019 challenging the rule, which labels anyone benefiting from programs such as food stamps as a public charge. The Supreme Court allowed it to take effect in January, but Feinerman said the rule violates the Administrative Procedure Act governing the development and implementation of federal regulations. Immigrant rights advocates argued that the Trump administration rule forced people to choose between their seeking health care and staying in the country.
10. Hurricane Eta's top winds double ahead of Nicaragua landfall
Hurricane Eta intensified rapidly on Monday, going from a tropical storm to a Category 4 storm as its top wind speeds more than doubled over 24 hours. The storm was approaching Nicaragua with top sustained winds of 150 miles per hour, near Category 5 strength, ahead of its expected landfall in the Central American nation on Tuesday morning. The slow-moving Eta has the lowest pressure of any storm in this unusually active Atlantic hurricane season. It is the 28th named storm of the year, tying a record set in 2005. "Eta has become an impressive November hurricane as it continues to undergo rapid strengthening," the National Hurricane Center said Monday. The "extremely dangerous" storm could bring nearly three feet of rain in parts of Central America, causing potentially deadly flooding and landslides, the hurricane center said.

Continue reading for free
We hope you're enjoying The Week's refreshingly open-minded journalism.
Subscribed to The Week? Register your account with the same email as your subscription.