10 things you need to know today: March 2, 2021
The Biden administration seeks ways for separated families to reunite, CDC warns against lifting COVID-19 restrictions, and more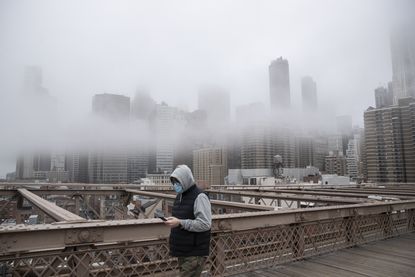 (Image credit: Victor J. Blue/Getty Images)
1. Biden administration to let separated migrant families reunite in U.S.
The Biden administration is trying to give families separated at the U.S.-Mexico border a chance to reunite in the United States or their country of origin, Homeland Security Secretary Alejandro Mayorkas said Monday. "If in fact, they seek to reunite here in the U.S., we will explore lawful pathways for them to remain in the United States — and to address the family needs, so we are acting as restoratively as possible," Mayorkas said. President Biden issued an executive order this month establishing a task force to look into bringing the families back together. Under former President Donald Trump, the U.S. separated around 2,800 families in 2018, and around 550 children continued to await reunification. Mayorkas said the Biden administration has brought 105 families together so far.
2. CDC director cautions against lifting coronavirus restrictions too soon
The director of the Centers for Disease Control and Prevention on Monday warned states against rolling back COVID-19 restrictions too soon for fear it could result in a resurgence of infections. CDC Director Rochelle Walensky said that data suggests recent declines in daily coronavirus cases have "leveled off at a very high number" and "appear to be stalling" at about 70,000 a day. "Please hear me clearly: At this level of cases, with variants spreading, we stand to completely lose the hard-earned ground we have gained," she said. The warning came as Johnson & Johnson begins shipping the first doses of its coronavirus vaccine, which was just approved for emergency use. The approval added a third vaccine to the campaign to step up inoculations in the United States after a slow start.
Subscribe to The Week
Escape your echo chamber. Get the facts behind the news, plus analysis from multiple perspectives.
SUBSCRIBE & SAVE
Sign up for The Week's Free Newsletters
From our morning news briefing to a weekly Good News Newsletter, get the best of The Week delivered directly to your inbox.
From our morning news briefing to a weekly Good News Newsletter, get the best of The Week delivered directly to your inbox.
3. Biden rallies Senate support for $1.9 trillion relief package
President Biden on Monday launched a bid to rally Senate Democrats behind his $1.9 trillion coronavirus relief package ahead of a crucial vote this week. Democrats don't have a vote to spare in the evenly divided Senate, where some moderate Democrats have expressed reluctance over the $350 million Biden wants to send state and local governments, and about his plan for special unemployment benefits. "The president's focus this week and in coming weeks, until it's passed, is on the American Rescue Plan," White House Press Secretary Jen Psaki said Monday. "It's absolutely critical Congress act, and we certainly hope they do that as quickly as possible." The House passed its version of the legislation on Saturday, but the Senate is expected to make some changes.
4. French court sentences Sarkozy to 3 years for corruption
A French court found former President Nicolas Sarkozy guilty and sentenced him to three years for forming a "corruption pact" with his lawyer and a senior magistrate. But Sarkozy, the first French president to be sentenced to jail in the country's modern history, probably won't spend any time in prison. Two of the three years were suspended, and Sarkozy will likely be able to serve the one remaining year in home confinement, wearing an electronic bracelet. Sarkozy still faces more legal hurdles. In just over two weeks, he'll again be on trial in relation to allegations that he violated campaign financing rules in 2012, and he remains under investigation for allegedly receiving millions of euros in campaign funds from former Libyan leader Moammar Gadhafi in 2007.
5. Texas sues Griddy Energy over sky-high bills
Texas Attorney General Ken Paxton filed a lawsuit on Monday accusing Griddy Energy and Griddy Holdings of "false, misleading, and deceptive advertising and marketing practices" after the company sent exorbitant bills to Texans during the recent winter storm that caused a spike in demand for heat and hobbled the state's deregulated power grid. Griddy "passed skyrocketing energy costs to customers with little to no warning, resulting in consumers paying hundreds or even thousands of dollars each day for electricity," Paxton, a Republican, said in a statement. Paxton said the company misled customers about the risks inherent in its pricing scheme, and he vowed to hold the company "accountable for their escalation of this winter storm disaster." Most Texans pay fixed power rates, but some choose to pay spot prices provided through Griddy.
6. Newsom, Democrats agree to offer school districts $2 billion for reopening
California Gov. Gavin Newsom (D) and fellow Democrats in the state legislature on Monday announced a deal to provide school districts with $2 billion to help reopen classrooms for students up to Grade 2 by April 1. The plan offers financial incentives to schools that resume in-person instruction after nearly a year of remote learning. The incentives will be available in counties where infections have fallen below 25 daily per 100,000 residents, a threshold most meet now that the winter COVID-19 surge has ebbed. Lawmakers are expected to pass the legislation on Thursday. Parents will have the option of having their kids continue remote classes. Newsom said he looked forward to "quickly signing" the bill and celebrating the resumption of in-person instruction.
7. Supreme Court rejects 2 Sidney Powell election lawsuits
The Supreme Court on Monday rejected two lawsuits filed by pro-Trump lawyer Sidney Powell that sought to overturn President Biden's victories over former President Donald Trump in Arizona and Wisconsin. The cases pushed a conspiracy theory claiming that election-technology companies worked with the regime of late Venezuelan President Hugo Chavez to switch Trump votes to Biden votes. The high court rejected the suits without comment. Trump and his allies now have challenged election results with more than 40 lawsuits, all of which failed. Powell filed two other lawsuits challenging results in Michigan and Georgia. The Supreme Court refused to hear the Michigan case, and Powell withdrew the Georgia one. One election-technology company Powell accused of conspiring to falsify results, Smartmatic, has filed a defamation lawsuit seeking $2.7 billion in damages from Powell, Fox News, and former Trump lawyer Rudy Giuliani.
8. Senate confirms Miguel Cardona as education secretary
The Senate on Monday confirmed Miguel Cardona, Connecticut's commissioner of education, to be President Biden's education secretary. Cardona, 45, has also worked as a teacher, principal, and administrator. Sen. Patty Murray (D-Wash.), chair of the Senate Education Committee, said he was "exactly the leader" the department needed during "this moment of crisis." Two of the biggest challenges Cardona will face in the job are guiding schools as they make plans to reopen and managing the government's $1.5 trillion student loan portfolio. During his confirmation hearing, Cardona said he would also focus on inequities in the country's education system, because unless they are "tackled head on," they will "prevent the potential of this great country."
9. Third woman accuses Cuomo of harassment
A third woman has come forward to accuse New York Gov. Andrew Cuomo (D) of harassment. In an interview with The New York Times on Monday, Anna Ruch said she met Cuomo at a wedding reception in September 2019, and that he made unwanted advances, starting with placing his hand on her bare lower back. Ruch said she removed his hand, but Cuomo then placed his hands on her cheeks and loudly asked if he could kiss her, before she pulled away. Last week, two former Cuomo aides accused him of sexual harassment. On Sunday, Cuomo said in a statement that some of his remarks may have "been misinterpreted as an unwanted flirtation." New York Attorney General Letitia James is working on selecting an outside investigator to review the allegations.
10. Boy Scouts promise $300 million fund for sex-abuse victims
The Boy Scouts of America on Monday pledged to put at least $300 million into a trust fund to compensate tens of thousands of sexual abuse survivors. The group will use contributions from local councils and proceeds from insurance policies and the sale of Norman Rockwell oil paintings to come up with the money. The arrangement is part of a reorganization plan the Scouts submitted as it struggles to stay afloat in the face of more than 85,000 sex abuse claims made by former scouts. Many of the cases came after California, New York, New Jersey, and other states expanded opportunities for childhood victims to sue. The Scouts filed for bankruptcy protection last year, when the national organization had assets estimated at more than $1 billion.

Continue reading for free
We hope you're enjoying The Week's refreshingly open-minded journalism.
Subscribed to The Week? Register your account with the same email as your subscription.