10 things you need to know today: May 23, 2021
Study: Pfizer-BioNTech vaccine effective against coronavirus variant detected in India, Biden administration grants temporary protected status to Haitians living in U.S., and more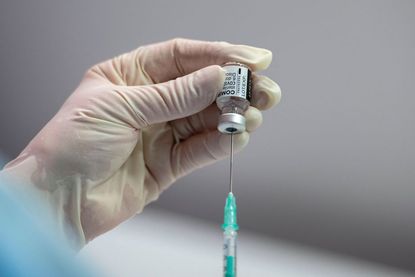 (Image credit: THOMAS LOHNES/AFP via Getty Images)
Sign up to our 10 Things You Need to Know Today newsletter
A free daily digest of the biggest news stories of the day - and the best features from our website
Thank you for signing up to TheWeek. You will receive a verification email shortly.
There was a problem. Please refresh the page and try again.
1. Study: Pfizer-BioNTech vaccine effective against coronavirus variant detected in India
Two weeks after the second dose, the Pfizer-BioNTech COVID-19 vaccine was 88 percent effective against symptomatic disease from a coronavirus variant first identified in India that is spreading in the United Kingdom and could soon become the dominant strain there, a study by Public Health England found. The results, released Saturday, are similar to the 93 percent effectiveness against another variant first identified in the U.K. last year, suggesting the vaccine still offers significant protection despite fears that the variant discovered in India, which is believed to be more contagious, would be resistant to vaccines. The research was conducted between April 5 and May 16. The study also found that the vaccine developed by the University of Oxford and AstraZeneca, which has not been approved for emergency use by the Food and Drug Administration in the United States, was 60 percent effective against the variant first detected in India, similar to the 66 percent mark against the variant first detected in the U.K.
2. Biden administration grants temporary protected status to Haitians living in U.S.
The Biden administration will grant temporary protected status to tens of thousands of Haitian immigrants living in the United States without legal status, the Department of Homeland Security announced Saturday. They will be exempted from deportation for 18 months, at which point the administration could renew the designation. "Haiti is currently experiencing serious security concerns, social unrest, an increase in human rights abuses, crippling poverty, and lack of basic resources, which are exacerbated by the COVID-19 pandemic," Homeland Security Secretary Alejandro Mayorkas said in a statement. "After careful consideration, we determined that we must do what we can to support Haitian nationals in the United States until conditions in Haiti improve so they may safely return home." The designation applies only to Haitians already living in the U.S., meaning migrants who arrive after May 21 would still face deportation, the DHS clarified.
Subscribe to The Week
Escape your echo chamber. Get the facts behind the news, plus analysis from multiple perspectives.
SUBSCRIBE & SAVE
Sign up for The Week's Free Newsletters
From our morning news briefing to a weekly Good News Newsletter, get the best of The Week delivered directly to your inbox.
From our morning news briefing to a weekly Good News Newsletter, get the best of The Week delivered directly to your inbox.
3. Iranian lawmaker says international inspectors can't access images of nuclear sites
Mohammad Bagher Qalibaf, Iran's parliament speaker, said Sunday that the International Atomic Energy Agency "will not have the right to access" surveillance images of Iran's nuclear sites going forward. The IAEA and Iran had previously agreed the latter would hold the images for three months, with Iran threatening to delete them after that deadline if no international agreement on the matter was reached. Hours after Qalibaf's comments, an Iranian news source that's believed to be close to Iran's Supreme National Security Council reported the agreement with the IAEA could be extended for "another month," so it's unclear if the images have or will be deleted. Either way, Qalibaf's remarks underscore the urgency for the United States and other countries to reach some form of a deal with Iran, which is already enriching and stockpiling uranium at levels higher than those agreed upon in the 2015 nuclear pact.
4. Extreme weather kills 21 during 62-mile race in China
Twenty-one people died during a 62-mile mountain race in northwestern China after extreme weather struck the region, local officials said. Liang Jing, a well-known 31-year-old ultramarathon champion, was among those who died. The weather reportedly changed suddenly hours into the event while the runners were nearing the 12-mile mark at 6,500 feet above sea level. "In a short period of time, hailstones and freezing rain fell in the area, and there were strong winds," Zhang Xuchen, the mayor of the nearby city of Baiyin, said. "The temperature dropped sharply." Ultimately, 151 of the 172 participants were confirmed to be safe following a massive rescue effort. Per The New York Times, discussion online in China focused on the possible lack of preparedness by local government organizers, with people questioning whether they had paid enough attention to the weather forecast.
5. Israeli police allow Jews to visit holy site that was conflict flashpoint
The Israel-Hamas cease-fire continued to hold for a third straight day Sunday. Israeli police escorted more than 120 Jewish visitors to the Al-Aqsa Mosque compound in Jerusalem, a site that is also revered in Judaism. It is reportedly the first time Jews had been allowed to visit since May 4. The compound became a flashpoint in the latest conflict over the Israel-Palestine question, with Israeli police clashing with Palestinian protesters in the area. Per The Associated Press, police cleared Palestinians younger than 45 out of the compound Sunday and required Muslims who entered to leave their IDs with police at the entrance, but the police denied the report, saying the site was open for "regular visits" and law enforcement had secured the area to prevent "incidents."
6. Senate committee releases draft of bipartisan surface transportation bill
The Senate Environment and Public Works Committee on Saturday released a draft of a $303.5 billion bipartisan highway, road, and bridge bill, which would replace an existing surface transportation law set to expire in September. The proposal is more limited in scope than President Biden's massive infrastructure plan, but Politico notes it "could become a cornerstone of the Senate's eventual response to Biden's larger American Jobs Plan." Sen. Shelley Moore Capito (R-W.V.), the committee's top Republican said "safe and reliable infrastructure is something every American can get behind." The committee bill would offer 34 percent more money compared with current spending on highways and related needs, and it also proposes spending $500 million a year for five years on alternative fueling and charging infrastructure. That's less than Biden's plan designates, but more than Republicans' latest counteroffer.
7. At least 9 killed in Italian cable car accident
At least nine people were killed after a mountaintop cable car fell to the ground in northern Italy on Sunday, authorities said. Two children were taken from the scene to a hospital in Turin. The accident occurred near the summit of a mountain overlooking the Piedmont region's Lake Maggiore. At that location, the cables for the ski lift were particularly high off the ground, a spokesman for the Alpine rescue service said. No cause has been determined. The spokesman said the cable line had been renovated in 2016 and was recently reopened after the lifting of COVID-19 restrictions.
8. Lava stops short of DRC city near erupting volcano
Lava from the erupting Mount Nyiragongo, a volcano in the Democratic Republic of Congo, stopped short of the city of Goma's northern edge, likely sparing most of the city. Tens of thousands of people were forced to flee the city of 2 million people, which was previously devastated by an eruption in 2002 that killed several hundred people and left at least 100,000 homeless. After the lava came to a halt, residents began to return to Goma to check if their homes had been damaged. Some people discovered that was indeed the case, The New York Times reports. Residents are reportedly still fearful of a second wave of lava, though the government said it appears the crisis has passed.
9. Rick Santorum out as CNN commentator
CNN has "parted ways" with former Sen. Rick Santorum (R-Pa.), a spokesperson for the news organization said Saturday. Santorum had recently come under fire for comments he made about Native Americans during a speech to a conservative youth group in April. He claimed Europeans who came to North America "birthed a nation from nothing," adding that "yes, we have Native Americans, but candidly ... there isn't much Native American culture in American culture." Santorum later told CNN's Chris Cuomo that he misspoke, but did not apologize. The interview with Cuomo was not well-received inside the network and "none of the anchors wanted to book" Santorum for their shows afterwards, a CNN senior executive told HuffPost.
10. Mickelson looks to close out PGA championship
Phil Mickelson enters the final day of the PGA Championship at Kiawah Island Golf Resort in Kiawah, South Carolina, atop the leaderboard at seven-under-par, one stroke ahead of Brooks Koepka. Louis Oosthuizen is two-back. The 50-year-old Mickelson, considered one of the greatest golfers of all time, is seeking his sixth major championship, and his first since he was victorious at the 2013 Open Championship in Scotland. If he can maintain his narrow lead throughout Sunday, which will be no easy task, "Lefty" — as he's affectionately known — will become the sport's oldest major winner. Mickelson and Koepka will both tee off for their last 18 at 2:30 p.m. ET.
Continue reading for free
We hope you're enjoying The Week's refreshingly open-minded journalism.
Subscribed to The Week? Register your account with the same email as your subscription.
Sign up to our 10 Things You Need to Know Today newsletter
A free daily digest of the biggest news stories of the day - and the best features from our website
Tim is a staff writer at The Week and has contributed to Bedford and Bowery and The New York Transatlantic. He is a graduate of Occidental College and NYU's journalism school. Tim enjoys writing about baseball, Europe, and extinct megafauna. He lives in New York City.