Zoom in on a snappy photographic investment
Historic photographs might make you a tidy profit – if you choose your subject wisely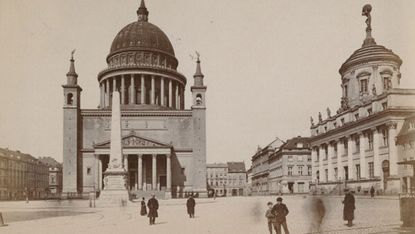 (Image credit: 2012 Getty Images)
Sign up to our 10 Things You Need to Know Today newsletter
A free daily digest of the biggest news stories of the day - and the best features from our website
Thank you for signing up to TheWeek. You will receive a verification email shortly.
There was a problem. Please refresh the page and try again.
WHEN Vanessa Bell and Virginia Woolf shrugged off the confines of Kensington for the freedom of Bloomsbury in 1904, one of the few artefacts they took with them was a series of photographs of their mother, taken by her aunt – the pioneering portrait photographer, Julia Margaret Cameron. They were the only piece of High Victoriana that Vanessa Bell would allow in their new, light-filled surroundings. Artistically, the move was mould-breaking: black and white photography on white walls would become a 20th-century design cliché. With hindsight, it was also a savvy investment choice. In December an unknown collection of Cameron's photographs sold for £242,000 at Sotheby's London, a 60 per cent leap on her previous 2001 sales record. One of its constituents, a striking 1867 portrait of the sisters' mother, Julia Prinsep Jackson (looking, it has to be said, remarkably like a pre-Raphaelite Harriet Harman under pressure) is currently on sale at Charles Isaacs Photographs Inc, according to artnet.com. Price? POA – for which read inflationary. Compared with other branches of the art world, where auction records tumble on a regular basis, photography values have moved upwards much more sedately. Indeed, given the recent scrum for trophy artworks, it says something that Rhein II, a 1999 abstract composition in green and blue by the German photographer Andreas Gursky, which sold for $4.3m in 2011, is still at the top of the pile. The rise of fine art photographers like Gursky seems a sensible "value-add" reaction to a digital world as saturated with photographic imagery as ours. This week's decision by Getty to open up its huge historic archive of images to all-comers on social media, free of copyright charges, rams home the onward commoditisation of even classic photographs. Yet the thinking behind the move is as shrewd as you would expect from Carlyle, the private equity house which bought Getty for $3.3bn in 2012. It's an acknowledgement that the war on policing copyright has been lost, and that other ways need to be found to make the portfolio pay. Getty's plan is to track who uses its photographs, and find ways of monetising that knowledge. The thinking goes that the more widely the images are flung, the more iconic and lucrative they become: both in terms of what Getty can extract from companies using them for business purposes, and on the value of the original 30 million prints and negatives in its vaults. To illustrate the point, consider the impact of a bed-sitter classic like Edvard Munch's The Scream on the value of the original.
If that's the way things are headed, now would seem a pretty good time to jump into what is still, in art market terms, a comparatively undervalued market. You can, after all still pick up prints from auction-starred photographers for four-figure sums. The second highest grossing photograph ever – Untitled #96 (1981) by the American photographer Cindy Sherman – went for $3.9m in 2011. But had you been in Sydney in January, you could have snapped up a 1993 colour print for $2,200.
One thing that puts people off buying vintage photographs is the fear of saturation: what, after all, could be easier to reproduce? The industry's line that it's not in the interests of dealers to cannibalise values by flooding the market with prints is not wholly convincing. But modern dating techniques have made photographic fraud quite difficult, and there are clear guidelines to follow. In broad terms, the price of vintage photographs is determined by the age of the photograph, date of printing (ideally within five years of the shot being taken), whether it is signed and condition and provenance. Date is all important. Last year, London's Atlas gallery was selling a print, Mothers of Naples, by Life magazine's celebrated war photographer Robert Capa, for around £11,000. Prints from his more celebrated Omaha Beach series were going for just £1,500 each. The difference was when they were first printed. The Naples shot, immediately; the Omaha pictures, several decades later. So what's hot to buy? In fine art photography, the flock mentality counts for a lot, says Atlas Gallery owner, Ben Burdett. As he told Forbes in 2012, "at auction, you see the same names, and indeed the same images by those photographers, sell again and again. People feel more comfortable joining a party where everyone else is already having a good time". The sheer rarity and experimental quality of works by 19th-century photographic Old Masters like the Julia Margaret Cameron or William Fox Talbot will always keep their values current. Ditto photographers who mirrored the artistic preoccupations of an age (Edward Steichen's impressionistic 1904 photograph Pond-Moonlight, sold for $2.9m in 2009, partly because only three colour prints were ever made). And when an original image matches a legend – be it a 19th-century US president, an Australian outlaw, or Marilyn Monroe – the price can sky rocket. An early "selfie" of Andy Warhol, a 1981 polaroid of the artist in drag, has just sold for $25,000. When it comes to 20th-century photographers, the roll-call of names and genres is endless: from early surrealist works, to Helmut Newton's spikey-heeled sirens of the Seventies; via fashion photography, news reportage and sport to fine art photographs. The best advice is to major on a period or market segment that interests you most and home in on a well-known name within it.
Subscribe to The Week
Escape your echo chamber. Get the facts behind the news, plus analysis from multiple perspectives.
SUBSCRIBE & SAVE
Sign up for The Week's Free Newsletters
From our morning news briefing to a weekly Good News Newsletter, get the best of The Week delivered directly to your inbox.
From our morning news briefing to a weekly Good News Newsletter, get the best of The Week delivered directly to your inbox.
If your interest is piqued enough to visit a contemporary photography exhibition, make sure you buy the book. Early edition "photobooks" (collections of photographs) are a highly-collectible side-shoot of the genre. As a general guide, the more outraged the reception on publication, the higher the price now. Robert Frank's The Americans (1959), a warts and all portrait of the US in the 1950s, originally saw light in Paris as Les Americains (1958), because no US publisher would touch it. Clean first editions now fetch £8,306 on abebooks.com.
Other iconic photobooks include Henri Cartier-Bresson's pioneering 1952 collection of photojournalism (which has the added advantage of an original Matisse cover); and Ed Ruscha's cult 1963 exploration of America's Route 66, Twenty Six Gasoline stations. Photobooks are a great introduction to photography – and there's a great introduction to them too: Martin Parr & Gerry Badger's retrospective of the history of photobooks is hugely influential in the market. So much so that it's tipped to become a collector's item itself.
Continue reading for free
We hope you're enjoying The Week's refreshingly open-minded journalism.
Subscribed to The Week? Register your account with the same email as your subscription.
Sign up to our 10 Things You Need to Know Today newsletter
A free daily digest of the biggest news stories of the day - and the best features from our website
writes profiles for Money Week and is City editor of The Week.