Where should you put your cash after latest interest rate cuts?
Santander, Lloyds Club and Nationwide offering best rates on savings - but riskier peer-to-peer pays much more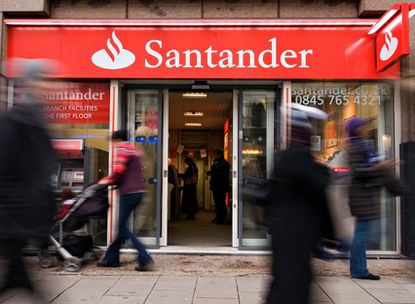 Sign up to our 10 Things You Need to Know Today newsletter
A free daily digest of the biggest news stories of the day - and the best features from our website
Thank you for signing up to TheWeek. You will receive a verification email shortly.
There was a problem. Please refresh the page and try again.
Three alternatives to Santander 123 account after fee hike
13 January
This week Santander increased the fee on its popular 123 account from £2 a month to £5 a month. The account offers generous cashback and interest rates, but is it still worth bothering with now it carries a much bigger monthly fee?
The account pays up to three per cent cashback on direct debits and three per cent interest on balances between £3,000 and £20,000, so it could still offer value for some people.
Subscribe to The Week
Escape your echo chamber. Get the facts behind the news, plus analysis from multiple perspectives.
SUBSCRIBE & SAVE
Sign up for The Week's Free Newsletters
From our morning news briefing to a weekly Good News Newsletter, get the best of The Week delivered directly to your inbox.
From our morning news briefing to a weekly Good News Newsletter, get the best of The Week delivered directly to your inbox.
"Those who can meet the new charge with cashback are in a strong position," says Amelia Murray in The Telegraph. "However, there are higher paying accounts for those with smaller balances."
If you have more than £3,000 sat in your Santander 123 account and are also making money from the cashback deal you may want to stay where you are, as few other accounts can compete with a three per cent interest rate.
Anyone with less than £3,000 in the account should do their sums to see if the cashback and lower interest rate still beat what's on offer elsewhere. I used the 123 Account as my bills account, but would have pocketed only 13p in cashback on average each month after the £5 fee. As a result I've jumped ship to another bank.
Here are three accounts that may offer you better value now:
1. Halifax Reward Current Account
If your account rarely has huge sums sat in it for very long then Halifax's Reward account could be worth considering. For every month that you pay £750 into the account you'll receive a £5 reward, even if the initial deposit immediately disappears on bill payments. Be careful, though, you need to stay in credit to get the money.
The account has no monthly fee so that is an easy £60 a year income with little work from you. Switch now and you'll also get a £100 switching bonus.
2. TSB Classic Plus Account
If you tend to have a reasonably high balance in your current account then TSB's Classic Plus Account could make a good alternative to Santander. It pays a hefty five per cent interest on balances up to £2,000. You will also get five per cent cashback on up to £100 of spending each month, as long as you pay via contactless debit card or Apple Pay.
Nationwide's Flex account pays five per cent on slightly higher balances up to £2,500, but it stops after 12 months whereas TSB's interest rate doesn't have an expiry date.
3. NatWest Reward Account
The cashback on bills offer lured a lot of people to the Santander 123 account. If you want to replicate that elsewhere take a look at NatWest's Reward Account. It pays per cent cashback on utility bills but has a lower £3 a month fee. "It means that you would have to pay out £100 a month in qualifying direct debits to cover the fee," says Tara Evans in The Mirror.
The bank claims that after paying the £36 a year fee the average customer will earn £90 a year.
Should you switch your Santander 123 account to NatWest?
4 November
It's time to take a look at your current account. Some big changes to the market mean you could be missing out on the most rewarding deals.
For the past few years the Santander 123 account has been luring hundreds of thousands of new customers. It offers a tiered rate of cashback on bills paid from the account. You get one per cent cashback on water and council tax bills; two per cent on gas and electricity bills; andthree per cent on mobile, home phone, broadband and TV subscriptions. All that adds up to around £114 cashback a year on average, according to Santander.
The problem is the account has a fee. At present it is just £2 a month, but from January it is being hiked up to £5. That's £60 a year, which radically cuts the attraction of the cashback.
The account could still work for some people. If you have a Santander mortgage then you also get one per cent cashback on the first £1,000 of your monthly repayments, which could help boost your return well above the £60 fee.
Also, you get tiered interest on your balance too. If you have £1,000 - £1,999 in the account you earn per cent interest, £2,000 - £2,999 you'll get two per cent interest, and balances of £3,000 - £20,000 earn three per cent interest – the highest rate available on instant access cash. So, if you have a large balance that will also help cancel out the fee hike.
A poll by Moneysavingexpert.com found that 88% of people earn enough cashback to cover the current £2 a month fee, while the number of people earning enough cashback to cover the £5 a month fee is still an impressive 70 per cent.
A better offer?
But, there is a new account that could pay you a whole lot more. Next week NatWest and RBS launch a new current account paying three per cent cashback on household bills. You can earn cashback on broadband, council tax, electricity, gas, mobile phone and water bills that are paid by direct debit.
Thanks to the fact the cashback rate isn't tiered, the NatWest/RBS account is expected to earn customers more money than the Santander account. After the new £60 a year fee is taken into account Santander estimates customers will earn a net £54 a year. In contrast NatWest/RBS predict that customers will earn £90 a year after its £3 a month fee is deducted.
If you are looking for a new home for your bills account that doesn't have a big balance, then it may well be worth jumping ship to NatWest. But, if your current account tends to have a sizeable amount of cash in it then the interest rate offered by Santander's 1,2,3 account could mean it is worth staying.
Just watch out for overdraft charges. These are not accounts to go into the red on: NatWest/RBS will charge you £6 a month plus interest at 19.9 per cent if you use an overdraft on the account; Santander's 123 account has a £1 a day charge on agreed overdrafts and £6 a day for unarranged overdrafts, capped at a maximum of £95 a month.
Santander's 1,2,3 accounts for a quarter of all switches
30 October
Santander's UK banking arm has maintained its market-leading rate of accounting for one in four Britons switching their current account or credit card in the first nine months of this year.
The success is down to the popular 123 account, which charges a monthly fee but offers rewards such as cash back on bill payments and higher interest on balances. Santander has boasted a quarter of all transfers ever since it introduced the account in 2013. In the nine months to September it helped the Spanish bank's UK business increase profit 41 per cent to £1.4bn, The Times reports.
Nathan Bostock, the chief executive of Santander UK, said it welcomed measures suggested by the Competition and Markets Authority to "make it easier to compare banks and to move accounts". The proposals include forcing banks to recommend switches when it has suffered a problem such as IT switch or when a customer's circumstances change.
Account switching rates in the UK remain low and the CMA found on average consumers are missing out on £70 a year in lost interest or in hidden fees on overdrafts and the like.
Despite its confidence, Santander's dominance of switching could be coming to an end. It recently more than doubled the monthly fee from £2 to £5 (see below), which erodes much of the gain many people made from the incentives unless they have a substantial balance earning interest. Rivals such as Nationwide and Halifax are already rolling out offers to tempt customers away.
Elsewhere the BBC notes Santander's global business posted a five per cent increase in third-quarter profit to €1.7bn. This was despite a hit to earnings in its sizeable Latin American arm, which saw profits fall 11 per cent as a result of depreciating currencies.
Santander's 123 fee hike should make you take stock
17 October
Over the past couple of years Santander has had a lot of good press as a result of its impressive current account offer. But that could have all changed after the bank announced a fee rise that may prompt customers to head for the door.
Santander's 123 Account is currently very attractive. You get between 1 per cent and 3 per cent cashback on bill payments and up to 3 per cent interest on your balance. This combination brought almost 277,000 new customers to the bank in 2014, making it the most popular current account in the country.
The account's drawback was always the monthly fee of £2. But given that most people would make around £60 cashback a year, plus a high rate of interest on balances above £3,000, the £24 annual fee wouldn't leave you out of pocket.
The average account holder received around £115 and some more than £220 a year, which compares favourably with interest on most accounts or cashback on rival packaged options.
The problem is that Santander has announced that it is more than doubling the fee. From January account holders will pay £5 a month rather than £2. That means the annual cost of the account rockets from £24 to £60.
Time to jump ship?
For me this means I'll be closing my 123 Account that I use for paying bills. At present I make just over £5 a month in cashback (£5.12 to be exact). And, as it is a bills account, there isn't enough cash in there to earn interest. Making around £36 a year in cashback after fees was wonderful, making £1.44 a year is not.
You can do the sums yourself to see if you will still be quids in sticking with Santander. The bank makes this pretty simple as you can see your monthly cashback amount at the top of your bank statements or the main online banking page. But unless you keep a large amount of money in your account the chances are you'll be better off elsewhere.
The good news is several banks and building societies are offering generous switching rewards at the moment.
Halifax is offering a particularly tempting deal. It's Reward Current Account pays you £5 every month that you pay in £750. On top of that it is currently offering a £125 switching bonus and it is fee-free. Jump ship from Santander and you could pocket £185 in the first year.
Another option is TSB's Plus Account. It pays 5 per cent interest on balances up to £2,000 and 5 per cent cashback on your first £100 of contactless payments each month. You just have to pay in at least £500 a month. So, a £2,000 balance plus making the most of that cashback could earn you £160 in the first year.
Alternatively, Nationwide's FlexDirect account pays 5 per cent interest on balances up to £2,500 for the first 12 months plus it is offering £100 cashback if you switch via a friend's recommendation. That adds up to a potential £225 return in the first year.
Santander for savings
The Santander 123 account still works as a good savings account. Deposit between £3,000 and £20,000 and you can earn 3 per cent interest while still having access to your cash. That is far better than the rates offered on traditional instant access savings accounts – where the best is currently 1.65 per cent.
If you are depositing less than £5,000 there are, though, better options. Balances of up to £2,000 can earn 5 per cent interest at TSB, up to £2,500 will get 5 per cent at Nationwide, up to £3,000 can earn 3 per cent at Tesco Bank - which has just just cut its fee to zero - and £4,000 to £5,000 will get 4 per cent at Lloyds Bank.
But for £5,000 to £20,000 you'll struggle to beat Santander's returns even with the £60 a year fee. A £5,000 balance would earn an effective rate of 1.8 per cent after fees, which is still better than the best standard savings account.
Whether you use the account for savings or day-to-day spending this fee hike should make Santander's current account customers reassess the value of the account.
Continue reading for free
We hope you're enjoying The Week's refreshingly open-minded journalism.
Subscribed to The Week? Register your account with the same email as your subscription.
Sign up to our 10 Things You Need to Know Today newsletter
A free daily digest of the biggest news stories of the day - and the best features from our website