Which savings accounts pay the worst rates?
Banks will have to implement seven-day switching and notify customers of rate changes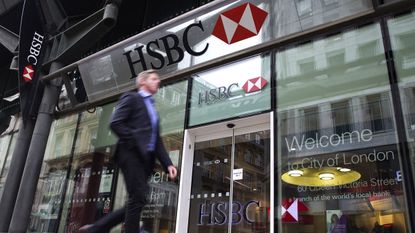 (Image credit: Justin Tallis/AFP/Getty Images)
A number of banks and building societies have been 'named and shamed' for the poor rates they are offering on customer savings.
The Financial Conduct Authority, the financial services regulator, has been looking into the £700bn cash savings market for two years because of fears banks are profiteering from customer inertia by paying pitiful rates of interest.
Lenders pay interest to customers who deposit funds that they lend on for a profit elsewhere, but in some cases banks are now effectively paying nothing at all.
Subscribe to The Week
Escape your echo chamber. Get the facts behind the news, plus analysis from multiple perspectives.
SUBSCRIBE & SAVE
Sign up for The Week's Free Newsletters
From our morning news briefing to a weekly Good News Newsletter, get the best of The Week delivered directly to your inbox.
From our morning news briefing to a weekly Good News Newsletter, get the best of The Week delivered directly to your inbox.
In one of a number of remedial measures, the FCA has published a list of the worst offenders as at October 2015. It will republish the list every six months.
"Closed accounts from FirstDirect and HSBC actually pay no interest at all, but the lowest interest paid across all accounts is a rip-off 0.01 per cent," says The Independent. At that rate, an account would pay one pound a year in interest on £10,000 of savings.
This was the rate on all accounts that can be managed in-branch from Danske Bank, Progressive Building Society and Royal Bank of Scotland subsidiary Ulster Bank, as well as closed accounts from Skipton Building Society.
On cash savings accounts that can only be managed remotely, Danske again came joint bottom with a poor rate of 0.05 per cent. First Direct, which pays zero interest on closed accounts, also pays just £5 a year on £10,000 savings, while its parent HSBC pays 0.1 per cent.
For easy-access cash Isas that can be managed in-branch, open account rates were as low as 0.1 per cent (£10 per £10,000 savings) with Santander, 0.25 per cent with First Trust Bank, 0.40 per cent with Danske Bank and 0.5 per cent with a host of others including Bank of Scotland and NatWest. Closed rates were as low as 0.05 per cent with Marks and Spencer Bank.
Finally, for easy-access cash Isas that must be managed remotely, open accounts with West Bromich Building Society paid just 0.5 per cent (£50 per £10,000) and 0.65 per cent with Co-op Bank. Closed accounts at Newcastle Building Society earned only 0.25 per cent interest.
Among a host of other measures that were previously proposed and which were confirmed as coming into force by the end of next year, banks will have to offer a seven-day account switching service and will be required to notify customers when their rate is changing, such as when an offer period is coming to an end. Interest rates will also need to be displayed prominently on statements.
Account switching: bank must help you find a better deal
22 October
Banks will be forced to encourage customers to review whether they could get a better deal by switching their current accounts to a rival under proposals published today that are designed to boost competition within the banking sector.
The Competition and Markets Authority has suggested 15 remedies to break the dominance of Lloyds, Royal Bank of Scotland, HSBC and Barclays, who between them control more than three-quarters of the current account market. The report follows an 18-month investigation into the sector, amid concern that customers rarely switch banks despite often receiving no interest on deposits or being hit by hidden fees.
The CMA found the average customer would be £70 a year better off if he or she shopped around for the best current account, a figure which would rise to £140 for those with an overdraft and £260 for those with a large overdraft, The Guardian reports.
One of the key elements of the plan to ensure customers shop around will be to force banks to "encourage their customers to switch to rivals", especially if their circumstances change, or the bank is hit by an IT outage or another problem. Assessing other accounts will also be made easier through the roll-out of a more comprehensive comparison tool such as the one previously presented to the CMA by Lloyds, which will cost around £200m to develop.
Overall, the proposals "will probably be seen positively by the larger banks," Simon Hunt, PwC's UK banking and capital markets leader, told Reuters. The CMA rejected calls from challenger banks for larger rivals to introduce account fees and crucially decided not to call for the big high street lenders to be broken up.
The report is likely to be of concern to the chancellor. The regulator stressed it was still looking into the government's planned tax on bank profits that smaller banks have said will hit them particularly hard.
Bank switching: finding the best current account
12 August
Is your current account offering you value for money? The chances are you don't know the answer to that question. Research commissioned by Tesco Bank has found that 55% of us find it impossible to determine the value of our current account.
"The lack of understanding of charges and interest paid on an existing current account means that consumers have no effective basis for comparing and assessing the benefits of switching," says Amy Cashman, head of the finance division at market research firm TNS, which carried out the study.
If you want to work out whether your current account is offering you good value the easiest way to do so is firstly to narrow down what value you need. You should consider your current account, how you use it and what you need most from it.
For example, if you regularly have a high balance in your current account check what interest rate it offers. Similarly, if you often end up using your overdraft frequently, check how much are you being charged for it. Then factor in cashback or other incentives to see what comes out best.
Best for interest
If your current account usually has a pretty healthy balance then TSB's Classic Plus Account is a good option. It pays 5 per cent interest up to £2,000. You do have to pay in at least £500 a month, though.
If your balance doesn't top £1,000 for long periods then Halifax's Reward Current Account is a better option. It pays you £5 a month as long as you pay in £750 a month.
Keep a lot of money in your current account? Then Santander's 123 account could be the most rewarding option. It pays 3 per cent on balances between £3,000 and £20,000. That's better than most savings accounts, but there is a £2 a month fee.
In contrast, many other current accounts currently pay no interest at all as wider interest rates remain at record lows.
Best for overdrafts
If you tend to be in the red with your current account then you could be paying a fortune in fees. Natwest, TSB and Llloyds would all charge you close to £100 a year if you dipped £600 into an overdraft for seven days each month.
Some other current accounts won't charge you at all. FirstDirect charges no interest on a £250 overdraft, but you have to pay in £1,000 a month. M&S Bank offers a £100 interest-free overdraft.
If you are aiming to clear your overdraft then Nationwide's Flexaccount charges no interest for the first three months, giving you some breathing room to pay off the debt.
Best for bills
Many of us have a current account we use for spending and another 'bills account' that we pay into each month. These accounts don't use an overdraft facility, but also rarely carry much of a balance. Choose the right account and you could get financial rewards.
Santander's 123 Current Account pays cashback on a variety of bill payments ranging from 1 per cent on council tax, water and Santander mortgage payments, up to 3 per cent on phone and broadband bills. A typical bill payer will earn around £50 a year in cashback. Deduct the £24 a year in fees and that leaves you with a £26 a year profit. It's not a huge sum, but better than the big fat nothing you'll get if your bills account is with a different bank.
How to switch
Once you've worked out whether you would get better value for money with another current account switching is pretty simple. Just choose the account you want to move to and apply. Your new bank should handle switching all your direct debits and standing orders as well as notifying anyone who makes regular payments into your account.
In line with the Current Account Switch Guarantee you should be up and running with your new account within seven days. If anything does go wrong then you are entitled to a refund for any interest or charges incurred.
Not switching bank account could cost you £50 a year
5 August
If you haven't switched bank account in years, you could be one of many people losing around £50 a year in 'foregone interest' that provides a multi-billion boost for bank bottom lines.
According to a study published today by Tesco Bank and researcher TNS, customer inertia is responsible for hundreds of billions of pounds languishing in accounts paying pitiful rates of interest. And it is caused largely by banks applying complicated and opaque charging structures, the Financial Times explains.
The research found 55 per cent of customers "find it impossible" to determine the value of their account and only 14 per cent of consumers believe there are large differences between account rates.
The paper says this is despite a Competition and Markets Authority finding last year that around £3.2bn a year, or £50 a person, is earned by banks a year in so-called 'foregone interest', referring to interest that customers could have earned if they had switched to a better deal. Another regulator the Financial Conduct Authority has said as much as £160bn is sitting in accounts paying just the record low 0.5 per cent base interest rate.
The Independent notes that a seven-day switching service introduced in 2013 has boosted rates of switching, but numbers were up just four per cent to 1.1 million last year. People remain far more inclined to switch credit cards than bank accounts, for example. Under plans announced last month regulators will impose a single-day switching service by 2017, as well as forcing banks to drop misleading account names.
Tesco Bank has a vested interest in improved switching, as it is one of a number of 'challenger' banks that is seeking to break a stranglehold by the big four banks – Barclays, HSBC, Lloyds and Royal Bank of Scotland - which between them control more than three-quarters of current accounts.
Isa switching: how tough new banking rules will help you
4 August
Switching out of a savings account offering a poor interest rate is going to get quicker and easier in the next two years, after Britain's main financial regulator proposed tough new rules that require banks and building societies to process transfers within seven days.
It is one of several measures that were put up for consultation by the Financial Conduct Authority yesterday to shake up the UK's £700bn savings market, which is dogged by low interest rates and consumer inertia. A study conducted earlier this year by the FT found eight out of ten easy access accounts have not been switched in three years and that £160bn is sitting in accounts paying just the 0.5 per cent Bank of England base interest rate or even less.
Under the new proposals, which will affect savings accounts and cash Isas, banks will have to speed up transfers from 15 days currently to just seven by 2017, says The Times. They will also be required to notify savers, perhaps by text, within 14 days when rates are changing, for example when an 'introductory' period comes to an end.
They will be banned from using enticing names featuring words like "gold" to advertise accounts which actually offer comparatively low rates, says The Guardian. The paper cites the example of 'liquid gold' from Halifax, an account which has been around since the 1980s, when it paid an interest rate of ten per cent, but now offers a rate of just 0.05 per cent.
The FCA has said it will also consider naming and shaming those firms paying the lowest rates. It has not proposed any direct interventions to improve the rates on offer, which have fallen to rock bottom levels at a time when wider interest rates are being held at record lows and capital controls are making it more expensive to take on new deposits.

Continue reading for free
We hope you're enjoying The Week's refreshingly open-minded journalism.
Subscribed to The Week? Register your account with the same email as your subscription.