Tearful Obama announces tightening of gun control
Emotional US President to target background check loopholes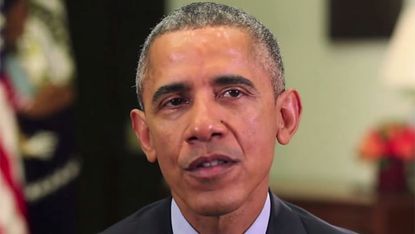 (Image credit: The White House/YouTube)
US President Barack Obama has given an emotional speech vowing to tighten controls on gun purchases.
Marking his final year in office with a last-ditch call for stricter procedures, a tearful Obama outlined new rules to close important loopholes in background checks.
"In Dr King's words, we need to feel the fierce urgency of now because people are dying," he told an audience of mass-shooting survivors and victims' relatives in the White House.
Subscribe to The Week
Escape your echo chamber. Get the facts behind the news, plus analysis from multiple perspectives.
SUBSCRIBE & SAVE
Sign up for The Week's Free Newsletters
From our morning news briefing to a weekly Good News Newsletter, get the best of The Week delivered directly to your inbox.
From our morning news briefing to a weekly Good News Newsletter, get the best of The Week delivered directly to your inbox.
"Our inalienable right to life and liberty and the pursuit of happiness - those rights were stripped from college kids in Blacksburg and Santa Barbara and from high schoolers at Columbine and from first-graders in Newtown," he added, his voice trembling.
"First-graders. And from every family who never imagined that their loved one would be taken from our lives by a bullet from a gun."
Obama said the US is the "only country on Earth that sees this kind of mass violence erupt with such frequency", adding: "We've become numb to it. We start thinking this is normal."
The executive order will target the so-called "gun-show loophole", where private dealers, operating at gun shows or online, are considered "in the business" of selling weapons if they accept credit cards, rent a table at a show or have business cards.
The reform will require them to obtain licences and carry out background checks on customers or face criminal prosecution.
However, reports The Guardian, the President will leave "much of the political heavy lifting" to his successor.
Republicans have accused Obama of launching a "war on the Constitution" by not consulting the legislative branch of government. They may try to block the move in the courts, which could lead to a protracted legal wrangle extending beyond Obama's time in office.
Barack Obama willing to bypass Congress on gun control
05 January
Barack Obama is prepared to take unilateral action to tackle the problem of gun violence in the US before he leaves office. The president said in his weekly radio address on Friday that he has received "too many letters from parents, and teachers, and kids" to simply "sit around and do nothing" about the issue.
Executive action would bypass the US Congress, which Obama says has failed to address the problem. A joint Democrat-Republican bill following the 2012 shooting of 20 children and six adults at the Sandy Hook primary school in Connecticut failed to get the 60 votes needed to broaden background checks and ban assault weapons.
How can Obama tighten gun control?
The president announced last night that he will use his executive authority in several areas, including an expansion of background check requirements for buyers who purchase weapons from high-volume dealers, and an amendment of privacy laws to allow the authorities greater access to applicants' medical records.
The president has stressed that most of the measures he wants to enact are merely closing 'loopholes' in current legislation. For instance, while convicted domestic abusers are banned from owning firearms, the prohibition does not currently extend to convicted stalkers – something Obama would like to see changed. He has also expressed a wish to end the so-called 'gun show loophole' which permits unlicensed gun dealers to conduct sales without meeting the federal requirements for background checks.
How will the US public react?
Critics of the president have pointed out that Obama has tried to use executive action in the past, only to be foiled by the Federal Appeals Court, which can postpone action pending a ruling from the US Supreme Court. While Obama insists that the changes are intended to close loopholes rather than challenge Americans' constitutional right to bear arms, supporters of gun rights are likely to mount a vigorous campaign against the changes.
Democrat presidential candidate Bernie Sanders has meanwhile claimed that "the overwhelming majority of the American people" will support the president's action.
How will it affect the presidential race?
Any executive action could bring the debate on gun control to the front of the race for the White House, thus far dominated by issues of foreign policy, immigration and national security. All the Democrat front-runners back stricter gun laws, while the Republicans remain staunchly opposed. The party's likely candidate for presidency, Donald Trump, was quick to vow that he would "unsign" any executive orders on gun control. "We're not changing the Second Amendment," he told cheering supporters at a rally in Biloxi, Mississippi. "I will veto that." The sentiments were echoed by fellow front-runners Marco Rubio and Ted Cruz.

Continue reading for free
We hope you're enjoying The Week's refreshingly open-minded journalism.
Subscribed to The Week? Register your account with the same email as your subscription.