Guns in America: why has Barack Obama failed to control firearms?
US citizens, 5 per cent of the world's population, own as many as half of its privately held guns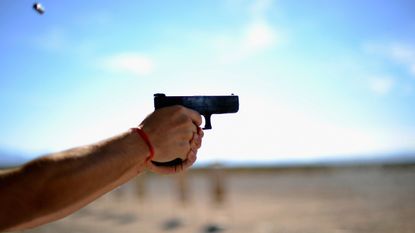 (Image credit: Kevork Djansezian/Getty)
Hours before the news came through that a gunman had killed two people in a cinema in the US state of Louisiana, Barack Obama admitted that failing to pass "common sense gun safety laws" was the greatest frustration of his presidency.
In an interview with the BBC, Obama said that gun control was the single area he had felt "most frustrated and most stymied" in his six and a half years as president.
Subscribe to The Week
Escape your echo chamber. Get the facts behind the news, plus analysis from multiple perspectives.
SUBSCRIBE & SAVE
Sign up for The Week's Free Newsletters
From our morning news briefing to a weekly Good News Newsletter, get the best of The Week delivered directly to your inbox.
From our morning news briefing to a weekly Good News Newsletter, get the best of The Week delivered directly to your inbox.
"If you look at the number of Americans killed since 9/11 by terrorism, it's less than 100. If you look at the number that have been killed by gun violence, it's in the tens of thousands," he said.
Only a few hours after completing the interview, a lone gunman stood up in a cinema in Lafayette, shot dead two people and injured several others before taking his own life, police said.
The cinema shooting comes just over a month after 21-year-old Dylann Roof is alleged to have opened fire at the Emanuel African Methodist Episcopal Church in downtown Charleston, killing nine African American worshippers.
When Barack Obama spoke about that shooting, his despair was palpable.
"I've had to make statements like this too many times," he said. "Communities have had to endure tragedies like this too many times.
"At some point, we as a country will have to reckon with the fact that this kind of mass violence does not happen in other advanced countries. It doesn't happen in other places with this kind of frequency."
Obama is right. Other countries – especially ones that the US would call "advanced" – simply do not have the same problem with gun-related homicides that the US does. In 2013, according to FBI figures, 69 per cent of homicides in the US involved some sort of firearm – which amounted to over 8,000 deaths using guns that year.
Click on map above to see the number of firearm-related homicides in each state
The worst affected states were Delaware, Illinois and the District of Columbia. In each, more than three quarters of homicides involved firearms. South Dakota and New Hampshire have fewest homicides involving firearms. In both, guns were involved in less than a quarter of all homicides.
According to a survey into small arms ownership in the US carried out in 2007, every 100 Americans own, on average 89 guns. It also found that American civilians owned 35 to 50 per cent of the world's civilian-owned firearms but have just 5 per cent of the world's population.
Some have suggested that the problem with firearms in the US is not just how many guns are in private ownership, but how often they are used.
The most reliable and up-to-date data on homicides involving firearms that is publicly available comes from the United Nations Office on Drugs and Crime (UNODC). Unfortunately, the data is from 2010 or even earlier in some cases, but it is still a useful indicator of how many people are murdered in each country using guns or other firearms.
The countries with the highest rate of homicides involving firearms are Honduras, El Salvador, and Jamaica. In Honduras, the rate of homicides by firearms per 100,000 people is 68.43. There, 83 per cent of all homicides involve a gun.
In El Salvador and Jamaica, the rate is 39.9 and 39.4 per cent respectively. The US, in contrast, has a homicide by firearms rate of just 2.97, but this is still more than both the West Bank and Gaza in Israel. By contrast, the equivalent figure for the UK is 0.1 per cent.
The relationship between gun ownership and homicide by firearm is therefore not as straightforward as the simple equation that more guns equal more gun-related deaths.
The US has the highest rate of gun ownership in the world, followed by Yemen and then Switzerland. There are no figures for Yemen, but Switzerland's homicide by firearm rate is much lower than the US. Finland, with the fourth highest rate of gun ownership, has an even lower rate of homicides by firearm.
So why is the US so unusual? And why is it unlikely to change any time soon?
Many analysts suggest that the biggest problem the US has is that Americans are reluctant to give up their right to own guns. The right to bear arms was granted to Americans by the second amendment – and it has been staunchly defended even in the face of mass shootings, gun crimes and accidental shootings involving children. Not even the 2012 "Batman shooting" in a cinema in Aurora shifted the public's stance on gun control, according to Pew Research Center.
In fact, according to Pew, the public tends to see mass shootings as isolated incidents, and not a reflection of a wider problem. Over the past 20 years, support for gun control has decreased dramatically and arguments mounted by proponents of the right to bear arms have gained momentum. Public opinion is now roughly split 50/50 between the two groups.
So will anything shift the US's attitude to gun control? Obama says the power to change US gun laws lies with Congress. Yet, Congress has in recent years voted down most proposed gun control legislation, including a bill that would have ensured tougher background checks on those who buy guns. As long as the stalemate continues, is seems inevitable that firearms will be responsible for further casualties.
Graphics by Carlo Apostoli

Continue reading for free
We hope you're enjoying The Week's refreshingly open-minded journalism.
Subscribed to The Week? Register your account with the same email as your subscription.