'No-fault divorce is an indescribable relief'
Your digest of analysis from the British and international press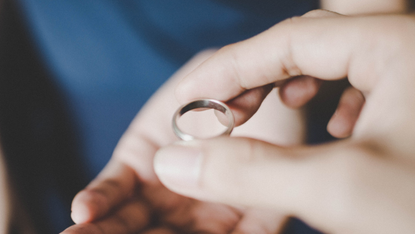 (Image credit: Karl Tapales / Getty Images)
1. My husband and I want to split on good terms – thanks to no-fault divorces, we finally can
Anonymous in The Guardian
on a new law
An anonymous writer at The Guardian says she and her husband recently decided to divorce after 15 years of marriage. "This was not a spur-of-the-moment thing – we had agonised over it for a long time." With two sons, "we were determined to live together as a family and for years we muddled along, functioning almost as a business rather than a marriage". The couple agreed "not to go down the divorce route until we had been separated for two years" – otherwise, under UK law as it then stood, blame would need to be placed on one party for a divorce to proceed. "We didn't want to place blame or trivialise" the marriage, and the couple felt they had "no choice but to wait". The change in law in England and Wales to allow no-fault divorce came with a sense of "relief" that was "indescribable". This "new, kinder form of divorce" has "given us both a sense of control", meaning "we can divorce mutually and respectfully with our heads held high".
Subscribe to The Week
Escape your echo chamber. Get the facts behind the news, plus analysis from multiple perspectives.
SUBSCRIBE & SAVE
Sign up for The Week's Free Newsletters
From our morning news briefing to a weekly Good News Newsletter, get the best of The Week delivered directly to your inbox.
From our morning news briefing to a weekly Good News Newsletter, get the best of The Week delivered directly to your inbox.
2. The true cause of No. 10's conversion therapy muddle
Isabel Hardman in The Spectator
on drafting legislation
"The government has had to bow to the inevitable and cancel its own international LGBT conference", writes Isabel Hardman at The Spectator. More than 100 organisations have withdrawn support following the decision not to ban conversion therapy for transgender people. "The die was cast much further back than last week's botched double U-turn on a ban on gay conversion therapy: it was when ministers committed to the legislation without thinking it through at all," she continues. This "row" brings to the fore "serious problems with the way Westminster deals with legislation", its focus "almost entirely upon the principles at stake, rather than the impact of the way the laws are drafted". The conversion therapy ban "is just the latest example of the Something Must Be Done instinct in all governments", but "surely we want legislation that works, rather than merely claims to work," says Hardman. Ministers "often" jump to a policy "without noticing they have made a logical leap to assuming that this is the one Thing that should be done, without checking that it's the right Thing to do."
3. President Obama, your country needs you
Dana Milbank in The Washington Post
on political skill
"Retirement has been good to Barack Obama," writes Dana Milbank at The Washington Post. Obama returned to the White House this week for the first time since he left office in 2017. "Fit and vigorous, if a bit grayer and more wrinkly", he returned to 1600 Pennsylvania Avenue. "Obama has been living his best life, even making a podcast and writing a book with Bruce Springsteen." But "President Obama: your country needs you," implores Milbank. "Democracy is on the ropes. This is an all-hands-on-deck moment for the ship of state, and no one is better able to help the cause" than the 44th US President. "America desperately needs Obama in the arena – although not necessarily in the Biden White House." Biden seemed this week to be "playing Obama's understudy". "Where Obama was loose, Biden was stiff", though Democrats "shouldn't delude themselves into thinking things would be better now if only Obama were in charge", despite his "political skill". But Republicans have "gotten worse" and are "taking aim at democracy itself". Obama is in "an unrivalled position to mobilise Americans in defence of democracy".
4. Dear climate activists, stop alienating the public or you might lose the battle
Sophie Church in The Independent
on disruptive tactics
Last year, climate groups "caused general chaos across the UK", using "disruptive tactics" in an effort to "force the government to make essential climate policy pledges", writes Sophie Church at The Independent. "The result? To anger a population already close to breaking point". The latest round of climate protests has seen "newcomers" Just Stop Oil obstruct access to terminals across England, "aiming to put the blockers on new proposed oil and gas projects. Same thing, different day." They've similarly been glueing their hands to the roads and locking themselves to oil drums, with police deployed "to deal with the demonstrations". "No one is saying their cause is not just," writes Church, "it's more the way they are going about it." For protest groups, spreading awareness and gaining public supporters "can be a route to making effective change. Infuriating those same members of the public, then, can only do the opposite". She thinks "there must be another way".
5. Shambolic Home Office shames Britain and betrays terrified Ukrainian refugees in need of a home
The Sun editorial board
on a 'broken' department
The Sun describes the Home Office as "arrogant, complacent, lazy, useless". It "shames Britain before the eyes of the world". The department's "shambolic failure to green-light more refugees is a betrayal not just of those poor, terrified Ukrainians but of the families who have offered them a home and of Europe's combined war effort". The government's "commitment to Ukraine's forces" is evidenced by its donations of arms, but "Priti Patel's department lags woefully behind". A "supposed 24/7 helpline is swamped because just 15 staff are allegedly tasked with handling thousands of calls a day" and visa applications "take an age to process if they are processed at all". This "is a disgraceful way to handle this emergency, matched for ineptitude only by the Home Office's simultaneous failure to stop hundreds of illegal migrants arriving daily across the Channel". The department is "broken" and "must be fixed".

Continue reading for free
We hope you're enjoying The Week's refreshingly open-minded journalism.
Subscribed to The Week? Register your account with the same email as your subscription.