Instant Opinion: 'David Cameron is not the only one to blame for Brexit mess'
Your guide to the best columns and commentary on Thursday 19 September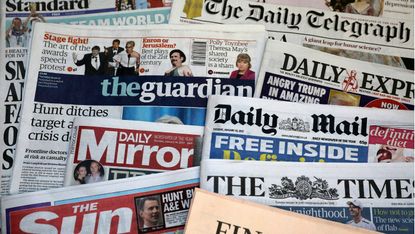 The Week's daily round-up highlights the five best opinion pieces from across the British and international media, with excerpts from each.
1. Matthew d'Ancona in the London Evening Standard
on calling the EU referendum
Subscribe to The Week
Escape your echo chamber. Get the facts behind the news, plus analysis from multiple perspectives.
SUBSCRIBE & SAVE
Sign up for The Week's Free Newsletters
From our morning news briefing to a weekly Good News Newsletter, get the best of The Week delivered directly to your inbox.
From our morning news briefing to a weekly Good News Newsletter, get the best of The Week delivered directly to your inbox.
For the record, David Cameron is not the only one to blame for Brexit mess
"Uncomfortable as it is to concede, there would have been a reckoning whether or not Cameron had taken his fateful decision in the form he did. It is convenient, and neat, to blame him for all of it. But it is also incredibly lazy. History has ragged edges and is full of nuance; and, however this particular book is received, history will be kinder to Cameron than you think."
2. Sean O'Grady in The Independent
on popularity
Boris Johnson thought he was invincible – but meeting the public has left him well and truly humbled
"'Boris' the cuddly lovable teddy bear of a politician is a confection, a front, a kind of fiction. His real name, his first name reserved to the closest of friends and family, is Alexander, or Al, and that is the real Johnson, the person rarely glimpsed by the public, if at all. The second name, the comical, distinctive and memorable 'Boris' is a trade name, used to create the image we all know so well. Some of it is, to be fair, authentic, some not so, and some is a mash-up when Johnson forgets where Boris ends and Al starts. In any case, the character in the political soap opera called Boris is not well-suited to serious storylines, and the uncomfortable intrusion of reality upon his Wodehousian world."
3. Sherelle Jacobs in The Daily Telegraph
on Brexit
Euphoric Remainer snobbery has become a fanatical religion
"If Brexit blew up the old world order, a new species of snob has been forged in its fuming embers. For evidence, look no further than the growing tribe of Lib Dem-defecting arch-Remainers. A few years ago, many were self-proclaimed sensible Blairite centrists, judiciously uninspired by politics and possessing no view whatsoever on the EU. But in the space of three years, their anti-Brexit beliefs have become radically spiritual. From their ecstasy in the exaltation that 'people didn't know what they voted for', to their terrified delight in inhaling the smoky incense of an imminent no-deal 'Armageddon', hating Brexit – and Brexiteers – has become a religion."
4. George Monbiot in The Guardian
on climate change
For the sake of life on Earth, we must put a limit on wealth
"A series of research papers shows that income is by far the most important determinant of environmental impact. It doesn't matter how green you think you are; if you have surplus money, you spend it. The only form of consumption that's clearly and positively correlated with good environmental intentions is diet: people who see themselves as green tend to eat less meat and more organic vegetables. But attitudes have little bearing on the amount of transport fuel, home energy and other materials you consume. Money conquers all. The disastrous effects of spending power are compounded by the psychological impacts of being wealthy. Plenty of studies show that the richer you are, the less you are able to connect with other people. Wealth suppresses empathy. One paper reveals that drivers in expensive cars are less likely to stop for people using pedestrian crossings than drivers in cheap cars. Another revealed that rich people were less able than poorer people to feel compassion towards children with cancer. Though they are disproportionately responsible for our environmental crises, the rich will be hurt least and last by planetary disaster, while the poor are hurt first and worst. The richer people are, the research suggests, the less such knowledge is likely to trouble them."
5. Farhad Manjoo in the New York Times
on Obama's legacy
Barack Obama's Biggest Mistake
"In the Obama years, the government let corporations get bigger and economic power grow more concentrated. Obama's regulators declined to push antimonopoly measures against Google and Facebook, against airlines and against big food and agriculture companies. It is true that Obama succeeded in passing a groundbreaking universal health care law. It's also true that over the course of his presidency, inequality grew, and Obama did little to stop it. While much of the rest of the country struggled to get by, the wealthy got wealthier and multimillionaires and billionaires achieved greater political and cultural power."

Continue reading for free
We hope you're enjoying The Week's refreshingly open-minded journalism.
Subscribed to The Week? Register your account with the same email as your subscription.