LSE denies plans to move to Frankfurt post-Brexit
'Merger of equals' with Deutsche Boerse will not see City jobs to Germany, says London Stock Exchange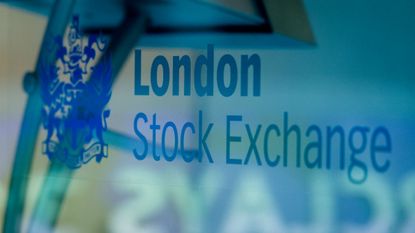 (Image credit: LEON NEAL/AFP/Getty Images)
Bosses at the London Stock Exchange (LSE) have denied its merger with Frankfurt-based rival Deutsche Boerse poses a threat to huge volumes of business and jobs in London.
A report in The Times, based on research commissioned by the German stock exchange, reveals claims that it "has a good chance of winning significant long-term market share in the areas of interest rate and currency trading".
The risk of substantial trading activities being lost raises "fresh questions about whether the deal, which will have to be signed off by the Bank of England, is in the City's best interests", adds the paper.
Subscribe to The Week
Escape your echo chamber. Get the facts behind the news, plus analysis from multiple perspectives.
SUBSCRIBE & SAVE
Sign up for The Week's Free Newsletters
From our morning news briefing to a weekly Good News Newsletter, get the best of The Week delivered directly to your inbox.
From our morning news briefing to a weekly Good News Newsletter, get the best of The Week delivered directly to your inbox.
Following last March's £21bn "merger of equals", which will bring together the main stock exchanges in London, Frankfurt and Milan, it was originally thought the greatest regulatory and political hurdles would be faced in Germany over the decision to have the new group's HQ in London, although Deutsche Boerse shareholders are to control 54 per cent of the combined entity.
In contrast, the report by Dirk Schiereck, chairman of corporate finance at Technische Universitat Darmstadt, says Frankfurt will now enjoy opportunities arising from the Brexit vote in June.
It is wildly feared London will lose its position as the European centre for euro-denominated transactions as a result of the EU referendum result.
LSE chief executive Xavier Rolet has warned as many as 232,000 jobs could be at stake.
But the company today dismissed the claims as "inaccurate and misguided", says City AM.
It said: "[T]he existing regulatory framework of all regulated entities will remain unchanged and, in particular, there is no intention to move the locations of Eurex or Clearstream from Frankfurt, LCH from London and the US, Monte Titoli from Milan or CC&G from Rome following completion."
London Stock Exchange agrees £21bn 'merger of equals'
16 March
A powerful European markets operator is to be created that houses the stock exchanges in London, Frankfurt and Milan.
London Stock Exchange Group, which owns the eponymous exchange as well as the prized asset of transaction clearing business LCH.Clearnet, has agreed a £21bn "merger of equals" with Deutsche Boerse, the owner of the Frankfurt Stock Exchange. The London group already owns the Milan-based Borsa Italiana.
Under the terms of the deal, Deutsche Boerse investors will own 54 per cent of the combined business, notes the BBC, with the remaining 46 per cent going to their London counterparts. They will each retain their current trading names and operational headquarters, with a group-holding company being incorporated in the UK.
The two businesses reckon they can achieve savings of €450m (£353m) each year. The Financial Times also points to estimated "capital savings" of £7bn from pooling capital requirements across their more complex derivative operations, which could mean more money to distribute to shareholders.
However, politicians in Germany may need to be convinced on the case for effectively moving the centre of power for its most important stock market to London, while some may also question the financial claims, as the London Stock Exchange in particular has some complex co-ownership and profit sharing arrangements.
Writing in the FT, Patrick Jenkins says all of this amounts to a "small-picture" review of the deal and that there are broader benefits. In particular, he says having a consolidated European markets power that can compete with larger US rivals and attract money from overseas will be positive for the financial prospects of the continent as a whole.
Investors may not be so easily swayed if IntercontintalExchange, the owner of the New York Stock Exchange, comes to the table with a better offer for the London exchange, after saying earlier this month it was considering making its own takeover approach.
London Stock Exchange could be subject to buyout bidding war
02 March
The listed parent company that owns and runs the London stock market could be the subject of a transatlantic bidding war.
Last week, it was revealed that London Stock Exchange Group (LSE) was in detailed discussion with Frankfurt Stock Exchange owner Deutsche Boerse over a £20bn "merger of equals". Now it has emerged that a rival bid could come from the global giant behind the New York Stock Exchange.
Atlanta-based IntercontinentalExchange (ICE) confirmed in a statement it was considering an offer, but that there is no guarantee. Under takeover rules, it has until 29 March to make a firm approach, while Deutsche Boerse has until 22 March.
LSE confirmed it has received no formal approach from ICE and that it was "progressing" with the ongoing talks with Deutsche Boerse. Its shares surged by close to eight per cent yesterday and the Financial Times notes its valuation touched close to £10bn for the first time. The stock is up around a third since early last month.
The rival offers would set up a "transatlantic bidding war" that "could even be joined by other leading exchange operators, including Chicago's CME Group and Hong Kong's HKeX", some observers claimed.
Such a battle would "ignite a political storm over who should own the LSE and regulate its activities", the FT adds.
Under the proposal from Deutsche Boerse, a UK-based holding company would own all of the assets and both groups would trade under their existing brands and retain co-headquarters in London and Frankfurt. But the ICE or any other rival bid could hand control for the UK's main market to an overseas company, which might rankle with regulators.
London Stock Exchange in talks over £20bn 'merger of equals'
23 February
London Stock Exchange Group bosses have confirmed they are in "detailed discussions" regarding a merger with German peer Deutsche Boerse, which would be worth around £20bn.
A statement from the company's board referred to a potential deal as a "merger of equals", reports the Wall Street Journal. A new holding company would be set up with shares exchanged in differing proportions for those in the two merging companies, with Deutsche Boerse investors getting more per share and controlling a 55 per cent majority interest.
Based on the closing price for both of the businesses on Monday, the combined entity would be worth as much as £20bn. This price tag could have nominally risen by more than £3bn by the end of trading today: at the time of writing, London's shares had gained more than ten per cent since the talks were announced and Deutsche Boerse's were up five per cent.
This is the third time the German owner of the Frankfurt stock exchange has tried to buy its UK rival, following attempts in 2000 and 2004 that were both rejected, the BBC notes. Deutsche Boerse also tried in 2011 to buy NYSE-Euronext, but dropped the plans the following year in the face of stiff opposition from the European Union. NYSE-Euronext was later acquired by Intercontinental Exchange.
Xavier Rolet, the chief executive of the London Stock Exchange, had previously said he was interested in seeking an international merger partner for his organisation to build a business that could compete on a global scale.
Both of the companies would continue to trade under their current brands should the merger complete.

Continue reading for free
We hope you're enjoying The Week's refreshingly open-minded journalism.
Subscribed to The Week? Register your account with the same email as your subscription.