OJ Simpson to be released: Key moments of the 'trial of the century'
As 'the Juice' looks likely to leave prison, what's the story behind the murders of Nicole Brown and Ronald Goldman?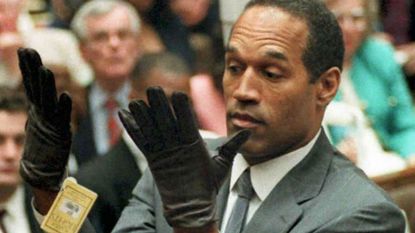 OJ Simpson may be about to become a free man once again - 22 years after from the "trial of the century".
Simpson faces a parole hearing in Nevada today for his 2008 conviction for kidnapping, armed robbery, assault with a deadly weapon, burglary and conspiracy.
The "disgraced gridiron hero", as The Guardian describes him, broke into a Las Vegas hotel room on 13 September 2007 and, with the help of several accomplices, held up two memorabilia dealers for collectables and personal items he claimed were rightfully his.
Subscribe to The Week
Escape your echo chamber. Get the facts behind the news, plus analysis from multiple perspectives.
SUBSCRIBE & SAVE
Sign up for The Week's Free Newsletters
From our morning news briefing to a weekly Good News Newsletter, get the best of The Week delivered directly to your inbox.
From our morning news briefing to a weekly Good News Newsletter, get the best of The Week delivered directly to your inbox.
He was found guilty by a jury on all 12 charges and given the maximum sentence of 15 years.
Today, "an aging Simpson will appear as inmate No. 1027820, dressed in blue jeans and a blue button-down shirt, in a stark hearing room in a remote Nevada prison", says ABC News.
The four commissioners who will decide Simpson's fate already granted him parole on the lesser charges of kidnapping, robbery and burglary at a hearing in 2013, leaving him with four years remaining before reaching the minimum sentence of nine years.
Lovelock Correctional Centre Warden Renee Baker told ABC on Wednesday she couldn't say how Simpson's parole hearing might turn out. "We'll see tomorrow," she said.
Retired Lovelock prison guard Jeffrey Felix told the Los Angeles Times that Simpson is the perfect candidate for parole. "That's all he thinks about," said Felix. "If he gets into a conflict [with another inmate], he backs out. He wants to be a free man again."
It was in 1995 that Simpson, a retired American football player, broadcaster and actor nicknamed "the Juice", was tried for the murders of his ex-wife, Nicole Brown, and her friend, Ronald Goldman. He was acquitted on both counts in October 1995.
In 1997, he was found liable in civil court for the deaths and ordered to pay $33.5 million to survivors, including his children and the Goldman family. A Goldman family spokesman said Ron Goldman's father and sister, Fred and Kim, won't be part of Simpson's parole hearing but feel apprehensive about "how this will change their lives again should Simpson be released".
The lengthy and internationally publicised legal proceedings became known as "the trial of the century" and it "has continued to capture the imagination of American society two decades on," says The Guardian.
Just last year, it inspired OJ: Made in America, a 467-minute film that won the Academy award for best documentary feature, and The People v OJ Simpson: American Crime Story, a 10-episode television series that won nine Primetime Emmy awards.
Here, we look back at the key moments of the real-life case:
The murders
On 12 June 1994, Brown was found with Goldman stabbed to death outside her house in Brentwood, Los Angeles.
The driver's licence of Nicole Brown
Her former husband, Orenthal James Simpson, was named as a person of interest in their deaths.
The arrest
On 17 June, after failing to turn himself in, Simpson became the subject of a low-speed police chase in a white Ford Bronco SUV. Reports of the chase interrupted coverage of the 1994 NBA finals and, along with Simpson's arrest and trial, became some of the most highly publicised events in US history.
The Trial
Simpson pleaded not guilty to both murders. The initial jury was dismissed over concerns the extreme media coverage might influence its neutrality. Of the final jurors selected, eight were black, two Hispanic, one was white and one identified himself as half white and half American Indian. Eight were women and four were men - the prosecution thought women would sympathise with Brown, a domestic violence victim, but the defence looked to evidence suggesting they were more likely to acquit.
Prosecutors Marcia Clark and Christopher Darden
The trial began on 24 January 1995, with the prosecution opening its case with a recording of a 911 call Brown had made in 1989, in which she said she was afraid Simpson, then her husband, would physically harm her. The former sports star was heard yelling at her in the background.
Televised justice
On the first day of the trial, a television camera captured the face of a juror, despite assurances from the trial judge, Lance Ito, that jurors would not be photographed or shown to the public.
Judge Lance Ito
However, after a hearing, Judge Ito decided to allow the cameras to stay and the trial was televised by Court TV, with excerpts shown on other cable and network news outlets.
The case
The prosecution had no murder weapon but presented dozens of expert witnesses on DNA, blood and shoeprint analysis to place Simpson at the scene of the crime.
The witnesses
Brown's older sister, Denise, testified that her sibling had been an abused wife and recounted numerous incidents of Simpson's violent behaviour.
There was also a flamboyant testimony from Brian "Kato" Kaelin, Simpson's former houseguest, which seemed to contradict his account of events but still frustrated District Attorney Marcia Clark's prosecution team.
OJ Simpson and Robert Shapiro
When asked if he had moved into Simpson's guest house to promote his own acting career, Kaelin replied: "I don't think we were going for the same parts."
Two witnesses – a woman who had allegedly seen Simpson speeding away from the scene of the crime in his white Bronco and a man who had sold him a knife similar to the one used in the murder – were not called because they had sold their stories to the tabloids.
The bloody glove
Simpson's defence, nicknamed the "Dream Team" by journalists, argued that Los Angeles police detective Mark Fuhrman had planted key evidence – a bloody glove – at the crime scene.
Johnnie Cochran
Simpson was asked to try on the glove in court and when it did not fit, defence lawyer Johnnie Cochrane developed the mantra: "It doesn't fit, you must acquit."
The Verdict
After four hours of deliberation, the jury found Simpson not guilty, with the judge's announcement being made on 3 October 1995.
Alvin Michelson, Robert Kardashian and OJ Simpson
An estimated 100 million people worldwide stopped what they were doing to watch or listen to it.
The aftermath
Following Simpson's acquittal, Goldman's family filed a civil lawsuit against him in which the jury unanimously found him liable for the wrongful death of Goldman and Brown and he was ordered to pay damages of $33.5m (approximately £24m).
Simpson was dogged by further court cases to prevent him from profiting from a book deal and to claim a larger share of his assets. In 2007, he was arrested after leading a group of men who entered a Los Vegas hotel-casino and, at gunpoint, removed sports memorabilia he claimed belonged to him. He was sentenced to 15 years in prison for kidnapping and armed robbery and remains behind bars in Nevada.
The final episode of The People v OJ Simpson will be on BBC2 tonight at 9pm

Continue reading for free
We hope you're enjoying The Week's refreshingly open-minded journalism.
Subscribed to The Week? Register your account with the same email as your subscription.