Yotam Ottolenghi on creating Nopi recipes for the home cook
Yotam Ottolenghi and head chef Ramael Scully are eager to see us recreate the complex flavours of the popular restaurant in our own kitchens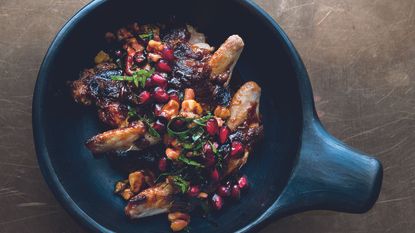 When I'm working on a cookbook, I spend most of my time in our test kitchen coming up with super-delicious dishes that aren't too complex for people to cook at home. I always ask myself, 'How far would someone go to make this dish? And how can we simplify it without losing its essence?' My recipes are never simple, but they are always doable.
Some dishes we serve at our restaurant Nopi take days to prepare. But you can't put those recipes in a book and expect people to spend an entire weekend preparing one meal. So I had to think about how to make certain dishes more quickly and with, say, fewer than 10 spices. Changing a restaurant dish to a homemade version is a real challenge, but we've designed our cookbook with those challenges in mind.
I have a rule that I always test a recipe with the lowest-common-denominator ingredients. For example, we've found some really terrible supermarket tamarind pastes that make everything really sour, and some awful harissa. If we know what's available, we can tell the reader how to fix it.
Subscribe to The Week
Escape your echo chamber. Get the facts behind the news, plus analysis from multiple perspectives.
SUBSCRIBE & SAVE
Sign up for The Week's Free Newsletters
From our morning news briefing to a weekly Good News Newsletter, get the best of The Week delivered directly to your inbox.
From our morning news briefing to a weekly Good News Newsletter, get the best of The Week delivered directly to your inbox.
Luckily, the supermarkets have begun to respond to their customers becoming more adventurous in the kitchen. At the most basic level, I rarely use table salt at home any more because Maldon sea salt is so much better and now easily accessible. Likewise, herbs that haven't historically or indigenously been grown here are becoming more readily available – for instance, shiso, also known as perilla, a herb from the mint family that looks a bit like a nettle and tastes like mild cumin or coriander, which is used in Japanese cooking and is now grown in Devon.
Although we look to the world for our condiments, spices and pastes, we use local, seasonal meat and vegetables. So we might use Japanese mirin, but the Brussels sprouts will be grown here. And if you have to buy an unusual ingredient to make a dish from our book, we ensure we feature it in several recipes. Nopi: The Cookbook includes more complex dishes than those in our previous books, such as Ottolenghi, Plenty or Jerusalem, but I think it's worth the effort, and the most complicated are designed to be made at the weekend. There are two pages of meal suggestions at the back to help readers learn which dishes sit well together – a simple trick when it comes to any meal is not to include too many citrus, sweet or rich ingredients, or you'll leave the table with only a vague memory of what you ate.
I first met Scully, as everyone calls him, when he came to work for us at Ottolenghi in Islington in 2005. He would create a plate with four or five components and I'd ask, 'Are you sure you want so much on there?' He was in his twenties and the food was all about fireworks. A decade on, it's more subtle. There are still firework flavours at Nopi, of course – by which I mean a taste you've never experienced before – but they're more restrained than they used to be. That comes with age as a chef: you appreciate a certain clarity. It doesn't mean the food isn't intense, but you know what a dish stands for.
It's not just about becoming more mature – it's also about the world around us changing. In order to grow, it's important to maintain an ethos of sharing ideas. Ours has never been an organisation where the head chef is the source of all knowledge – we've always encouraged sous chefs to come up with ideas, too. Gone are the days when we can keep culinary secrets – the internet put paid to that. In fact, I met a chef on Twitter who asked if I'd ever tried to pickle watermelon rind. It chimed with Scully's passion for pickling, and you'll find the result in the book, in a recipe for spicy watermelon soup. It's complicated, but worth it.
Ramael Scully
Yotam is quite right – I always make things complicated. At Nopi, I used to have thislong, drawn-out way of making caramelised yogurt. I'd put the yogurt in a steamer bag with pomegranate molasses and steam it for eight to 10 hours. Then one of the other chefs simply mixed up yogurt with two sorts of molasses – and it was incredibly like the one I'd been fussing over for ages.
While Yotam is always thinking of home cooking, I had to change the way I think when we were working on the Nopi cookbook. I was worried about the twice-cooked baby chicken with chilli sauce and kaffir lime leaf salt; it's a signature dish for us and you have to cook up Asian master stock as well as marinating the bird for three days, if possible. But we butterflied the chicken so the marinade could work more intensively on the meat, left it for just a day and it worked really well.
I grew up in Australia with a mother of Chinese and Indian heritage and a father with Malay and Irish blood, so I have eclectic culinary tastes and get excited by so many different types of food. I keep a notepad by my bed in case I wake up in the middle of the night with an idea for a dish, but I have learnt to simplify my cooking.
That doesn't mean it's become in any way boring, however. It's really important, I think, to have a response as you're eating – when I first made our sharp and spicy watermelon soup, my brain went, 'Wow!'
Yotam Ottolenghi grew up in Jerusalem, moved to London to pursue a PhD and ended up training at Le Cordon Bleu school. He is the chef-patron of Nopi and the Ottolenghi delis.
Ramael Scully was born in Malaysia, emigrated to Sydney as a child and later attended catering college. He has been head chef at Nopi since it opened in 2011.
Nopi: the Cookbook (Ebury Press, £28); ottolenghi.co.uk

Continue reading for free
We hope you're enjoying The Week's refreshingly open-minded journalism.
Subscribed to The Week? Register your account with the same email as your subscription.