Why gun violence is dropping as gun sales rise
US statistics tell a contradictory tale – but the good news is that murders are falling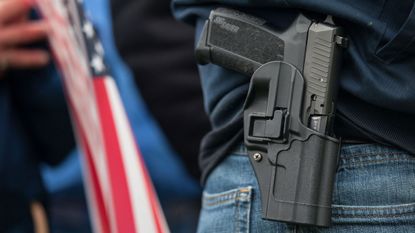 (Image credit: David Ryder/Getty Images)
In January, with a year of his presidency remaining, Barack Obama announced he would take executive action to curb mass shootings, bypassing the Republican-controlled Congress to tighten restrictions on gun ownership.
"We are the only advanced country on earth that sees this kind of mass violence erupt with this kind of frequency," he said.
His speech followed a string of attacks, including a shooting in San Bernardino, California, in which Syed Rizwan Farook and Tashfeen Malik pledged allegiance to Islamic State before killing 14 people, and another in Charleston, South Carolina, for which Dylann Roof confessed to killing nine people in the hope of igniting a race war.
Subscribe to The Week
Escape your echo chamber. Get the facts behind the news, plus analysis from multiple perspectives.
SUBSCRIBE & SAVE
Sign up for The Week's Free Newsletters
From our morning news briefing to a weekly Good News Newsletter, get the best of The Week delivered directly to your inbox.
From our morning news briefing to a weekly Good News Newsletter, get the best of The Week delivered directly to your inbox.
Since then, thousands more people have died in shootings, most of which have provoked neither presidential comment nor widespread television coverage.
Only a handful of gun deaths result from high-profile mass attacks such as those in South Carolina, says Gus Powell in the New York Times.
"The rest are a pencil sketch of everyday America at its most violent," he says. "They tally scores of unfortunates in the wrong place at the wrong time: an 11-month-old clinging to his mother's hip, shot as she prepared to load him into a car; a 77-year-old church deacon, killed by a stray bullet while watching television on his couch."
With the number of recorded incidents involving guns in the US so far this year already well above 20,000 and fatalities exceeding 5,000, it is hard to believe the President's strategy is working – but the figures suggest it may be.
Since Obama took office in January 2009, the number of deaths resulting from gun crime in the US has fallen, despite a rise in mass shootings (and suicides).
The latest figures provided by the FBI show a reduction in violent gun deaths of 13 per cent between 2012 and 2014. These figures exclude gun suicides, which have been on the rise since 2009, and accidental deaths, including those at the hands of children.
Source: FBI Uniform Crime Reports
According to the Gun Violence Archive, an independent non-profit body that uses hundreds of sources to track statistics of deaths and injuries, fatalities resulting from the "defensive use" of firearms also fell by 19 per cent.
Gun ownership falls – as gun sales rise
Source: NORC, University of Chicago
While firearm sales continue to grow ‒ manufacturers almost doubled annual production from 5.6 million to 10.9 million between 2009 and 2013 ‒ gun ownership is in long-term decline.
The reason for the apparent paradox is that those people who do own weapons are buying more of them. This trend tends to accelerate after mass shootings, says Time magazine, as people look to protect themselves or to increase their arsenal before tighter regulations can be brought in.
Gun purchases can be hard to monitor as they are not officially tracked, but the FBI does record the number of pre-purchase background checks it is asked to carry out.
That can be used as a guide to the number of sales taking place, albeit an imperfect one, as not all checks result in a sale. Even so, the sharp rise in the number of background checks strongly suggests sales have been on the rise in recent years, even as the number of gun owners has fallen.
Source: FBI Monthly Statistics
This helps to explain why last year, for the first time, there were more guns than people in the US, according to the Washington Post.
Why are violent gun deaths falling?
The numbers paint a confusing picture: fewer people own guns, but gun sales are up; gun crime fatalities are falling, while gun suicides are rising.
A superficial reading of the graphs above might suggest either that violent deaths fall when fewer households own guns or that more guns lead to fewer deaths.
But a third factor may be involved. Between 2012 and 2014, an increase in police resources, coupled with advances in technology, allowed officers to gather more data on violent crime and use it to focus their efforts on high-risk areas.
"When they have accurate, current information on where crime is happening, [the police] can identify the neighborhoods where they are needed most," says the Washington Post's Wonkblog.
The fall has also coincided with a long-term reduction in violent crime across the developed world.
Suicide bucks the trend
Despite the fall in gun crime deaths, suicides involving firearms have risen – and from a high starting point. The US suicide rate is about twice that of the UK and more than half of Americans who kill themselves use guns.
Although pro-gun ownership groups have argued that suicidal people would find alternative methods if guns were unavailable, a study published by Harvard University in 2008 found that a country's suicide rate "depends in large part on the ready availability of highly lethal means, especially firearms".
Michael Anestis, a professor of psychology at the University of Southern Mississippi who has studied suicide and gun control, said reducing suicides involving firearms would not necessarily lead to an increase in other methods.
"Suicide is difficult," he told CNN, "and when you make a difficult thing harder, it's that much less likely to happen."

Continue reading for free
We hope you're enjoying The Week's refreshingly open-minded journalism.
Subscribed to The Week? Register your account with the same email as your subscription.