Stanford judge blocked from presiding over separate sex case
Judge Persky sparked anger for sentencing student Brock Turner to just six months in jail for sexual assault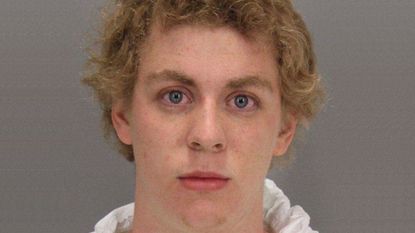 (Image credit: Santa Clara County Sheriff's Department)
The US judge who was widely condemned after sentencing former Stanford University student Brock Turner to just six months in jail for sexually assaulting an unconscious woman has been blocked from presiding over an unrelated sex case.
In a rare move, Santa Clara district attorney Jeff Rosen yesterday filed a peremptory challenge against Judge Aaron Persky, preventing his involvement in the case of a male nurse who sexually assaulted an anaesthetised female patient, according to prosecutors.
A peremptory challenge, which can be used to dismiss jurors at a trial, gives either side in a legal action the right to object to one judge per case without explanation.
Subscribe to The Week
Escape your echo chamber. Get the facts behind the news, plus analysis from multiple perspectives.
SUBSCRIBE & SAVE
Sign up for The Week's Free Newsletters
From our morning news briefing to a weekly Good News Newsletter, get the best of The Week delivered directly to your inbox.
From our morning news briefing to a weekly Good News Newsletter, get the best of The Week delivered directly to your inbox.
The removal of Persky, who is facing a recall campaign over the Stanford case and has been subject to a petition to have him removed from the bench altogether, came a day after he took the unusual step of dismissing a misdemeanour case involving stolen property mid-trial.
The district attorney said in a statement that Persky's decision to unilaterally dismiss a case before the jury could deliberate was "puzzling".
"After this and the recent turn of events, we lack confidence that Judge Persky can fairly participate in this upcoming hearing in which a male nurse sexually assaulted an anaesthetised female patient," the statement said.
The district attorney said his decision to have Persky removed from the sexual battery case was "a rare and carefully considered step for our office".
Persky, a northern California judge, came under fire after what many believe was an unduly lenient sentence handed to Turner, who avoided the minimum two years in state prison prescribed by law.
Stanford sexual assault: Growing calls for judge to be removed
10 June
A judge who sentenced a former Stanford University student to just six months in jail for sexual assault is facing a growing recall campaign.
Santa Clara County Judge Aaron Persky has been widely condemned for handing down what many view as an extremely lenient sentence to 20-year-old Brock Turner.
The ruling sparked global outrage and a petition to have Persky removed from the bench has now been signed by more than one million people around the world.
"He has made women at Stanford and across California less safe," said campaign leader Michele Dauber, one of the university's law professors and a family friend of the 23-year-old victim.
"The judge bent over backwards in order to make an exception and the message to women and students is, 'You're on your own' and the message to potential perpetrators is, 'I've got your back.'"
What happened?
Turner was convicted in March of three felony counts of sexual assault against an unconscious woman after a fraternity party in January 2015. Two bystanders intervened after seeing Turner attack his half-naked victim behind a skip, restraining him until police arrived on the scene.
In a statement to the judge, the former swimmer showed little remorse and blamed his actions on excessive drinking and the "party culture" on campus.
"I've lost my chance to swim in the Olympics," he said. "I've lost my ability to obtain a Stanford degree. I've lost employment opportunity, my reputation and most of all, my life."
Turner's father, Dan, also defended his son's actions and pleaded for leniency from the judge, arguing he should not have to go to prison for "20 minutes of action".
Before sentencing, the woman he assaulted read out a powerful letter to Turner in court detailing the trauma she had experienced.
"To sit under oath and inform all of us, that yes I wanted it, yes I permitted it and that you are the true victim for reasons unknown to you is appalling, is demented, is selfish, is damaging," she said.
"Alcohol is not an excuse," she added. "Is it a factor? Yes. But alcohol was not the one who stripped me, fingered me, had my head dragging against the ground, with me almost fully naked."
The maximum sentence for such an offence is 14 years, but Turner was jailed for just six months and required to register as a sex offender. He is expected to serve just three months in jail.
Delivering his sentence, Persky cited Turner's clean criminal record and positive character references, and said a longer term would have a "severe impact" on him.
What has the reaction been?
Many argued that Turner's race, sporting ability and privilege spared him a harsher sentence. In addition, several pointed to the fact that Pesky is a Stanford alumni who was captain of the lacrosse team.
"Turner exemplifies every aspect of white male privilege in America… and symbolises [the] double standards in the criminal justice system," Kimberly Richards writes in Romper.
The case has sparked a wider debate about sexual assault on university campuses and a pervasive rape culture in society. "To many survivors, the judge's comments about Turner highlight a narrative around sex crimes, which favours the attacker ahead of the victim," says the BBC.
Speaking to Buzzfeed, Turner's victim said she was disappointed with the "gentle" punishment but added: "Even if the sentence is light, hopefully this will wake people up."
She continued: "I want the judge to know that he ignited a tiny fire. If anything, this is a reason for all of us to speak even louder."

Continue reading for free
We hope you're enjoying The Week's refreshingly open-minded journalism.
Subscribed to The Week? Register your account with the same email as your subscription.