The pros and cons of a second referendum
Labour Party at odds with itself over the prospect of a People's Vote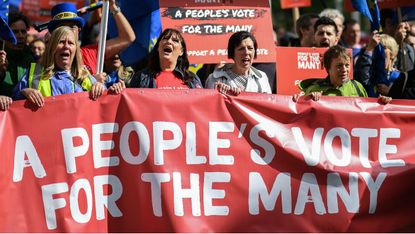 (Image credit: Jeff J Mitchell/Getty Images)
Senior Labour members appear to once again be at each others' throats after a contentious shadow cabinet meeting demonstrated stark divisions over the prospect of a second Brexit referendum.
On Sunday, Shadow Brexit secretary Keir Starmer told BBC One's The Andrew Marr Show that his party could vote for Boris Johnson's Brexit deal if a second referendum was added to the withdrawal agreement bill.
The announcement appeared to go against previous statements by his party leader, Jeremy Corbyn, who has said that Labour could not vote for Johnson's deal even with a promise of a second referendum attached.
Subscribe to The Week
Escape your echo chamber. Get the facts behind the news, plus analysis from multiple perspectives.
SUBSCRIBE & SAVE
Sign up for The Week's Free Newsletters
From our morning news briefing to a weekly Good News Newsletter, get the best of The Week delivered directly to your inbox.
From our morning news briefing to a weekly Good News Newsletter, get the best of The Week delivered directly to your inbox.
At what The Guardian describes as a "testy" shadow cabinet meeting on Tuesday, Starmer "clashed" with fellow front benchers over Labour's stance on a referendum and received "backlash from colleagues including Ian Lavery and Jon Trickett". The pair reportedly referenced a motion passed at last month's Labour conference in Brighton, which said: "The party shall only decide how to campaign in such a referendum through a one-day special conference, following the election of a Labour government."
Diane Abbott and Dan Carden, according to Politics Home, defended Lavery and Trickett, with Corbyn later stepping in by saying he would "caution" MPs against being accepting a trade-off.
The looming spectre of a second referendum is one that has thrown a spanner in the works of Boris Johnson's Brexit deal, pitting close allies against each other and making unusual bedfellows of fierce rivals.
As the prospect of a general election before Christmas grows, so too does the debate about the advantages and disadvantages of a so-called People's Vote. Here's a look at the pros and cons:
Pros
Many Remainers argue that the electorate should have a second chance to vote now that some of Leave's misleading statements – such as the fabled £350m a week for the NHS – have been exposed. "It is now admitted that the Leave campaign was glaringly mendacious," says the New Statesman.
Labour MP Geraint Davies stressed this point on LabourList when he said "the offer is likely not to be what 'it said on the can' but less market access for a higher cost with the same immigration". In those circumstances, it is only fair to allow voters to decide whether to go ahead with Brexit.
Supporters of a so-called People's Vote also point to a number of criminal investigations relating to pro-Leave groups and senior figures, and allegations voters were subject to a sophisticated misinformation campaign, as further reasons the result should be re-run.
The other main argument for a second referendum is that it is the only way to break the Brexit deadlock currently paralysing Westminster. Because the promises made during the campaign have proved so hard to reconcile it has been impossible for MPs to agree on a version of Brexit that they believe honours the referendum result.
Former prime minister Theresa May's compromise withdrawal agreement was resoundingly voted down three times and, with MPs ruling out no deal earlier this week, many argue the only way to solve the conundrum is to go back to the people.
Polls suggest that the British public have had a change of heart and would now back Remain by a clear margin in a second referendum.
An aggregate of 76 polls between April and September this year found that Remain consistently beat Leave.
Responding to the question "If there was another referendum on Britain's membership of the EU, how would you vote?", 46% of people said they would vote Remain, compared with 40% for Leave, with 14% undecided.
Cons
Pro-Brexit commentators say that some Remain supporters are in favour of overturning a democratic vote simply because they didn't like the outcome. "If each of those four million petitioners… actually persuaded someone to vote with them for Remain, they could have actually won," writes Asa Bennett in The Daily Telegraph.
Disregarding the Brexit vote could be seen as an egregious slight to the millions who voted to leave because they felt unrecognised by the disproportionately pro-Europe, pro-immigration political class – and could even be dangerous. The rise of Nigel Farage's nascent Brexit Party shows anger among a large section of Leave voters is all too real - and could upset the UK's established political order. Peter Hill in the Daily Express writes "riots could happen, even here, if our rulers thwart the people's will."
Recent polling suggests that while the public may back a second referendum, it's unclear on what terms they would like it to be. Some would like the option to be a Brexit deal agreed with Brussels or remaining in the EU, while others would like it to be the Brexit deal or a clean break. This "is the problem for the 'people support a second referendum' argument: they do, it's just they mean very different things by it", says the New Statesman's Stephen Bush.

Continue reading for free
We hope you're enjoying The Week's refreshingly open-minded journalism.
Subscribed to The Week? Register your account with the same email as your subscription.