CitySprint faces 'gig economy' legal challenge
Company is latest delivery firm facing judge's ruling on whether freelance drivers should be classed as workers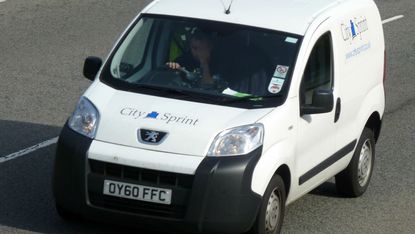 CitySprint delivery company is facing a legal challenge to its freelancer-focused business model in the latest action against the so-called "gig economy".
An employment tribunal today will hear a case brought by a bicycle delivery rider that could ultimately result in the company having to pay holiday and sick pay.
"Mags Dewhurst, who has made deliveries for the firm for more than two years, will argue that she should be given worker status," says The Guardian.
Subscribe to The Week
Escape your echo chamber. Get the facts behind the news, plus analysis from multiple perspectives.
SUBSCRIBE & SAVE
Sign up for The Week's Free Newsletters
From our morning news briefing to a weekly Good News Newsletter, get the best of The Week delivered directly to your inbox.
From our morning news briefing to a weekly Good News Newsletter, get the best of The Week delivered directly to your inbox.
Dewhurst said: "I follow their instructions, carry out work when they want it done and in the ways they want it done."
Under employment law, which is distinct from tax law, someone classed as self-employed is responsible for business risk and their working patterns.
In contrast, a "worker" is given direction by their company and is not in charge of their own hours. The classification is effectively a middle ground between being employed and self-employed and allows for some working rights.
Dewhurst's case is one of four concerning delivery firms that class drivers as freelancers. Claims against Addison Lee, eCourier and Excel will be heard next year, all by the same judge deciding on the CitySprint action.
Taxi-app firm Uber last month lost a landmark test case involving two of its drivers, who a judge said must be classed as workers. The company is appealing and has refused so far to make changes to its terms for drivers.
Meanwhile, riders at Deliveroo are seeking union recognition to bargain for pay and conditions and are threatening tribunal action if the company refuses, says the BBC.
If CitySprint loses, it could be subject for claims for backdated sick and holiday pay. However, Jason Moyer-Lee, the head of the Independent Workers Union of Great Britain, which is backing the riders, said the action was primarily to test the status of the workers.
The "gig economy" refers to firms that employ workers on ultra-flexible terms. They claim to be linking customers with self-employed professionals, but unions argue they merely reduce workers' rights to boost profits.
Amazon drivers 'working for less than minimum wage'
11 November
Amazon has been accused of abusing self-employment rules to pay workers less than the minimum wage following a BBC investigation.
It also alleges agency drivers work "illegal" numbers of hours and are subject to excessively demanding schedules that do not leave time for toilet breaks.
An undercover reporter "got a job with AHC services, one of many agencies which supplies drivers to the firm's delivery wing Amazon Logistics in the south of England", says the BBC, adding it had heard "a lot of complaints" about the firm.
During his two-week employment with AHC, the reporter says he regularly worked more than the 11-hours legal daily limit for drivers and was paid the equivalent of just £2.59 and £4.76 per hour, based on a fixed payment of £110 for a "full route" of assigned deliveries, minus "contractor deductions" that in the first week included vehicle hire, insurance and admin fees. His net pay amounted to £93.47 for three days' work, he says.
Several other agency drivers said they were also paid below the national living wage of £7.20 per hour, "mainly due to working long hours".
"Amazon Logistics requires agency drivers to be self-employed," the BBC says. This means they are not covered by minimum wage or most other employment legislation.
However, the law states a worker who is not in control of the success or otherwise of their business, or does not set their own workload, cannot in most cases be considered self-employed and would be entitled to minimum wage, sick pay and holiday pay.
Tonia Novitz, a professor of labour law at Bristol University, said drivers contracted by AHC should not be classed as self-employed because "they do not determine their own routes, days of work or rest periods".Fellow delivery firm Hermes has already fallen foul of this distinction and is currently the subject of an HMRC investigation that could lead to an order for back-pay for affected drivers.
Taxi app firm Uber also lost an employment tribunal case brought by drivers who argued they should not be considered self-employed and should be paid the minimum wage.
Among other allegations made in the BBC report are claims that delivery schedules are so tight drivers effectively need to break speed limits and that they are forced to "defecate in bags" and "urinate in bottles" rather than take toilet breaks.
Amazon sought to distance itself from the claims and put focus instead on "delivery partners", such as AHC.
But the internet giant added that drivers "deliver at their own pace, take breaks at their discretion, and are able to choose the suggestion route or develop their own." It also "expected [drivers] to be paid a minimum of £12 per hour".
AHC dismissed the allegations as "historic and based on isolated examples" and said it had "taken a number of steps to improve our ways of working" since the period in question.
HMRC inquiry into claims of minimum wage breaches at Hermes
21 October
Courier firm Hermes is facing a HMRC inquiry into claims it breached minimum wage rules, as reported in an expose by The Guardian.
Delivery drivers are officially classed as self-employed, despite many claiming they are forced to be at their depot by set times, follow set timetables and are even threatened with losing work if they refuse to meet managers' demands.
Under employment law, even if an individual signs a contract to the contrary, staff can be considered to be formally employed if they are not considered to be in business for themselves.
After the report, 78 couriers complained to the government via Labour MP Frank Field.
A number of drivers said low parcel rates meant they were effectively paid less than the minimum wage, while one driver said she was paid as little as £3 an hour for a rural delivery round.
Edward Troup, HMRC's executive chairman, has told Field that around 100 reports from the drivers have been passed to "the appropriate compliance teams for consideration", the Guardian reports.
The main issue will be to assess whether staff are correctly classified as self-employed for the purposes of the minimum wage legislation.
"It is possible to be self-employed for tax purposes, but still be classified as a worker for national minimum wage," said Troup. He added that HMRC was "committed to tackling false self-employment".
In addition, Jane Ellison, the financial secretary to the Treasury, told Field the government is tackling the wider issue raise by the case.
It has set up a six-month review "to consider how employment practices need to change to keep pace with modern business practices".
HMRC is also setting up a new "employment status and intermediaries" team to transform "its compliance approach", Ellison added.
The Guardian's Larry Elliott says the responses show the government is preparing to tackle the "gig economy", where companies use nominally self-employed individuals to keep overheads low.
A spokeswoman for Hermes said: "We are confident in the legality of our self-employed courier model and we will cooperate fully with any investigation should there be one."
Courier firm Hermes faces HMRC probe over minimum wage claims
12 September
The delivery company Hermes is facing a probe by HMRC into allegations that it is failing to meet minimum wage obligations.
Frank Field, the veteran Labour MP who chairs the parliamentary pensions committee, has sent a report to Prime Minister Theresa May detailing complaints from 78 current and former drivers, says the BBC.
According to The Guardian Field's report includes accounts from one driver who said he was paid as little as £3 an hour for a rural delivery round, while another said he was paid the equivalent of £6 an hour once his 12-mile drive to work was taken into account.
Eleven drivers said they were paid effectively less than £6.80 an hour, which is 40p below the national living wage that applies for employees over the age of 25.
Elsewhere the report highlights accusations of "serious bullying", including of drivers who were threatened with loss of work or who were taken off of their rounds at times when they or their children were critically ill in hospital.
In response to Field, business minister Margot James said she had forwarded the report to HMRC inviting them to consider a "proactive investigation".
Hermes couriers are classified as self-employed contractors, meaning the company is not obliged to adhere to a minimum wage and is also exempt from paying for holiday or sick leave, and from providing national insurance and pension contributions for staff.
However, under employment law, even if an individual signs a contract to the contrary, staff can be considered to be formally employed if they are not thought to be in business for themselves.
In Field's report, some drivers claim they are not properly self-employed because they are required to work to Hermes's orders, including arriving at their depot for a particular time and delivering in set time slots.
Field says that some of the accounts suggest the company is "enforcing an employee contract under the cover of self-employment".
In response to Field's report, the business minister said that "employers cannot opt out of their employment law obligations by defining individuals as self-employed" and that "an individual's employment status is established based on the reality of the working relationship".
Hermes says that its arrangements with drivers were confirmed as legitimate by HMRC in 2011 and that its own figures show drivers were paid an average of £9.80 after "legitimate expenses".
After it was criticised previously for its working practices, the company made a number of changes, including setting up an independent complaints panel that has upheld 16 out of 36 claims.
In recent weeks, Hermes has also increased pay for three out of four staff who complained they were being paid less than a target minimum rate of £7.50 an hour.

Continue reading for free
We hope you're enjoying The Week's refreshingly open-minded journalism.
Subscribed to The Week? Register your account with the same email as your subscription.