Steven Spielberg turns 71: his best films (and biggest flops)
Thrilling action adventures, sci-fi fables and historical epics have shaped the movie landscape despite the odd misstep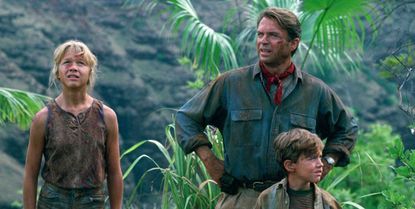 Steven Spielberg, one of Hollywood's best-loved and most widely acclaimed directors, turns 71 today.
With a career spanning nearly 50 years and with 17 Oscar nominations and three wins to his name, the American filmmaker has been responsible for some of the most entertaining, thrilling and moving films in the history of cinema.
To mark his birthday, here is list of his best and most loved movies - and a couple that didn't quite hit the mark:
Subscribe to The Week
Escape your echo chamber. Get the facts behind the news, plus analysis from multiple perspectives.
SUBSCRIBE & SAVE
Sign up for The Week's Free Newsletters
From our morning news briefing to a weekly Good News Newsletter, get the best of The Week delivered directly to your inbox.
From our morning news briefing to a weekly Good News Newsletter, get the best of The Week delivered directly to your inbox.
Duel (1971)
After directing for television, Spielberg got his big break with this made-for-TV film that was shown in cinemas across Europe. It's a gripping thriller about a motorist who cuts up a truck driver and ends up fighting for his survival in a deadly game of cat and mouse.
Jaws (1975)
When Spielberg directed this classic thriller, based on Peter Benchley's 1974 novel of the same name, he cemented his name in cinema history. The hunt for a relentless, man-eating shark is the stuff of nightmares, but the film's success is the stuff of celluloid dreams. And who could forget that ominous theme tune? Dah-dum… dah-dum.
Close Encounters of the Third Kind (1977)
After the success of Jaws, Spielberg gave audiences one of the greatest sci-fi films of all time. The tale of a blue-collar worker whose life changes after encountering a UFO is more cerebral than some of the director's films and changed the way popular culture imagined alien life.
Raiders of the Lost Ark (1981)
Spielberg made a series of films featuring archaeologist-adventurer Indiana Jones, but the first is frequently ranked as the fans' favourite. With Raiders, Spielberg and story creator George Lucas recaptured the thrill of 1930s adventure serials while redefining the modern action-adventure genre. The globetrotting blockbuster has it all - romance, treasure and Nazis - and was the highest-grossing film of 1981.
E.T. the Extra Terrestrial (1982)
This warm-hearted sci-fi fable about an alien trying to return home is also a personal tale of a boy dealing with his parents' divorce. The film tackles wide-ranging themes, from the fragility of childhood dreams to the uncertainty of adult life, and manages the delicate balance between being scary and sensitive at the same time.
The Color Purple (1985)
This emotionally raw period drama, based on Alice Walker's Pulitzer Prize winner, was a change of pace for the king of the summer blockbuster. The tale of Celie Harris, who triumphs over a bleak childhood, was groundbreaking in its depiction of the struggles African-American women faced against domestic violence, child abuse, poverty and racism, all while telling a universal story of a resilient human spirit.
Empire of the Sun (1987)
Often overlooked in the Spielberg oeuvre, this adaptation of JG Ballard's real-life experiences as a boy in a Japanese prisoner of war camp during the Second World War is one of his most mature and measured films.
Business Insider UK says the scene in which the POW camp is liberated by an American fighter squadron "is one of the greatest single scene ever committed to film", while Spielberg's action choreography, combined with John Williams' score and Christian Bale's frighteningly intense acting, "result in a truly transcendent movie moment".
Jurassic Park (1993)
Based on Michael Crichton's hit novel about a dinosaur theme park that spirals out of control, Jurassic Park is a Frankenstein story disguised as an action adventure. It also questions our lack of respect for nature and our desire to be entertained. It remains one of the great blockbusters, with effects, story and characters that still hold up today.
Schindler's List (1993)
Spielberg's only black and white film is both an impressive visual achievement and a deeply emotional tale that manages to find a glimmer of light in the darkness of the Holocaust. It tells the story of Oskar Schindler, a German businessman who saved the lives of more than a thousand mostly Polish-Jewish refugees from death camps by employing them in his factories.
Saving Private Ryan (1998)
One of the most gripping war films of modern times, this epic drama set during the World War II invasion of Normandy is seen by many critics as both transcending and transforming the genre. Famed for its groundbreaking portrayal of combat, the opening scene, depicting the landing at Omaha Beach, remains one of the greatest action sequences in movie history.
Lincoln (2012)
This epic historical drama and biopic succeeds where others have failed by focusing on a single aspect of the great president's life – Abraham Lincoln's battle to end slavery. Daniel Day Lewis turns in an Oscar-winning performance as Lincoln, a man who must contend with his own demons and negotiate the risky machinations of politics to destroy an even greater evil. It is listed on many critics' top ten lists.
And one that didn't make the grade:
While he may have more hits and accolades than you can throw a stick at, like all directors, Spielberg has also delivered a few missteps that have crashed at the box office and/or received a critical drubbing.
Hook (1991)
Starring Robin Williams as a grown-up Peter Pan who journeys back to Neverland to rescue his children from Dustin Hoffman's Captain Hook, the film was much maligned by both critics and audiences when it was released, and represents perhaps the biggest flop of what was an otherwise golden decade for Spielberg.
The director himself effectively disowned the movie, saying he only liked it up to the point where Peter leaves London for Neverland.
However, over the years the film has grown in stature and now enjoys somewhat of a cult following especially for Hoffman's over-the-top but at times brilliant portrayal of the titular character.
1941 (1979)
One of the more obscure films from his extensive back catalogue, 1941 was Spielberg's eagerly awaited follow-up to the hugely influential hit Close Encounters, which had seen the director receive his first of seven Oscar nominations for Best Director.
1941, however, proved to be a major flop. Starring Dan Aykroyd and Ned Beatty, the comedy film tells the story of a moral panic in California in the wake of the Japanese attack on Pearl Harbour, with a loosely defined plot twisted and pulled in all directions by multiple character arcs.
The film was slated upon its release, with a contemporary review in The Washington Post calling it "an appalling waste of filmmaking and performing resources", while some went as far as accusing Spielberg of indulging xenophobic themes in the film.
"Not only is it mindless, it is also racist," said The Globe and Mail. "Not only is it racist, it is also incompetent. Not only is it incompetent, it is also unfunny."
However in 2015, the Los Angeles Times declared that "time has been kind" to 1941, and the film "has developed a strong cult following since an extended version was first shown on ABC in 1983".

Continue reading for free
We hope you're enjoying The Week's refreshingly open-minded journalism.
Subscribed to The Week? Register your account with the same email as your subscription.