North Sea cod back on the menu
Fish and chip lovers can eat with a clear conscience again, says fishing agency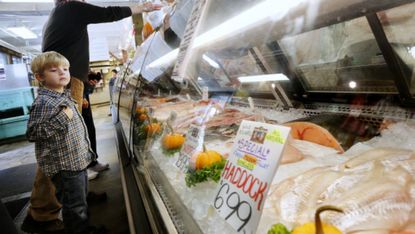 (Image credit: Derek Davis/Portland Press Herald via Getty Images)
North Sea cod has finally reached "sustainable" status, says the Marine Stewardship Council (MSC), after a near total collapse that saw stocks drop by 84 per cent between the 1970s and 2006.
The fishing agency says the certification allows consumers to eat the popular fish with a "clear conscience".
Stocks plummetted from 270,000 tonnes in the 1970s to 44,000 tonnes in 2006 due to overfishing. A cod recovery plan, along with other measures, was put in place to reduce the number of days fishermen could work to bring levels back up, Sky News reports.
Subscribe to The Week
Escape your echo chamber. Get the facts behind the news, plus analysis from multiple perspectives.
SUBSCRIBE & SAVE
Sign up for The Week's Free Newsletters
From our morning news briefing to a weekly Good News Newsletter, get the best of The Week delivered directly to your inbox.
From our morning news briefing to a weekly Good News Newsletter, get the best of The Week delivered directly to your inbox.
Around 70,000 tonnes of cod is eaten in the UK each year, around 2lbs per person, The Guardian reports. The majority – 90 per cent – is imported from boats from Iceland, Norway and Russia fishing in the Barents Sea, which is also considered sustainable by the MSC.
North Sea cod bearing the agency's blue label – meaning the fish is sustainable and traceable – will be found in supermarkets from as early as next week.
However, haddock remains off the menu after being removed from the sustainable list in March.
Ones to avoid:
Wild Atlantic halibut caught at sea is "heavily overfished and listed as an endangered species," says the MCS, which suggests consumers opt for Pacific or farmed halibut as a more sustainable alternative.
Salmon stocks are in bad shape in most UK waters. The MCS advises consumers to limit themselves to salmon caught in rivers in England and Wales, "where stocks are known to be above conservation limits".
Pacific and Atlantic cod stocks range from sustainable to endangered depending on where and how they are fished. The MCS lists the various fisheries to avoid.
Both European and conger eels have a red 'avoid' rating in the Good Fish Guide. Eels are unable to breed in captivity and sustained pressure from fishing and farming has brought European eel stocks to a record low.
Slow growth and late maturation make seabass vulnerable to overfishing. All nine varieties of wild seabass rate amber or red, meaning that eating them is either not recommended or should be completely avoided.
Ray species are often sold as 'skate', but the MCS advises that "all true skate should be completely avoided" due to the species' "slow growth rates, late maturation and low fecundity".
Sturgeon comes in around 20 varieties, some of which are critically endangered. The MCS says that to be safe consumers should avoid eating wild species and stick to farmed sturgeon.
Safe to eat:
Some clam stocks have become depleted due to unsustainable gathering methods, but the MCS says that farmed clams or those manually harvested from the wild are a safe choice.
Efforts to restore depleted hake stocks have met with success and they are now considered a sustainable choice. The MCS says seafood fans can support stock strength by not eating smaller, juvenile fish and not eating hake during their breeding season, which runs from February to July.
Shellfish farming is rated as "low-impact" by the MCS, meaning that farmed mussels and oysters are a sustainable choice for consumers. Wild mussels gathered using manual methods are also a safe choice, but mechanically harvested wild mussels should be avoided.
A delicately-flavoured low-fat fish which can be cooked in a variety of ways, rainbow trout is the major species of farmed trout in the UK. Organic fisheries are the "best choice," says the MCS, as they tend to use more sustainable methods and ensure higher levels of fish welfare than non-organic farms.
While seabass caught at sea should be avoided, the MCS recommends the seabass farmed in France in land-based tanks known as recirculating systems, which have minimal impact on the environment.
Prawns widely vary in sustainability depending on how and where they are caught.

Continue reading for free
We hope you're enjoying The Week's refreshingly open-minded journalism.
Subscribed to The Week? Register your account with the same email as your subscription.