Ten winter travel tips for driving safely on snow and ice
Challenging road conditions are expected over the course of the week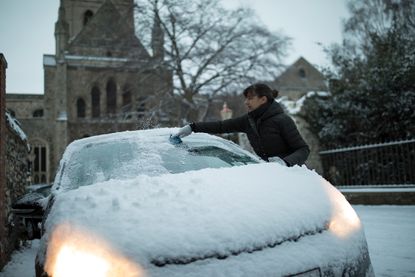 (Image credit: 2018 Getty Images)
Snow and icy conditions have hit Britain, bringing travel headaches for the nation's motorists.
The Met Office has issued yellow weather warnings for snow and ice over "nearly all of the country", the BBC reports.
Wintry showers were expected to continue today in Scotland, and northern and western England, while snow and widespread ice is forecast for Wales and parts of southern England from Thursday.
Subscribe to The Week
Escape your echo chamber. Get the facts behind the news, plus analysis from multiple perspectives.
SUBSCRIBE & SAVE
Sign up for The Week's Free Newsletters
From our morning news briefing to a weekly Good News Newsletter, get the best of The Week delivered directly to your inbox.
From our morning news briefing to a weekly Good News Newsletter, get the best of The Week delivered directly to your inbox.
The cold snap has already triggered travel chaos. Manchester and Liverpool airports were forced to close yesterday evening as a result of snowfall, reports the London Evening Standard. Both reopened this morning but more delays are expected throughout the day.
The freezing conditions pose serious challenges for motorists, too, making cars tricky to handle and more susceptible to breakdowns.
Here's a guide to staying safe on the roads this winter:
Drive only when necessary
You should make a car journey only if it's absolutely necessary, as driving in wintery conditions can be both challenging and unpredictable.
Those who have the option of working from home should do so, says Auto Express. If your job requires you to work at a specific location, you will "need to see if you can make alternative plans".
Make sure you plan your journey thoroughly and stick to main roads if driving is a necessity, the magazine says. Main roads are more likely to have been gritted and are often "cleared by the local authorities" early in the morning.
Be prepared
While cautious driving and a well-maintained car will certainly help in sub-zero conditions, even the best drivers can get caught out by patches of black ice and accidents will inevitably happen.
Before setting off on your journey, Metro advises drivers to "take an emergency kit of de-icer and an ice scraper". It's best to take a torch if you're driving at night, along with "warm clothing and boots".
Storing a first aid kit and jump leads in the boot are also recommended, the website says, while a shovel could prove invaluable if your car gets stuck in a snowdrift.
Wait for your windscreen to defrost
Motorists travelling early in the morning are likely to find a thick layer of ice covering their windscreen. De-icing can take a while to clear, so the RAC recommends you add an extra ten minutes to your journey to allow for time clearing your windscreen.
This can be done with a bottle of de-icer, an ice scraper or by gradually turning up the temperature on your car's heater, the breakdown service says. Avoid wiping the inside of the windscreen with a cloth as this can leave watermarks and dirt.
Clear the snow from your car
There's a good chance your car will be covered with a thick white blanket of snow before you set out on your journey.
Although it may not be pleasant, you need to remove all the snow from your car in order to avoid a potential £60 fine and three penalty points on your licence, warns The Sun. Be sure to clear your car's lights, number plates, front grill, windows and even the roof before you leave.
Not only does snow impair your vision, but it could also fall off while you're driving and cause a hazard for other drivers.
Check your tyres
Tyres can make a significant difference to the grip and handling of a car, particularly in wet and icy conditions.
Drivers should check their tread depth regularly to ensure it's above the minimum threshold of 1.6mm. The AA advises a tread depth of 3.0mm if you plan to drive on snow, as this should ensure you have plenty of grip.
"Don't let air out of your tyres to get more grip", the company says, as it doesn't provide any more traction and it can be dangerous if you lower the pressure too much.
Fit winter tyres
There are a few common misconceptions about winter tyres, says Evo.
Some drivers think they don't need to fit them if they have all-wheel drive, and that the tyres are only good for snow and icy conditions. But both beliefs are wrong.
"The extra grip and traction offered by winter tyres over summer tyres is far greater than many expect," says the magazine. "The benefits are clear to see on snow and ice, but are also tangible on wet roads and in temperatures below 7C."
That makes winter tyres particularly useful in the UK, where rainy weather poses a year-round hazard.
Turn headlights on and fog lamps off
Keep your dipped-beam headlights on, even if it's the middle of the day and snow is no longer falling.
The build-up of snow clouds causes light levels to drop, but leaving your headlights on will help other road users see you "in good time", says The Daily Telegraph.
Switch on your fog lamps only if visibility is very poor, however, as these lights reflect off the snow and dazzle other road users. Rear fog lamps can also look similar to brake lights, making it harder for drivers to tell whether you're braking.
Drive smoothly
Your driving style will have an impact on how your car behaves in the current weather.
The safest way to drive in wintry conditions is with smooth inputs on the pedals, steering wheel and gearstick, says Auto Express. Always look at the road ahead for ice and snow. This should give you plenty of time to either gently brake or steer away from any hazards.
"The smoother you drive, the less likely it is you'll lose control", the magazine says.
Manage your gears
If you own a car with a manual gearbox, consider driving in a higher gear than usual. Moving into a higher gear "reduces wheel rotations", says The Sunday Times, and also allows you to decrease your speed gradually by moving down the gears - applying the brakes only when necessary.
Motorists with an automatic car should switch into manual mode and hold second gear, to achieve similar engine braking benefits, says Autocar.
Keep your distance
Even winter tyres will struggle to find grip in icy conditions. This not only makes it more difficult to apply the accelerator, but braking distances can also increase significantly.
According to Autocar, "stopping distances are typically ten times further" than what they would be in warmer conditions. It's best to increase the distance between you and the car in front when roads are icy in case your vehicle loses grip.
If you lock your wheels while braking, the magazine says it's best to "release the pedal momentarily then reapply the brakes" repeatedly until your speed decreases.

Continue reading for free
We hope you're enjoying The Week's refreshingly open-minded journalism.
Subscribed to The Week? Register your account with the same email as your subscription.