'Furniture flipping': the next big trend in home sustainability?
Experts give their top tips on how to add individuality to your interiors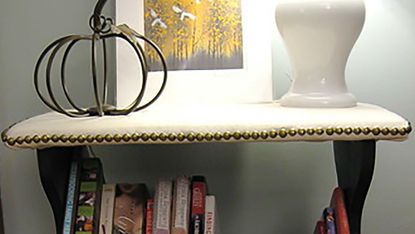 Sustainability is back on the agenda for 2021 with many people looking to reduce their waste and help save the planet.
According to a report by E-On Energy, nine in ten Brits say being more environmentally friendly is on their list of priorities for the next year.
Recycling more household waste and donating unwanted items to charity shops are two ways of reducing what is sent to landfill. Repurposing and upcycling furniture is another trend for increasing sustainability around the home.
Subscribe to The Week
Escape your echo chamber. Get the facts behind the news, plus analysis from multiple perspectives.
SUBSCRIBE & SAVE
Sign up for The Week's Free Newsletters
From our morning news briefing to a weekly Good News Newsletter, get the best of The Week delivered directly to your inbox.
From our morning news briefing to a weekly Good News Newsletter, get the best of The Week delivered directly to your inbox.
An innovative way to add a touch of individuality to your household is "furniture flipping". What looks likely to be a top trend in 2021, furniture flipping can be done by taking pre-owned, vintage, or even damaged furniture and giving it a complete makeover.
Here, designers at Essential Living and vintage expert Kate Beavis give their top tips for "flipping" your furniture.
Repurpose and upcycle
Repurposing furniture is more than just a trend, it is a practical way of using an item in a way that differs from its original use, or altering how the item initially looked. If you feel like your furniture is a bit outdated, doesn't fit with your new wall colour or won't match that new decor scheme you've been lusting after on Pinterest, then maybe it's time for a rethink.
Old Victorian bookcases are aesthetic favourites, with curved lines and a highly crafted finish. Typically used to hold books, they can sometimes be forgotten about in the corner as they gather dust. So why not put it to good use and create a perfect storage place for your spirits, wine, and glasses?
"Firstly do your research to find out what it should look like, as you don't want to make a mistake," said vintage expert Beavis. "If the item is made from a thin veneer wood, you cannot sand it that much as the actual wood part is very thin. We once made this mistake and sanded through to the cheap base wood. If this was to happen, the only thing you can do to fix it is to paint it."
Simple fixes
Dodgy drawer, shaky chair leg? Don't let this put you off. Many basic furniture fixes don't require a professional. Instead, they likely just need their screws tightening or replacing, and Lockdown 3.0 gives us the perfect opportunity to learn a new DIY skill.
A bedside table can easily suffer from wear and tear over the years, but there are some simple ways you can give it a DIY makeover. Start by using a screwdriver to remove any hardware or handles from the drawers which are either faulty or outdated and fill in any holes or chips with some wood filler.
Another home trick many people swear by is using some clear nail polish. Place a small amount of polish into the spot and once set, sand it gently with fine sandpaper. "Liquid gold or teak oil is great to remove scratches on dark wood especially mid century furniture," Beavis says. "The scratches are still there but they get filled in with the oil. Tin foil is great for getting rust off chrome - scrunch it up into a ball and gently rub on the rust."
A new lick of paint
Wooden furniture is likely to have been treated with paint or varnish and will have collected dirt and grease over the years. Therefore one of the most popular (and easiest) methods of furniture flipping is giving the piece a brand new coat of paint.
"If you are painting a piece of furniture; finish is key," Beavis says. "Make sure you take time to sand the item, clean it fully to remove all dust, then prime it before you paint. Patience is what you need."
Before applying your paint, you will need to properly prepare the surface by either washing and scraping the surface using wet and dry sandpaper with a mild detergent - you'll really have to put your back into it though. Alternatively, sponge down the surface and follow with an appropriate primer.
Wood primer should only be used on bare wood furniture - and if it has previously been painted or varnished before, use a multi-surface primer. For the decorative coat, keep an eye out for paints labelled for wood and metal, or you might end up with a dodgy coat of paint.
Any furniture with finer details like doors, you must start with these edges first, followed by the mouldings and inlay panels. Then continue to the main surface, by covering with paint and then using your brush to spread evenly, with motions left and right followed by up and down to ensure it is painted evenly.
"The whole shabby chic off white or muted tones are still popular in the right homes, however, to be really on trend choose dark colours," says Beavis. "Dark navy and green, or dark grey are very popular and look fabulous against the ochre or blush pink accessories that are everywhere right now."
Replacing handles and legs
If you're handy with a screwdriver, another way of transforming drawers, shelves and cabinets are replacing the handles or legs. Fortunately, many DIY stores which sell essential items are still operating home deliveries during the lockdown, so you can order any additional parts easily.
Angular legs made out of a veneer can peel over time or completely fall off, but the solution is easy. All you need is wood glue and a few clamps. Remove the leg from the furniture and set on a flat surface.
First, clean out whatever may be lurking underneath the veneer, such as debris or muck and apply the wood glue. Next, use books, bodyweight, or clamps to bear down and force the wood glue to begin its work.
"Replacing handles can lift an item but make sure you replace all of them and choose a style that is fitting with the piece or on trend," Beavis says.
Transform a room with interior accessories
Some items of furniture can be beyond the lengths of repair, but don't give up at the sight of a missing drawer or filthy chair cushions, this is where accessories come into play.
For the top of a side-table which has peeled away past repair, find some patterned cloth of your choice, lightweight batting and an electric staple gun. Next, measure a piece to fit over the top and staple it on. To finish off, you can add nailheads and decorate around the edges for a neat, embroidered finish.
"Adding a few cushions, vases, fresh flowers or a plant and a rug on the floor will also help," Beavis says. "It basically needs to be styled but keep it simple as you want people to notice the furniture first and not get distracted by the fluffy cushion."
Alternatively, a new throw for your sofa to cover any rips or a wall hanging to hide stains will make all the difference - what people can't see, won't hurt them.
Like most things, furniture flipping is a learning process, but by following these handy tips you will give your home a sustainable refresh in no time.

Continue reading for free
We hope you're enjoying The Week's refreshingly open-minded journalism.
Subscribed to The Week? Register your account with the same email as your subscription.