Ten famous people with dyslexia
Health Secretary Matt Hancock has revealed he suffers from the learning difficulty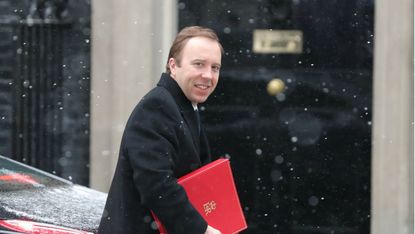 (Image credit: Daniel Leal-Olivas/Getty Images)
Health Secretary Matt Hancock has spoken publicly for the first time about his battle with dyslexia and the stigma than can accompany the learning disorder.
The minister made the revelation during an interview with former Labour spin doctor Alastair Campbell for GQ, while talking about the negative and positive impacts that technology can have on the mental health of young people.
"Technology can be an enormous enabler. I'll give you one example. I have never really talked about this before, but I am dyslexic and I didn't find that out at school. I found out at university, when a tutor said, 'You are good orally, but you cannot get it down on paper,'" Hancock said.
Subscribe to The Week
Escape your echo chamber. Get the facts behind the news, plus analysis from multiple perspectives.
SUBSCRIBE & SAVE
Sign up for The Week's Free Newsletters
From our morning news briefing to a weekly Good News Newsletter, get the best of The Week delivered directly to your inbox.
From our morning news briefing to a weekly Good News Newsletter, get the best of The Week delivered directly to your inbox.
"I think if Microsoft had invented spellcheck five years later it would have had a massive negative impact on my career. By the time I got to the workplace, everything was done on word processors and that solved my very serious spelling problem."
He continued: "I have never talked about this because it's a weakness, and people don't like talking about weakness, it makes you feel vulnerable, but with the help of technology, dyslexia helps you think laterally because you have to work your way round problems."
Here are some of the other high-profile people who have dyslexia:
Jennifer Aniston
The actress told The Hollywood Reporter that being diagnosed with dyslexia had come as a huge relief to her. "I thought I wasn't smart. I just couldn't retain anything," she recalled. "Now I had this great discovery. I felt like all of my childhood trauma-dies, tragedies, dramas were explained."
Marcus Brigstocke
The English comedian told The Guardian that people with dyslexia are often great lateral thinkers, which can prove a huge bonus in his line of work. "If you struggle at school, maybe you learn to be funny," said Brigstocke. "But it goes deeper than that. When I look at a word written down, it breaks down different shapes for me. I don't just see 'disease', I see 'dis' 'ease'. If you are creating comedy, you've already got a different way of looking at things."
Agatha Christie
According to the BBC, Christie once said: "Writing and spelling were always terribly difficult for me. I was... an extraordinarily bad speller and have remained so."
Cher
The US singer found at that she had dyslexia at the age of 30, years after she dropped out of high school. "When I was in school it was really difficult. Almost everything I learned I had to learn by listening. My report cards always said I was not living up to my potential," Cher has recalled.
Tom Cruise
Cher recently revealed to the Daily Mail that she and actor Tom Cruise had once been an item, after they bonded over their shared experiences with the learning difficulty. "A bunch of people who were dyslexic were invited to the White House, and Tom and I are both dyslexic," she revealed.
Noel Gallagher
According to The Sun, the chief songwriter in Oasis once said: "I'll give lyrics to Liam and the two key words of the sentence will be missing."
Steve Jobs
Although the founder of Apple never spoke publicly about his dyslexia, it was an open secret at his company.
Erin Brockovich
Despite having "scoured thousands of pages of medical records and legal briefs to help win a $333n class-action lawsuit the largest of its kind in US history", Brockovich had a tough time at school as a result of her dyslexia, says USA Today.
Jamie Oliver
"It was with great regret that I didn't do better at school. People just thought I was thick. It was a struggle. I never really understood dyslexia and who could bring out my strengths," the chef has said, according to the BBC.
Whoopi Goldberg
The award-winning film star didn't find out until she was an adult that her difficulties with reading and writing were down to dyslexia. "When I was a kid they didn't call it dyslexia. They called it... you know, you were slow or retarded or whatever," Goldberg has said.

Continue reading for free
We hope you're enjoying The Week's refreshingly open-minded journalism.
Subscribed to The Week? Register your account with the same email as your subscription.