Is the US about to invade Venezuela?
Cuba claims US special forces are planning to intervene using the pretext of a humanitarian crisis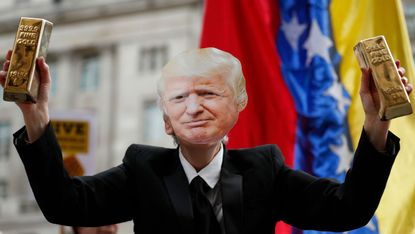 (Image credit: Adrian Dennis/AFP/Getty Images)
Cuba has claimed the US is secretly moving special forces soldiers closer to Venezuela ahead of a full military intervention aimed at regime change in the beleaguered South American country.
A "Declaration of the Revolutionary Government" claimed recent events in the country amounted to an attempted coup that had so far failed.
"Between February 6 and 10 military transport aircraft have flown to the Rafael Miranda Airport of Puerto Rico, the San Isidro Air Base, in the Dominican Republic and to other strategically located Caribbean islands, probably without knowledge of the governments of those nations," the declaration said.
Subscribe to The Week
Escape your echo chamber. Get the facts behind the news, plus analysis from multiple perspectives.
SUBSCRIBE & SAVE
Sign up for The Week's Free Newsletters
From our morning news briefing to a weekly Good News Newsletter, get the best of The Week delivered directly to your inbox.
From our morning news briefing to a weekly Good News Newsletter, get the best of The Week delivered directly to your inbox.
"These flights originated in American military installations from which units of Special Operations and Marine Corps operate, which are used for covert actions," it added, arguing it was part of "a plan to intervene in the South American country using the pretext of a humanitarian crisis," reports Reuters.
The head of Venezuela's National Assembly, Juan Guaido, declared himself interim president three weeks ago, provoking a constitutional crisis that threatens to descend into open civil war.
The US, along with many Western countries, have publicly backed Guaido. However, China and Russia continue to support incumbent socialist President Nicolas Maduro, as do crucially the Venezuelan army.
The country has been brought to a standstill amid a series sanctions that have further hit the already crumbing economy. Many now believe only a dramatic shift from the army or military intervention from outside actors can break the impasse.
Last month Donald Trump's National Security advisor, John Bolton, ducked questions over possible US military involvement, although papers he was carrying may have revealed plans for the administration to send 5,000 troops to Colombia in an anticipation of a cross-border incursion.
With all eyes on the US, there have been conflicting reports coming from Washington in recent days.
On Wednesday, Democratic lawmakers said Congress would oppose US military intervention in Venezuela. The Democratic chairman of the House of Representatives Foreign Affairs Committee, Eliot Engel, said: "I do worry about the president's saber rattling, his hints that US military intervention remains an option. I want to make clear to our witnesses and to anyone else watching: US military intervention is not an option".
Reuters reports that "under US law, Congress - not the president - must approve foreign military action".
It came less than 24 hours after the chairman of the Senate Armed Services Committee said the US military may have to intervene in Venezuela if Russia places weapons there.
"I think that it could happen," Republican Senator James Inhofe said. "You've got a guy down there that is killing everybody. You could have him put together a base that Russia would have on our hemisphere. And if those things happen, it may be to the point where we'll have to intervene with troops and respond."
When asked by The Hill what type of military action he thought was appropriate, Inhofe said: "Whatever is necessary should they bring in some armaments on our hemisphere that would be, in the smart peoples' opinion, something that would be a threat to the United States of America."
There are other reports that seem to confirm suspicions American military power is quietly massing near Venezuela.
Tom Rogan in the Washington Examiner suggests "Trump is likely to deploy US military forces to Colombia before 23 February".
He says the Theodore Roosevelt Carrier Strike Group, and the 11th Marine Expeditionary Unit, or MEU, embarked on the USS Boxer, are "only 5-7 days' sailing time" from the Columbian port of Cartagena near the border.
"An MEU deployment to Colombia would also represent an appropriate balance between deterring Nicolas Maduro's regime and threatening invasion," he says, adding: "A significant US naval and marine presence is now operating in proximity to Colombia and Venezuela. Whether coincidental or not, these deployments afford the White House an increasing range of options".
The prospect of US military action in Venezuela is not without risk, however. Russian President Vladimir Putin has criticised Trump's suggestion that US military intervention could be an option in resolving the current crisis.
Despite this, "Trump has staked out a position that is popular in Washington, particularly among his own Republican Party, while simultaneously signaling that he is not beholden to Russia's interests," says the Moscow Times.
"The wise move for Trump would be to maintain his current course on Venezuela. Increased pressure from Russia on one side and from Congress on the other may, however, put Trump in a very difficult position, forcing him to choose between two relationships that are very important to him," says the news site.

Continue reading for free
We hope you're enjoying The Week's refreshingly open-minded journalism.
Subscribed to The Week? Register your account with the same email as your subscription.