Venezuela in crisis: how did it come to this?
Hundreds of thousands of protesters set to march against President Maduro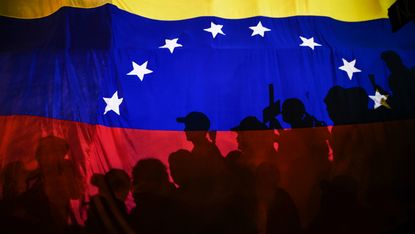 (Image credit: Juan Barreto/AFP/Getty Images)
Sign up to our 10 Things You Need to Know Today newsletter
A free daily digest of the biggest news stories of the day - and the best features from our website
Thank you for signing up to TheWeek. You will receive a verification email shortly.
There was a problem. Please refresh the page and try again.
Hundreds of thousands of Venezuelans are expected to take part in protests across the nation today in a bid to topple President Nicolas Maduro's government.
Angry citizens backing opposition leader Juan Guaido have joined a series of street demonstrations in at least 60 working-class neighbourhoods in capital Caracas and other regions in recent weeks.
And commentators believe members of the poorest sections of Venezuelan society are set to team up with the opposition's traditional upper-class base in today's marches, reports The Guardian.
Subscribe to The Week
Escape your echo chamber. Get the facts behind the news, plus analysis from multiple perspectives.
SUBSCRIBE & SAVE
Sign up for The Week's Free Newsletters
From our morning news briefing to a weekly Good News Newsletter, get the best of The Week delivered directly to your inbox.
From our morning news briefing to a weekly Good News Newsletter, get the best of The Week delivered directly to your inbox.
"These protests are remarkable. The fact that people are coming out to protest across class lines reveals one thing: just how widespread the level of utter disgust with Maduro is in Venezuela today," said Geoff Ramsey, assistant director for Venezuela at the Washington Office on Latin America.
The freshly re-energised Venezuelan opposition faces a key test in its effort to unseat the socialist president, "who was sworn in this month for a new six-year term after elections that were internationally condemned as a fraudulent power grab", says The Washington Post.
"Only if the protests are massive and cross-class could they demoralise and give pause to people in the military and within the ruling party," David Smilde, a Venezuela expert and sociology professor at the New Orleans-based Tulane University, told the paper.
Any change in government "will rest on a shift in allegiance within the armed forces", says Reuters. They have stood by Maduro "through two waves of street protests and a steady dismantling of democratic institutions", the news agency adds.
Guaido has declared himself ready to assume the presidency until open elections could be held.
The opposition leader - head of Venezuela's National Assembly, which was stripped of its legislative power by Maduro in 2017 - has expressed support for those protesting. "We are all here in the same boat: without electricity, without water, without medicines, without gas and with an uncertain future," he tweeted. "We are all submerged in this crisis, except the usurper."
More than a million Venezuelans have left the country in search of a better life in recent years, after the collapse of its once robust oil industry triggered severe shortages of food and other vital supplies.
Maduro has "continued the huge social welfare programmes and price control policies of Hugo Chavez, who steered the country toward socialism before dying in 2013", says CNN.
"Through nearly a decade of mismanagement, Venezuela squandered its profound oil wealth, leaving its economy in tatters and Latin America reeling from an unprecedented mass exodus of migrants in search of food and medicine," the news site continues.
Although inequality, corruption and political disenfranchisement are by no means unusual in South America's various republics, Venezuela's vertiginous decline into a failed state "eclipses anything witnessed in decades", says The Independent.
So how did it happen?
The golden age
As recently as 1970, Venezuela was the richest country in Latin America. Its gross domestic product (GDP) was higher than those of Spain, Greece and Israel.
Most of Venezuela's wealth came from its large oil reserves but in the early 1980s, concerns that the country might run out of its greatest resource led politicians to limit oil production. Around the same time, a global oil glut pushed down oil prices.
The combination of lower oil production and lower oil prices sent the country's economy into freefall. From 1980 to 1990, Venezuela's GDP per capita fell by 46%.
Then came legendary leader Hugo Chavez, who transformed Venezuela's political and economic landscape by nationalising industries and funneling enormous amounts of government money into social programmes.
Under his rule, between 1999 and 2013, Venezuela's "unemployment rate halved, income per capita more than doubled, the poverty rate fell by more than half, education improved, and infant mortality rates declined", says Vox.
For the poor, "everything got better under his rule", Caracas citizen Carmen Ruiz told The New Yorker. "Many shacks in El Calvario got new roofs. My mother, who always had the intelligence, finally learned to read, in her 70s."
Terminal decline
Chavez died of cancer at the age of 58 in 2013, at the very beginning of his third term in office, and his hand-picked successor, Nicolas Maduro, has failed to impress.
"Chavez was an almost unclassifiable and unprecedentedly good politician," George Ciccariello-Maher, a scholar of Venezuela at Drexel University, told Vox. "He had these incredible abilities and capacities that no one could be expected to reproduce."
In addition to being a poor politician, Maduro "has lacked Chavez's other exceptional asset for most of his time in office - oil money", adds the news site. Venezuela's reliance on its oil reserves, which account for around 95% of its export revenue, means that the fall global oil prices since 2014 has had a devastating impact on living standards.
Recession and sky-high inflation have left many Venezuelans unable to afford basic necessities, and even those who have the money face shortages of everything from food to medicine.
Public health in Venezuela is getting rapidly worse. "The government releases few statistics, but it is estimated that one out of every three patients admitted to a public hospital today dies there," says The New Yorker.
Public transportation in smaller cities outside of the government hub of Caracas is also unreliable. AFP's Alex Vasquez recently visited one such city, San Juan de los Morros, in central Venezuela, and talked to the locals. Vasquez quickly discovered that it has become a city where "nothing works".
"They send (running) water once a month. The rest of the time we have to buy it," a school teacher told him. "There have been times where we've had no electricity for 24 hours."
Maduro has frequently blamed opposition "sabotage" for such failings, but the government has left the population "with two options: leave the country or depend on benefits", Sociologist Francisco Coello told Vasquez.
"An underfed and uneducated population ensures that the regime stays in power," Coello concludes.
Continue reading for free
We hope you're enjoying The Week's refreshingly open-minded journalism.
Subscribed to The Week? Register your account with the same email as your subscription.
Sign up to our 10 Things You Need to Know Today newsletter
A free daily digest of the biggest news stories of the day - and the best features from our website