What I learned at the Hello Kitty Convention
Did you know she weighs "three apples"? Or that she's "five apples" tall?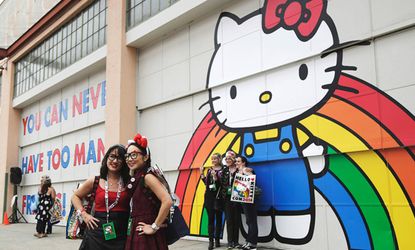 (Image credit: (Dan R. Krauss/Getty Images))
What has a red bow, no mouth, and the most hardcore fans around?
It's Hello Kitty, of course. And for four days this fall, Los Angeles' Little Tokyo section was overrun with 25,000 of the icon's most adoring admirers.
When I first heard that the convention would practically be in my backyard from Oct. 30 through Nov. 2, I knew I had to be there. As a lifelong Hello Kitty fan, I can still remember the excitement of walking into a Sanrio store and looking at all the new pencil boxes, backpacks, notebooks, and more emblazoned with the world's cutest cat, trying to decide what pen to pick out and lifting up every surprise bag in the basket to see which weighed the most, and thus had the better items (ah, the logic of a child). Although I would briefly flirt with Bad Badtz-Maru and Keroppi, Hello Kitty always had my heart and was always on my lunch box.
Subscribe to The Week
Escape your echo chamber. Get the facts behind the news, plus analysis from multiple perspectives.
SUBSCRIBE & SAVE
Sign up for The Week's Free Newsletters
From our morning news briefing to a weekly Good News Newsletter, get the best of The Week delivered directly to your inbox.
From our morning news briefing to a weekly Good News Newsletter, get the best of The Week delivered directly to your inbox.
It could be due to fond childhood memories — or the fact that she's the only cat that will never scratch me — but seeing Hello Kitty always helps boost my mood. I heard from several people I spoke with at the convention that Hello Kitty represents positivity, and that's universally appealing. I'm sure that's also part of the reason why today, 40 years after making her first appearance on a vinyl coin purse in Japan, she's still popular around the world and pulls in more than $5 billion a year. You don't make that kind of money unless you've hit a nerve — the cuteness nerve, I suspect.
Spending two days at the convention — once during a media preview and again on Halloween — was an overwhelming experience. I'm talking complete sensory overload. There wasn't a square inch of the Geffen Contemporary at the Museum of Contemporary Art that wasn't covered with Hello Kitty; there were glowing statues of Hello Kitty at all of the phone charging stations, and Hello Kitty wrapping paper covering the ATMs. Even the bathrooms weren't spared, as the toilet paper featured images of Hello Kitty and friends.
It was like dying and going to Hello Kitty heaven.
On one side of the museum, there were giant 3D displays for attendees to use as photo backdrops, as well as the Friendship Station pop-up shop that sold exclusive Hello Kitty Con merchandise — stuffed animals, pins, posters, magnets, even robots. The Vintage Village displayed key pieces of Hello Kitty items from throughout the years, including the first ever Hello Kitty coin purse, the item that catapulted her to stardom (and was ensconced in a glass case, with a guard next to it).
(Courtesy: Sanrio)
The Hello Kitty Convention took several years to plan and execute. David Marchi, senior director of brand management and marketing at Sanrio, told me it was something the company wanted to do for a long time, and the 40th anniversary of Hello Kitty gave them the opportunity to finally make it happen. "This was a labor of love," he said. "It's so exciting for it to finally be here, and it's very emotional."
Marchi's favorite part of the convention was the coin purse, which was in the United States for the first time. "We're treating it like the crown jewels," he said. He also was looking forward to seeing the reaction of fans in the vintage areas, where they would "look and say, 'I remember that,'" he said. "It's a way to get in touch with your childhood."
Marchi knew for sure that there were fans from across the United States in attendance, as well as Tokyo, China, the Philippines, and other parts of Asia. "This is a long time coming, and we know the fans have wanted it," he said. "We hope this is the first of many."
Me too! But in the meantime, here are a few things I learned about everyone's favorite feline and the people who love her.
1. Superfans think Hello Kitty tattoos are like permanent Hello Kitty stickers
One of the most coveted items at the Hello Kitty Convention wasn't a poster or a tote bag, but rather an actual, permanent tattoo. A corner of the convention was transformed into HK Ink, a tattoo parlor, with four artists giving lucky fans their choice of a free special design, created for the event by Mario Desa.
"Hello Kitty is an icon and timeless, and it worked to combine that with traditional designs," Desa said. "Everybody here is excited and happy to be here, and they definitely feel extra lucky to be able to get a tattoo."
Jazmine Vick, 22, flew from Boston to attend the Hello Kitty Convention, and knew she had to get in line early to get a tattoo as they were first come, first served.
"I was prepared," she said. "I got up at 3:30, and was here by 5:30. I wore sneakers because I wanted to be the first in line."
Vick chose the tattoo design where two scoops of Hello Kitty ice cream melt into a cone. "Hello Kitty warms my heart, so I think it's cute she's ice cream and she's melting," she said. This wasn't Vick's first — or second, or third — Hello Kitty tattoo, and she sees them as "permanent stickers."
"Hello Kitty is just an obsession of mine," Vick said. "I had to come out here and seize the opportunity."
2. Hello Kitty fans really like to dress up
Hello Kitty likes to dress up, and so do her fans. I specifically chose to go on Halloween because I figured more people would dress up, and they didn't disappoint. A fashion installation called Lovely Kitty Wonder, curated by Stephiee Nguyen of JapanLA, was also on display, featuring one-of-a-kind pieces inspired by Hello Kitty (think structured corsets, Hello Kitty as a mermaid dresses, and platforms with bows).
3. Hello Kitty fans will buy absolutely anything with her face on it
The most crowded part of the convention was the Super Supermarket, where outside vendors like Sephora, Beats by Dre (which sold out by noon Friday), Dylan's Candy Bar, Loungefly, Spam, and more set up shop and sold their Hello Kitty wares. It was not for the claustrophobic, with long lines and lookie-loos grabbing up the free balloons and toy figures being passed out.
There was a lot of bling — including a $450 limited edition bedazzled Hello Kitty with makeup brushes inside, courtesy of Sephora — and slightly bizarre offerings, like a Hello Kitty Spam kit. You could buy 3D printed figurines, custom made T-shirts, scrapbook kits, golf sets, hoodies with Hello Kitty ears — basically anything your heart desired.
Most people were lugging around at least one heavy bag, and a majority of the items being peddled seemed to be geared towards adults. But one booth, Cartwheel Kids, had adorable aprons and brooms that would make any child want to clean the house. "Everything is selling well," the booth's Chris McAndrew said. "We've sold out of tea sets, and the brooms were gone Thursday by four."
Business was up thanks to the sea of people crammed into the space. "It started out 15 degrees cooler in here," McAndrew said, "and then everyone whooshed in."
4. Hello Kitty has an astonishingly detailed history
Hello Kitty Convention attendees were also granted free admission to an exhibit next door at the Japanese American Natural Museum entitled Hello! Exploring the Supercute World of Hello Kitty (on view through April 26, 2015). A first-of-its-kind retrospective, visitors could see rare and vintage pieces from the archives as well as 40 mixed-media works by contemporary artists.
It was fun to go through the exhibit and see things I recognized from childhood, from pencil boxes to backpacks. It was absolutely incredible to see items from every year on display, with fun facts about Hello Kitty painted on the walls (for instance, did you know she weighs "three apples" and is "five apples" tall?).
The exhibit took up a huge amount of space on two floors, and we walked from gallery to gallery by following hot pink and red bows on the floor. There were couture Hello Kitty dresses and jewelry worn by celebrities, and a garment made entirely of stuffed animals sewn together. I loved the art pieces, especially a portrait of Abraham Lincoln with Hello Kitty on his hat in a hot pink frame. I could totally see it hanging in the White House, circa 1863.
It was surreal to reach the end of the exhibit, where a giant Hello Kitty sphinx rose from the ground, and enter the real museum and see replicas of interments camps. This was an abrupt and sobering end to the journey, but several people stopped to look around and started asking the tour guides questions, creating an impromptu teaching opportunity. Everyone gave this area the respect it deserved, something that I was very happy to see.
5. Hello Kitty is with you until the day you die
Inside the exhibit, there was a simple glass case that, once I peered inside, was quite unnerving: If you are of a certain age, Hello Kitty could be present at your birth, your death, and all of the milestones in between.
Inside of the display there were little shoes, a bottle, a plush doll, and a cap signifying youth, right next to a champagne glass, a bottle of Hello Kitty bubbly, and Hello Kitty and Dear Daniel (her boyfriend) wedding cake topper. On the other side, I saw a Hello Kitty pregnancy test, metallic cane, and stone statue for your grave (which, let's face it, will probably be above your Hello Kitty coffin). It was the complete life cycle of a Hello Kitty fan.
I'm not sure why this weirded me out so much — maybe it's because it looked like a life sponsored by a company, except you're paying them for the privilege of sporting their baby hats and using their canes to stand up straight. Or, it's because I don't like to think about death and dying anyway, and seeing a Hello Kitty tombstone does not conjure up any good feelings. This was all too heavy for me, and I quickly moved along, but not before I heard the woman behind me who was carrying her small infant tell her husband, "Oh look, they have Hello Kitty braces! Let's get these for Skyler when she's older!"
By the time I was done at the museum, I felt like I was in the eye of the Hello Kitty storm and needed to head to safety. I was seeing red bows on everything, and was ready to go back to the real world. That's not to say I didn't have fun; I got a kick out of being surrounded by other people who loved Hello Kitty, and even though I was too boring (not to mention terrified) to get a tattoo or wear a dress made out of stuffed animals, I felt just as welcome as all of the people wearing cat ears. I also left with a new appreciation for Sanrio, a company that I previously never felt any attachment to. My entire life, I've called any Sanrio store I've seen "The Hello Kitty Store," proving that I only cared about the product and not the brand. The amount of detail that was present, both at the convention and in the museum, was tremendous, and Sanrio did it because of the fans who would notice and treasure those little things.
The beauty of the convention was not only seeing so many people excited about the same thing, but also knowing that it's OK to keep a tiny part of your childhood with you as an adult. Hello Kitty really isn't just for little kids anymore, and Sanrio has to be doing something right to keep people as fans for decades. I might not carry around a Hello Kitty lunch box anymore, or take notes with a Hello Kitty pen (ha, just kidding, I totally do), but that sweet white cat will forever be my favorite.

Continue reading for free
We hope you're enjoying The Week's refreshingly open-minded journalism.
Subscribed to The Week? Register your account with the same email as your subscription.