Girls on Film: Wonder Woman's powerful feminist roots
With a Wonder Woman movie on the horizon, Hollywood has finally learned to embrace the best qualities of the superhero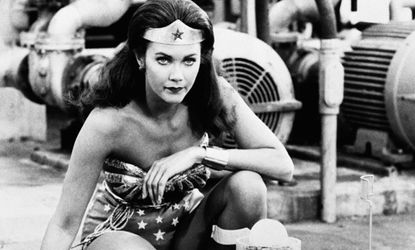 (Image credit: (AP Photo))
Sign up to our 10 Things You Need to Know Today newsletter
A free daily digest of the biggest news stories of the day - and the best features from our website
Thank you for signing up to TheWeek. You will receive a verification email shortly.
There was a problem. Please refresh the page and try again.
For decades, Wonder Woman has been universally recognized. But at the same time, mainstream audiences know almost nothing about her. At best, a viewer might have lingering remembrances of Linda Carter spinning around, or fleeting images of a superhero with her tools — lassoing the truth, deflecting bullets with her jewelry, and flying around in an invisible jet.
Everyone knows that Superman is from Krypton, and that Batman's legacy started when his parents were killed in front of him. Hollywood has ensured that every moviegoer in the world has a fair chance to learn the origins of Spider-Man, Captain America, and Iron Man.
But without a recognizably clear origin (and with creators who have been dead for decades), Wonder Woman has sat in limbo. Thankfully, that's finally going to change. More than 70 years after her comic-book introduction (and after years of failed attempts by some of the biggest names in television and cinema), Wonder Woman will appear in Zack Snyder's Batman v Superman: Dawn of Justice, with a solo film to follow. And not only is she getting an origin story — but a feminist origin story to boot.
Subscribe to The Week
Escape your echo chamber. Get the facts behind the news, plus analysis from multiple perspectives.
SUBSCRIBE & SAVE
Sign up for The Week's Free Newsletters
From our morning news briefing to a weekly Good News Newsletter, get the best of The Week delivered directly to your inbox.
From our morning news briefing to a weekly Good News Newsletter, get the best of The Week delivered directly to your inbox.
Despite her lack of big-screen attention, Wonder Woman has long been a subject of interest for cultural commentators. She "symbolizes many of the values of the women's culture feminists are now trying to introduce into the mainstream" Gloria Steinem once wrote about the superhero's strength, self-reliance, and sisterhood. This reading is not surprising; creator William Moulton Marston was passionate about women's rights, and one of his paramours was the niece of Margaret Sanger, whose book Woman and the New Race was a reference for the character.
Marston believed that women weren't equal to men. He thought they were superior. His Wonder Woman incessantly fought against evil men that would chain her, spank her, and even put her in a gimp mask. These images reflected not only his own preoccupations, but a history of suffragists chaining themselves in their protests, as a symbol of male oppression.
Wonder Woman always walked a line between empowerment and disempowerment, from Marston's particular view of the world to future writers who reshaped the warrior princess into a secretary or advice columnist. She is the only woman to exist on the same superhero throne as long-time favorites Superman and Batman, but she's also the woman with magic jewelry who fights evil in little more than a strapless bathing suit.
Beyond comics and her brief time on television, Wonder Woman's legacy has been one of countless failed attempts and trashed scripts as creatives try to merge the character's feminist leanings with her iconic imagery. There are many pieces outlining her tumultuous quest for the screen. Jennifer Aniston, Sandra Bullock, Megan Gale, and Adrianne Palicki have all been briefly caught in Wonder Woman's lasso. Joss Whedon, Ivan Reitman, David E. Kelley, and Joel Silver all tried to bring her back to life. Each and every one failed, sometimes in spectacular fashion, and Wonder Woman began to earn a new reputation: a tricky hero whose story was impossible to adapt.
The tide changed this year as attention finally concentrated less on her image, and more on her feminist roots. Critical focus has increasingly turned towards Wonder Woman, and this year sees not one, but two books that investigate the legacy beyond her image: Jill Lepore's The Secret History of Wonder Woman, and Noah Berlatsky's upcoming Wonder Woman: Bondage and Feminism in Marston/Peter Comics, 1941-1948.
DC followed suit, using the reluctance against female-led franchises to make Wonder Woman finally come together. The company, which has repeatedly tried to capture the superhero blockbuster market dominated by Marvel, used Wonder Woman as the counterpoint to an industry-wide reluctance to launch a female superhero franchise. While Marvel's Kevin Feige repeatedly blew off requests for female leads, DC decided to not only embrace their most famous female superhero and offer her first big screen appearance in Batman v Superman, but also embrace her feminist roots.
Finally, female superheroes stopped being side support and started being an essential element of the ongoing superhero war. Once DC set its sights on a Wonder Woman franchise, Marvel finally decided to add a front-and-center superheroine with 2018's Captain Marvel. (It is, however, slated so far in the future that Wonder Woman will have already starred in her first solo film a year before Captain Marvel hits theaters.)
The revival of Wonder Woman's feminist roots began almost secretly, as The Hollywood Reporter included just a brief line in their breakdown of upcoming superhero movies, explaining that Warner Brothers is "seeking a female helmer for Gal Gadot's Wonder Woman." In two steps, DC had sneakily challenged two increasingly stubborn absences in the big-screen superhero world: female protagonists and female directors. The news created a femme-centric discourse bolstering the project as writers far and wide included their picks for the gig, from Punisher: War Zone's Lexi Alexander to Game of Thrones' Michelle MacLaren.
As they embrace Wonder Woman's emphasis on sisterhood behind the scenes, rumors suggest that her origins are also being embraced along the same thematic lines. Bleeding Cool reports that Wonder Woman will follow the retro origin story trajectory that explores her life on men-free Paradise Island, until Steve Trevor arrives and leads her back to our very different world in the 1920s, where women have just won the basic right to vote. From there, sources say, a sequel will explore World War II (when she was originally introduced), and the modern day.
If these sources are correct and the plan doesn't change, this means Wonder Woman's story — the one so many creatives struggled to get right — is coming together because Warner Brothers is finally embracing her origin over her iconography. Instead of just focusing on her look, there's an effort to return to the feminism and political environment that birthed her, and the history she's only participated in on comic panels.
Ideally, it wouldn't take multiple decades before the most recognizable female superhero got her own film; her story would be as ubiquitous as Superman's or Batman's, and everything wouldn't be riding on one solo film. But it does, and while there will be massive pressure of expectation, the franchise is at least moving toward one undeniable perk: a treatment that embraces Wonder Woman's roots, power, and messages of sisterhood and female strength.
Girls on Film is a weekly column focusing on women and cinema. It can be found at TheWeek.com every Friday morning. And be sure to follow the Girls on Film Twitter feed for additional femme-con.
Continue reading for free
We hope you're enjoying The Week's refreshingly open-minded journalism.
Subscribed to The Week? Register your account with the same email as your subscription.
Sign up to our 10 Things You Need to Know Today newsletter
A free daily digest of the biggest news stories of the day - and the best features from our website
Monika Bartyzel is a freelance writer and creator of Girls on Film, a weekly look at femme-centric film news and concerns, now appearing at TheWeek.com. Her work has been published on sites including The Atlantic, Movies.com, Moviefone, Collider, and the now-defunct Cinematical, where she was a lead writer and assignment editor.