ISIS is plundering archaeological treasures at an 'unprecedented' pace
The key to defeating ISIS might rest in auction houses, not the Pentagon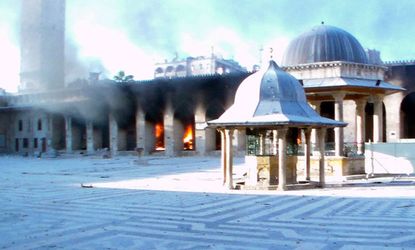 (Image credit: (REUTERS/ Shaam News Network/Handout))
Sign up to our 10 Things You Need to Know Today newsletter
A free daily digest of the biggest news stories of the day - and the best features from our website
Thank you for signing up to TheWeek. You will receive a verification email shortly.
There was a problem. Please refresh the page and try again.
Islamic State fighters capture an archaeological site, they're faced with a series of choices. Do they destroy it or sell its artifacts? If they decide it's idolatrous, do they extort protection money for it from the Shiite, Sufi, Yazidi, or other religious minority group that values it? Or do they demolish it right away and feature the demolition in their propaganda? If they loot it, do they ransack the place themselves or do they hire others to do it? Or do they tax the opportunistic looters who show up?
Actually, all of the above is going on. How the self-proclaimed Islamic State militant group approaches each site depends on a range of factors, including the area's land ownership system and the payoff of plundering the site, says Michael Danti, one of the archaeologists leading a U.S. government-funded effort to document the destruction and looting of the cultural heritage of Iraq and Syria.
At a time when the Islamic State, also known as ISIS and ISIL, and other groups are killing, enslaving, and displacing thousands of people across Syria and Iraq, what happens to ancient artifacts may seem like a sideshow. But according to Danti, who is also a professor at Boston University, ISIS's profits from looting are second only to the revenue the group derives from illicit oil sales. So understanding the Islamic State's approach to the fate of ancient artifacts actually could be key to stopping its advance.
Subscribe to The Week
Escape your echo chamber. Get the facts behind the news, plus analysis from multiple perspectives.
SUBSCRIBE & SAVE
Sign up for The Week's Free Newsletters
From our morning news briefing to a weekly Good News Newsletter, get the best of The Week delivered directly to your inbox.
From our morning news briefing to a weekly Good News Newsletter, get the best of The Week delivered directly to your inbox.
"What we have from the satellite imagery is that there is industrial-scale looting all over Syria," said Danti, a leader of an American Schools of Oriental Research (ASOR) project that in August received U.S. State Department funding to document cultural heritage threats in Syria. During the U.N. General Assembly meeting in September, Secretary of State John Kerry personally thanked Danti in a speech at New York's Metropolitan Museum of Art, and the project expanded into Iraq.
(More from Foreign Policy: Terrorists among us)
It's often difficult to definitively determine who is responsible for an instance of looting. Both the Syrian government and rebel groups have taken part, as have locals in both Syria and Iraq whose livelihoods have been disrupted by the conflict. Satellite images and informants on the ground often can't keep up with the pace of looting and of the exchange of territory between various groups.
Nonetheless, it's clear that the scale of the Islamic State's destruction, looting, and profits from antiquities trafficking is "unprecedented," Danti said.
Amr Al-Azm, an archaeologist at Shawnee State University in Ohio who is also leading efforts to document looting in the region, agreed. At first, the Islamic State simply asked anyone who chose to loot areas it controlled for khums, a tax on the spoils of war paid in Islamic tradition to the government. But by this summer, Al-Azm said, ISIS started taking a more deliberate approach, actively employing contractors to do the excavation. These contractors take some of the profits, and the rest goes to the Islamic State. "It's part of a growing escalation," he said.
It's essentially impossible to estimate the total profits the group is making off of antiquities. Looting appears, though, to be not only the second-most profitable source of ISIS income, but also the second-most common form of employment the group offers in the war-torn areas it controls, Danti said, citing local sources whose identities he couldn't reveal because he fears for their safety.
"The most recent reports I'm getting is that ISIS is actually engaging itself: They're hiring their own people, they're using a lot of earth-moving equipment — bulldozers, et cetera," Al-Azm said. "So what I can tell you is they're making enough to make it worth their while." Although Al-Azm and Danti were very hesitant to give any estimates, others have reported that the group's earnings from antiquities are surely worth millions, helping make the Islamic State the world's richest terror group. One lion sculpture from the region eventually sold for more than $50 million in New York in 2007. Most items looted by ISIS haven't yet appeared on public, international markets, but they could also eventually be worth huge sums.
At the same time, ISIS is apparently plundering strategically. In this, it has probably learned from al Qaeda's experience in Iraq's Anbar province around 2006, when local Sunni tribal leaders became fed up with al Qaeda's rapaciousness and turned against the group, Danti said. Islamic State leaders "don't want to be seen as disenfranchising or upsetting powerful Sunni tribal leaders who are frequently the large landowners," and they try to base their division of the spoils on Islamic law.
When it comes to non-Sunni artifacts, Danti recently heard that there is disagreement within the Islamic State's sharia courts as to how much they should destroy and how much they should sell and profit from. The group is more likely to destroy Shiite, Yazidi, and Sufi artifacts and sell pre-Islamic ones, but overall, "They're probably selling most of it," he said.
The looting itself usually happens in a matter of days. Much of the digging is probably done by local people who are "just trying to feed their families," Danti said. The Islamic State profits nearly immediately, selling the goods to middlemen who then smuggle them into neighboring countries such as Turkey, Jordan, and Lebanon, according to Al-Azm.
But fencing the antiquities takes much longer, and that means that once they leave Syria and Iraq it becomes more difficult to determine their fate. Some middlemen belong to organized crime syndicates that smuggle a range of things — electronics, people, antiquities — and have done so since long before the rise of the Islamic State. That traffic, along with the illegal arms flowing in the opposite direction, is a large part of why control of border locales such as Kobani is so strategically important.
(More from Foreign Policy: Do Iraq and Syria no longer really exist?)
In some ways, it's easier for the international community to intervene once artifacts leave ISIS-controlled areas. Concerned observers can try to raise awareness and exert moral pressure on collectors not to buy likely trafficked items. Those efforts can help bring down the market value of trafficked artifacts, eventually making them less attractive to loot in the first place.
A U.N. resolution in 2003 banning trade in Iraqi antiquities somewhat dampened looting during the Iraq War, and cultural heritage experts and activists are now urging the U.N. to pass a similar measure banning trade in antiquities from Syria. James Sadri of the Syria Campaign, one of the groups involved in the effort, told Foreign Policy that nearly 18,000 people had signed the petition, which will be delivered to U.N. missions in New York this week.
"With well over 200 of the world's foremost experts in the field calling on the U.N. to ban this trade, it's getting increasingly difficult for politicians to ignore the campaign," Sadri stated. "It's not just about protecting world heritage, it's also about protecting life — we know that the sale of these antiquities is funding weapons that are fueling the violence in Syria."
International lawyer and Georgetown professor Mark Vlasic, meanwhile, is calling for not just governments but also private collectors, auction houses, and others involved in the antiquities trade to meet and agree to practices to impede further looting.
But the murkiness around what happens to artifacts once they leave Syria or Iraq makes these international agreements harder to implement. In the short term, they may cause middlemen to hold onto the artifacts until the furor has died down — which generally takes several years. Most of what was plundered from Iraq between 2003 and 2005 is only now appearing in aboveground international markets, the main exception being when a particular collector has a request out for a specific kind of artifact, Al-Azm and Danti said.
"The material is gradually, incrementally laundered in the world-antiquities market, and it becomes very difficult to establish when, where, who, what, why at that point in time," Danti said."So we've got to chronicle everything we can now so we can try to determine what was stolen by whom and even try to get the slightest inclination as to where they're going."
According to cultural heritage attorney Rick St. Hilaire, however, it looks like at least some recently looted items are making their way to the United States. "American imports of art, collections, and collectors' pieces, and antiques from Egypt, Iraq, Lebanon, Syria, and Turkey increased sharply between 2011 and 2013, prompting questions about whether trafficked heritage has piggybacked onto the mainstream marketplace," St. Hilaire wrote last week.
(More from Foreign Policy: This is why you can't have nice guns)
St. Hilaire found that the aggregate value of art, collections, and collectors' pieces imported from those countries rose 86 percent from 2011 to 2013, with a nearly 500 percent increase in the value of imports from Iraq between 2012 and 2013. Of those imports, 93 percent "were declared to be antiques over 100 years old, begging the question of whether nearly $18 million worth of great grandmothers' rocking chairs and similar items were shipped to America or whether the imports may have been ancient archaeological artifacts misclassified as 'antiques,'" St. Hilaire wrote. "Commodities declared by importers to be antiques from Iraq and Syria rocketed skyward by 672 percent and 133 percent, respectively, from 2012 to 2013."
As during the earlier Iraq conflict, many of these apparently looted items are fakes — but some are probably real. Traffickers have been known to slip antiquities imports under the radar of U.S. Customs and Border Protection (CBP) in the past, St. Hilaire notes, "surreptitiously labeling Hindu idols as 'handicrafts,'" or "affixing 'Made in Thailand' stickers on ancient Ban Chiang pots to make them appear modern."
Brandon Montgomery, a spokesman for U.S. Immigration and Customs Enforcement, said in an email that ICE's investigatory arm is "aware that Syrian and Iraqi cultural heritage treasures may surface, but ICE will not confirm or deny any possible ongoing investigation." The U.S. Customs and Border Protection did not respond to repeated requests for comment.
Others in the U.S. government are concerned that current efforts aren't enough. Rep. William Keating, a Massachusetts Democrat and the ranking member on the Europe, Eurasia, and Emerging Threats Subcommittee of the House Foreign Affairs Committee, called evidence of Syrian and Iraqi antiquities increasingly showing up in the United States a "disconcerting development" and said it "implies not only an uptick in the illicit trade of these items, but links the destruction, plundering, and looting of cultural heritage sites to potential buyers in the United States who may be funding terrorist activities in the Middle East." Keating is working on proposals to strengthen cooperation between government bodies to combat antiquities trafficking.
As international efforts move slowly forward, leaders of the government-backed ASOR project are trying to make it easier and safer for people within Syria and Iraq to report looting. Andy Vaughn, ASOR's executive director, said the project is developing a web app through which people can file incident reports. But before the app goes live, it needs more work to ensure that it can't be hacked, endangering the people notifying authorities.
It's likely that for a long time, obtaining and sharing this information will continue to be a very risky business. "The real heroes of the story are those people on the ground," Al-Azm said.
Continue reading for free
We hope you're enjoying The Week's refreshingly open-minded journalism.
Subscribed to The Week? Register your account with the same email as your subscription.
Sign up to our 10 Things You Need to Know Today newsletter
A free daily digest of the biggest news stories of the day - and the best features from our website