Why so many Christians won't back down on gay marriage
A traditional view of marriage is about much more than today's politics. It's deeply woven into the 2,000-year-old ethic at the heart of our faith.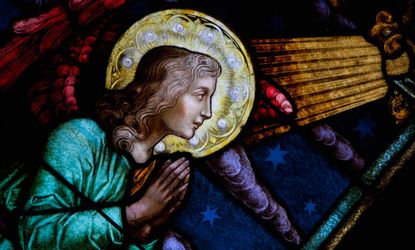 (Image credit: (Glowimages/Corbis))
A majority of Americans already favor same-sex marriage — and most everyone agrees that same-sex marriage will continue to be accepted by an ever-bigger majority.
In many urban and progressive circles, it's beyond impolitic to oppose gay marriage. Indeed, there's a movement underfoot to make opposition to same-sex marriage akin to support for racism. That is to say, anyone who expresses opposition to same-sex marriage would be ostracized, with many progressives hoping to employ a variety of social and governmental means of coercion to force gay-marriage opponents to the margins of society. Whether this movement will succeed or not is an open question. But regardless, it's important to understand that this movement is based on a premise that is based on a misreading of history. And this misreading could drive the movement to ends it wouldn't desire.
The false premise goes something like this: Christianity, as a historical social phenomenon, basically adjusts its moral doctrines depending on the prevailing social conditions. Christianity, after all, gets its doctrines from "the Bible," a self-contradictory grab bag of miscellany. When some readings from the Bible fall into social disfavor, Christianity adjusts them accordingly. There are verses in the Bible that condemn homosexuality, but there are also verses that condemn wearing clothes made of two threads, and verses that allow slavery. Christians today find ways to lawyer their way out of those. Therefore, the implicit argument seems to go, if you just bully Christianity enough, it will find a way to change its view of homosexuality, and all will be well. After all, except for a few shut-ins in the Vatican, most Christians today are fine with sexual revolution innovations such as contraception and easy divorce.
Subscribe to The Week
Escape your echo chamber. Get the facts behind the news, plus analysis from multiple perspectives.
SUBSCRIBE & SAVE
Sign up for The Week's Free Newsletters
From our morning news briefing to a weekly Good News Newsletter, get the best of The Week delivered directly to your inbox.
From our morning news briefing to a weekly Good News Newsletter, get the best of The Week delivered directly to your inbox.
Look, there's obviously some truth in all that. Not every single bit of Christian morality has held constant over a history that spans two millennia, every continent, and almost every culture. And as Christians will be the first to admit, many strands of Christianity have been very accommodating of the idiosyncrasies of its host societies.
But this premise is also fundamentally mistaken, because the history of Christian ethics actually shows that the faith has been surprisingly consistent on the topic of sexuality. Christian opposition to homosexual acts is of a piece with a much broader vision of what it means to be a human being that Christianity will never part with.
The story Christians have been telling for 2,000 years goes something like this: The God who made the Universe is also, by his very nature, Love, and he made human beings with a very lofty vocation. Humans are meant to reflect His glory in the world; to be like God, that is to say, to be lovers and creators. Everything in the Universe has been put here to be used by God's children to reflect his loving glory — and to teach them about God's love. This is particularly true, or so the story goes, of the unique sexual complementarity between men and women. The sexual act is meant to reflect God's love by fostering a union at once bodily and spiritual — and creates new life. The complementarity of the persons in a marriage reflects the complementarity of the Persons of the Trinity, and the bliss of marital union is an inkling of the bliss of the union of the Persons of the Trinity. The fruitfulness of the marriage act reflects that God is a creator and has charged man to be an agent of his ongoing work of creation. And, finally, if God's love means total self-giving unto death on a Cross, then man and wife must give themselves to each other totally — no pettiness, no adultery, no polygamy, no divorce, and no nonmarital sexual acts. According to the story that Christianity has been telling for 2,000 years, Christianity's view of sexuality isn't some encrusted holdover from a socially conditioned patriarchal era on its way out, but is instead deeply connected to its understanding of who God is and what human beings exist for.
Christianity's opposition to homosexuality is not the product of some dusty medieval exegete poring over obscure Old Testament verses. From the beginning, what set apart the new and strange sect called Christians from the rest of their culture was their strange sexual ethic. They refused polygamy. They refused the sexual exploitation of slaves by their owners. They refused prostitution, premarital sex, divorce, abortion, the exposure of infants, contraception — and homosexual acts.
As the British philosopher Elizabeth Anscombe noted, in this Christianity was a great equalizing force: Because of the fact of pregnancy, most premodern cultures enforce sexual restraint on women. Where Christianity's bizarreness lay is that it insisted on the same restraint on the part of men — whether gay or straight. Christians held a bizarrely exalted view of (lifelong, monogamous, fertile, heterosexual) marriage as reflecting the image of God himself, but, even more bizarrely, held up lifelong celibacy as an even more exalted state of life. From the start, alongside the refusal to worship the Roman emperor as a god and Christians' supererogatory care for the poor, this was what set Christians apart, and goes a long way toward explaining why Pagan writers could scorn Christianity as a religion of "slaves and women."
Of course, like all ideals, this was very often observed in the breach, but such is the lot of human nature. Human beings, societies, cultures, and religions have a worldview that includes moral "oughts," and that they only partially live up to, as anyone who has tried to stick to a diet knows.
But the point is clear: From the start, Christians embodied a different way of life. From the start, they understood a particular sexual ethic to be a keystone of this way of life. And they understood the logic of this ethic as prohibiting (among other things) homosexual acts.
Over its 2,000 years of existence, Christianity has been surprisingly consistent in holding the line on what our faith views as fundamental precepts of Christian ethics, some of which make same-sex marriage an impossibility.
Today, many gay-marriage proponents don't just want a live-and-let-live relationship with Christianity — they want to force Christianity to affirm same-sex marriage. They do this, I think, because they believe very strongly in the rights of gays to marry, but also largely because they think that it will only take moderate prodding to get Christianity to cave in. History and Christianity's own self-understanding suggest, however, that such an outcome is not in the cards.

Continue reading for free
We hope you're enjoying The Week's refreshingly open-minded journalism.
Subscribed to The Week? Register your account with the same email as your subscription.