A model, a murder, and the seedy underbelly of Shanghai
And the city swallowed them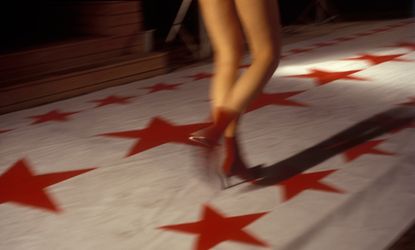 (Image credit: (Robert van der Hilst/CORBIS))
Diana O'Brien was a few months shy of her 23rd birthday when she was stabbed to death in a Shanghai stairwell. She had come to China as a fashion model just 12 days earlier.
It was 2008. China was in the midst of a dizzying economic boom that had begun in the early 1990s and was then picking up pace with the approach of the Beijing Olympics. As market reforms attracted the most powerful corporations from across the globe, foreign models graced Shanghai's billboards; Chinese companies had come to believe that everything sold better when advertised by a white face. But to these clients — which ran the gamut from pajama brands to plastic surgery clinics — the models all looked the same. Canadians competed for jobs against Brazilians, Romanians, and Ukrainians. Though always reliant on the exotic beauties of faraway lands, modeling had become an industry without a center. Like tech and garment manufacturing, it had gone completely and irretrievably global.
For most foreign models, this was not a good thing. Shanghai's boom was powered by an army of internal migrants who toiled for a few hundred dollars a month and slept in squalid dormitories on the outskirts of the city. The models who arrived in the city on short-term visas ended up working under conditions that were not much better. The apartments they lived in were less than glamorous, and the vast majority of women worked under the table.
Subscribe to The Week
Escape your echo chamber. Get the facts behind the news, plus analysis from multiple perspectives.
SUBSCRIBE & SAVE
Sign up for The Week's Free Newsletters
From our morning news briefing to a weekly Good News Newsletter, get the best of The Week delivered directly to your inbox.
From our morning news briefing to a weekly Good News Newsletter, get the best of The Week delivered directly to your inbox.
According to a pamphlet O'Brien received shortly after signing with her Canadian agency, Coultish Management, "The industry has been glamorized by the media, and therefore has resulted in many aspiring models." It cautioned that foreign agencies "can afford to be very critical with so many prospects to choose from." But breathless media reports were hardly the problem. New technologies — and an expanded labor pool — were. Whereas securing a contract abroad once required printing an expensive portfolio, now it was enough to simply look good online. As the barriers to forming an agency fell and models flooded the market, foreign agencies increased their cut from as low as 25 percent all the way up to 50 percent. In markets like China, agencies multiplied to the point that even veterans had trouble hazarding a guess at how many exist.
(More from Foreign Policy: How Microsoft perfectly predicted the World Cup's Final Stage)
JH, the Chinese modeling agency Coultish Management partnered with, in many ways exemplified this race to the bottom. O'Brien never saw the agency office and knew the bookers only by their English names. The two addresses JH listed in promotional materials were in residential compounds. One was on the second floor of a dank, dirty, tiled building where residents hung wet laundry out the windows. The other was a small fourteenth-floor apartment in a neglected tower. Neither looked anything like a booking center for international models.
Local agencies recover costs by charging models exorbitant fees. JH billed O'Brien $360 per month for her room in the agency's apartment. If all three rooms were filled — and often models were crammed 10 to an apartment — the agency could pull in nearly twice the going rate. Then there were various other expenses, all of them at premium rates: almost $150 to feature O'Brien on the JH website, an equal amount for promotional materials, nearly $300 a month for company-provided transportation, and up to $50 every time the agency printed her portfolio.
For many new models, making any money at all on their first overseas trip is considered a success. Some even end their stints abroad in debt to an agency.
O'Brien soon found other reasons to be disappointed with her Chinese agency. After JH booked her work as a whiskey girl, hawking Ballantine's at clubs in second-tier cities throughout China, she began telling other models she met in Shanghai that she was unhappy. Her tales may have prompted other stories of bad gigs: the model who was told she'd be working a trade show, then showed up to discover it was for sex toys. The male model who was booked for a private event, then learned his task was to pop out of a woman's birthday cake. The 16-year-old girl who was booked as a hostess on a boat full of rowdy men.
(More from Foreign Policy: I thought Xi liked sports)
The experience of another Canadian model named Renee Thomas — who was what the youth-crazed industry terms a "fresh face" when she started working at 14 — shows how far the industry has fallen. On her first contract, in Bangkok, she was never paid by the local agency. In Paris, she was forced into a fruit-and-vegetable diet by the French agency that hosted her, eventually growing so sick that she had to return home. Her nascent career came to a halt in Beijing. She'd had to front the money for her own flight — a highly unusual setup in Asia — and for two weeks, she booked not even one job. Finally, her Chinese agent called one night to say he would stop by the apartment to escort her to a fitting. He picked her up at 7 p.m. and started driving, then suddenly pulled the car over on the highway. "I didn't bring you into China to model," he said. Instead, he proposed. He wanted to become a Canadian citizen, he said.
In practice, models are allowed to tell their agents that they're not comfortable with certain jobs — most agencies accept that some models do not want to pose naked, do a lingerie shoot, or wear fur. But many new models don't know that the option to refuse is available. And with China's smaller, less professional agencies, models can face a lot of pressure to take whatever is offered. One of a laundry list of situations that would allow JH to cancel O'Brien's contract was "refusing the casting or confirmed job." The advice email from Coultish Management included a side note that read as if it had been written specially for O'Brien: "Models always think the grass is greener on the other side... it rarely is... this agency has finally given you your chance in Asia!"
O'Brien's chance in Asia lasted just 12 days, and her murder drove lurid headlines on two continents. In Shanghai, meanwhile, police detectives mounted an investigation of a scale and pace scarcely imaginable in the West.
(This article is an excerpt from the ebook And The City Swallowed Them. To read more, click here; to support the book on Kickstarter, click here.)
(More from Foreign Policy: The bleeding edge)
Foreign Policy talks to Mara Hvistendahl
I first met Hvistendahl in Shanghai in December 2006, 20 months before the 2008 Olympics. Preparation for the Games already dominated Beijing — wandering its streets sometimes felt like limning a massive construction pit, and we expats joked that the city's official bird should be the crane. But the pre-Olympics anxiety also made itself felt in Shanghai, China's financial capital, as city officials tried to minimize anything that could distract attention from China's celebration. Foreign Policy spoke with Hvistendahl about the way the Olympics shaped the murder case she describes in And The City Swallowed Them; the world of modeling in China; and how life for expats there has changed since the heady days of 2008. This interview has been edited and condensed for clarity.
—Isaac Stone Fish, Asia editor
Foreign Policy: How did you hear about this case?
Mara Hvistendahl: I don't remember when I first heard the news. It happened just a few months before the 2008 Beijing Olympics. Even in Shanghai, the police were cleaning up everything, people riding motor-scooters without permits were getting stopped, they were planting trees everywhere, and then the murder happened.
I think like many expats in Shanghai, I was pretty shocked. I'd seen so many fistfights, and domestic violence, and bats, but murder.... Violent crime in the center of the city is pretty rare, and a violent crime against a foreigner is especially rare.
I was a young woman living alone in a pretty unsafe cement apartment building, whose main entrance had no door. I had never thought about safety before, it was just not something that crossed my mind.
FP: Who do you think did it?
MH: It's hard to know for certain in China — there are some cases of wrongful convictions that are pretty cut and dry; like that man convicted of murdering someone who showed up alive years later...
In this case, Diana's mother was pretty OK with the degree of openness that the police showed her, and the way that the trial went. It seems like they were more transparent than I would have expected. Her family was shown a lot more than they would have been in Canada.
FP: Would you say China is a particularly violent place?
MH: There aren't good crime statistics. Still, I was misinformed about the overall crime rate in China — it turns out that although the homicide rate is not as high as the United States, it's supposedly higher than Europe.
FP: What's the Shanghai expat scene like these days?
MH: When people think about expats in Shanghai — which they don't do that much — they think good salaries and drivers and nice houses. But there are a lot of foreigners who come here to do temporary jobs, and end up as waiters, or DJs, or bartenders.
They are in a gray area, and the rule of law is not extremely strong here. But as models who don't have proper papers sometimes find out, if you cross somebody, or if someone is out to get your company, than it can suddenly matter that you don't have the right visa.
In May, Beijing police reportedly held a fake casting call for models, and then detained more than 60 of them.
FP: What's the modeling scene like in Beijing?
MH: Beijing is more bottom of the barrel for models. I interviewed one American model who had to live in an apartment with 10 other models; there wasn't even a bed for her when she arrived. The agency booked them on pretty horrible jobs, like hostesses on a boat full of men.
FP: What's the Shanghai expat scene like for you now?
MH: Well I'm a mother now, so my life is a lot more boring. Today, there are more and more expats living in Shanghai, more and more young people who come in temporary situations. There are also a lot of people from Spain, and also Italy, fleeing bad economic conditions in their countries. So there are a lot of Spanish restaurants; and you can now find good paella.

Continue reading for free
We hope you're enjoying The Week's refreshingly open-minded journalism.
Subscribed to The Week? Register your account with the same email as your subscription.