Game of Thrones is making a huge mistake by cutting Lady Stoneheart
Yes, the TV show needs to streamline George R.R. Martin's massive novels — but the omission of the fan-favorite character has major implications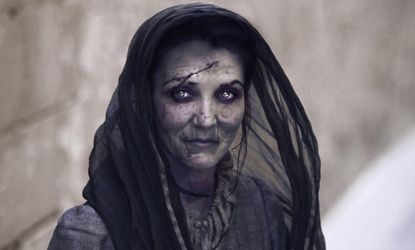 (Image credit: (<a href="http://vasilis-kun.deviantart.com/art/Lady-Stoneheart-376877915">Vasilis-Kun/deviantART.com</a>))
Sign up to our 10 Things You Need to Know Today newsletter
A free daily digest of the biggest news stories of the day - and the best features from our website
Thank you for signing up to TheWeek. You will receive a verification email shortly.
There was a problem. Please refresh the page and try again.
If you need proof that Game Of Thrones has a passionate fanbase, look no further than "Lady Stoneheart." When the fourth season ended without the fan-favorite character making an appearance, book fans were so outraged that Lady Stoneheart trended on Twitter. Think about how astonishing that is: The death of poor little Jojen Reed didn't trend; neither did Stannis Baratheon's surprise attack north of the Wall, nor even Tywin Lannister taking a crossbow bolt to the groin. After Game of Thrones' buzziest episode of the year, the thing that trended on Twitter didn't even happen.
So why the outrage?
[Major spoilers for those who haven't read the books]
Subscribe to The Week
Escape your echo chamber. Get the facts behind the news, plus analysis from multiple perspectives.
SUBSCRIBE & SAVE
Sign up for The Week's Free Newsletters
From our morning news briefing to a weekly Good News Newsletter, get the best of The Week delivered directly to your inbox.
From our morning news briefing to a weekly Good News Newsletter, get the best of The Week delivered directly to your inbox.
Days after the Red Wedding, Catelyn Stark's corpse is pulled out of a river and discovered by the Brotherhood Without Banners. They bring her back to life using Beric Dondarrion's special knack for dodging death, and the matriarch of House Stark lives again.
Kind of. Having been left to rot for several days, Catelyn's skin has turned the color of curdled milk, her hair has mostly fallen out, and she has to put her hand over the large slash across her throat in order to speak. She's a zombie in everything but name — and following her rebirth, she sets out on a campaign to kill anyone even remotely associated with the wedding that ripped her family apart.
Unfortunately, it seems as though Game of Thrones will cut that storyline entirely. In a new interview with Entertainment Weekly, Michelle Fairley — who played Catelyn on the show — confirmed she won't be returning to the show to play Stoneheart. "She's dead," said Fairley. "You respect the writers' decision. I knew the arc, and that was it. They can't stick to the books 100 percent. It's impossible — they only have 10 hours per season."
As Game of Thrones plays fast and loose with the source material — and the pressure mounts for author George R.R Martin to finish the sixth and seventh book — it's becoming more obvious that not everything he writes can fit into the seven planned seasons of the TV adaptation. But skipping the Stoneheart storyline entirely feels like a huge blow to the show. Here's why it's such a bad move:
Lady Stoneheart brings a well-deserved sense of justice to Westeros
There is very little justice in Westeros. From Ned Stark trying to do the right thing to Oberyn Martell fighting valiantly for a just cause, the good guys have a habit of being crushed to pieces — a move George R.R. Martin has become famous for.
And though her quest to murder everyone involved in the Red Wedding is morally dubious at best, Lady Stoneheart's bloodthirsty campaign in the Riverlands is a hugely compelling part of the books, which often subverts a traditional sense of justice to dispel typical fantasy tropes.
With the Stark children scattered, Lady Stoneheart's presence in the books feels like the start of a steady, slow pulse gently beating the once-storied family back to life. Without her, the scales of justice feel even more thrown out of whack.
It's a huge cliffhanger
Game Of Thrones has previously executed incredible, jaw-dropping cliffhangers. The final moments of season one changed everything, as Daenerys Targaryen emerged from the ashes of Khal Drogo's funeral pyre with a dragon draped around her shoulder. At the end of season two, we finally saw the ominous White Walkers, moving silently in the direction of the Wall on their fleshless, reanimated horses. Season three's ending was less exciting, with Dany crowdsurfing across her new followers — but ending season four with the appearance of Stoneheart would have been a huge moment.
Imagine Catelyn removing her hood, showing her decaying skin and mutilated body as she silently sentences a Frey bannerman to death. It would have been incredible. Game Of Thrones has trained us to believe that death means death — so why not make the 10-month wait even more tense by turning that idea on its head?
Stoneheart adds a much-needed layer of complexity to Catelyn Stark
Jaime Lannister, Theon Greyjoy, The Hound — many of Game of Thrones' standout characters have been the ones whose circumstances have thrown them into dangerous new territory, offering more insight into their characters as they attempt to survive.
Catelyn — despite being a politically-savvy and crucial member of Robb's council in the books — is painted a little one-dimensionally on the show, losing some of her agency in the translation from page to screen. In the pilot, she pines for Ned not to leave Winterfell; in the books, it is Ned who is reluctant to go, and his wife who persuades him that it's in their best interests for him to go to King's Landing.
Bringing Catelyn back as Stoneheart adds new layers of complexity to a character who didn't get fleshed out much in the show. Murderous, bloodthirsty, and out for revenge, Lady Stoneheart is not the gentle mother she once was, and, thinking her entire family dead, will stop at nothing to take down those responsible.
Stoneheart's absence in the show has major ramifications for her role in the books
Stoneheart's appearances in the subsequent books are fleeting — but like every other storyline in George R.R. Martin's books it feels like it's leading to something huge.
But is it? By cutting an entire storyline from the book — assuming showrunners D.B Weiss and David Benioff know what they're doing — the implicit suggestion is that Lady Stoneheart's arc doesn't end up being a significant part of the overall storyline. It also suggests the characters she does interact with (Brienne, Pod, and likely Jaime) are going to do much different things without her in season five.
Like the death of Jojen at the end of season four, these decisions leave fans of the book conflicted. It makes any future appearances of these characters in the novels seem hollow and unsatisfying because the show appears to have been created with the idea that these characters have no impact on their more streamlined version of events.
The internet is awash with theories relating to Stoneheart's impact on the next two books, particularly concerning her role in Jaime, Brienne, and Sansa's storylines. But now that she seems to have been cut from the show entirely, we need to face the very real possibility that Stoneheart's quest for revenge was just another moment of false hope in Game Of Thrones' increasingly bleak universe.
For a different perspective on whether Game of Thrones should adhere to the novels, read Scott Meslow's take here.
Continue reading for free
We hope you're enjoying The Week's refreshingly open-minded journalism.
Subscribed to The Week? Register your account with the same email as your subscription.
Sign up to our 10 Things You Need to Know Today newsletter
A free daily digest of the biggest news stories of the day - and the best features from our website