Mad Men recap: 'Field Trip'
This isn't the Don Draper we thought we knew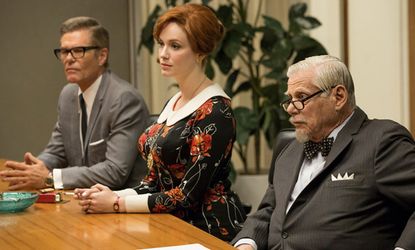 (Image credit: (Michael Yarish/AMC))
Sign up to our 10 Things You Need to Know Today newsletter
A free daily digest of the biggest news stories of the day - and the best features from our website
Thank you for signing up to TheWeek. You will receive a verification email shortly.
There was a problem. Please refresh the page and try again.
Maybe Sally's forgiveness is what Don Draper needed to kick the rest of his life back into gear. In Sunday night's "Field Trip," the Mad Men protagonist mounted a full-throttle attempt to rehabilitate both his marriage and his career — and while his chances for success at both seem dubious, his newfound earnestness is hard to ignore.
It starts with his wife Megan, who is struggling with feelings of inadequacy after botching her audition for Bracken's World. (Don't worry, Megan — it would have been a pretty short-lived gig anyway.) The news of her depression comes to Don by way of Megan's obnoxious manager Alan Silver. Don quickly hops on a flight to go cheer her up (and deliver a few pieces of painfully unsubtle advice about not getting "angry or desperate").
This is the most we've seen Don work on his marriage since the climactic "Are you alone?" that ended season five, and it's clear that he's making a genuine effort to recover from the disastrous phase of his marriage that ended with Megan moving to California. Earlier this season, Don admitted that he was a terrible husband while spurning an opportunity to cheat on his wife. I don't want to overpraise marital fidelity, which should really be the bare minimum for a successful relationship — but he has cheated on Megan in the past, and he's not doing it anymore.
Subscribe to The Week
Escape your echo chamber. Get the facts behind the news, plus analysis from multiple perspectives.
SUBSCRIBE & SAVE
Sign up for The Week's Free Newsletters
From our morning news briefing to a weekly Good News Newsletter, get the best of The Week delivered directly to your inbox.
From our morning news briefing to a weekly Good News Newsletter, get the best of The Week delivered directly to your inbox.
But even if Don really has changed, can he convince anyone else that he's no longer the Don Draper they all expect him to be? We're only as good as our reputation, and Don's record of backsliding speaks for itself. "I was your secretary," Megan spits at him during a nasty fight on his brief trip to California. "I know what you're like when you're alone." We know what Don's like when he's alone, too: drinking too much, neglecting his kids, and paying a prostitute to slap him around.
Don has been chasing a brighter future since Mad Men's first season, when he desperately, pathetically tried to get Rachel Menken to run away with him. It's still unclear that he's actually capable of the day-to-day work and commitment that a successful relationship requires. Don and Megan's relationship began with the hopeful, thrilling promise of a trip to "Tomorrowland" — but now it's surviving only by their nostalgia for the happier days of their marriage. "Field Trip" offers a terrifying kind of dress rehearsal for the divorce they seem to be hurtling toward. "I don't want you to worry about me anymore," she says. "It's okay, Don. This is the way it ends. It's going to be so much easier for both of us."
This is another false breakup — but how many times can Don and Megan reach this precipice and pull themselves away from the edge? In season five's "Far Away Places," Megan said, "Every time we fight, it just diminishes this just a little bit." At a time when Don is desperately attempting to rebuild the life he so carelessly threw away, he's putting his wife in a position to openly recognize that he doesn't really understand her at all.
Don's brief trip to Los Angeles is predicated on the dysfunction of his relationship with Megan, but "Field Trip" also draws a fascinating parallel with another troubled, patronizing relationship: the one between Don's ex-wife Betty and their son Bobby. Bobby has never been Mad Men's deepest character — there's a reason four different actors have played him over the course of the series — but his sweet, simple affection for his mother is turned against him in "Field Trip."
In an uncharacteristic display of maternal warmth, Betty volunteers to chaperone Bobby's field trip to a local farm. Bobby is the mama's boy to end all mama's boys; he spends the entire bus ride rattling off a list of his favorite movie monsters to her, and saves her the seat next to him at the picnic. But when Bobby unthinkingly trades her sandwich for a bag of gumdrops, Betty refuses to let him apologize or let her anger go, forcing him to eat them all himself and giving him the cold shoulder for the rest of the day. "It was a perfect day, and he ruined it," complains Betty to Henry later that evening. Of course, the "perfect day" was actually ruined by Betty, whose pettiness and spite were enough to break her remorseful son's heart.
For all the problems in their marriage, Don and Betty generally had one thing in common: an utter inability to admit when they were wrong. But Don's troubling trip to Los Angeles, when Megan finally learns the real reason for the strangeness of their cross-country interactions, is enough humble pie to make him go, hat in hand, to Roger Sterling and ask for his job back. It takes a full, humiliating day of standing around and being gawked at by his former coworkers, but Don's persistence pays off when he receives an offer.
Unfortunately, that offer comes with plenty of strings attached. "You are not allowed to be alone with clients," says Cooper. "You are to stick to the script in meetings, and that means the script will be approved by the people in this room."
"Outside of client hospitality, there will be no drinking in the office," says Joan. "You'll be in Lane's old office," says Roger. "And you will report to Lou," says Cutler.
It's a draconian, paralyzing list of demands — the kind of creative and professional constraints that caused Don to snarl back at Duck Phillips in Mad Men's second season, and to split off to form Sterling Cooper Draper Pryce in the first place. The partners clearly know this, and probably expect him to quit. But as this season of Mad Men keeps reminding us, this isn't the Don Draper we think we know. "Okay," says Don. It's a contract that will prevent him from doing literally all of the things he's best at, and it probably prevents him from doing the one thing that stands a chance of saving his marriage: moving to Los Angeles.
Does this new position offer an opportunity for a humbler, more stable Don Draper, or is Don's fear pushing him to reenact a lesser version of the life he once had?
"I wish it was yesterday," says Bobby Draper, ruefully, at the end of "Field Trip." But there's no going back after making a mistake; there's only the chance to move past it.
Read more Mad Men recaps:
Continue reading for free
We hope you're enjoying The Week's refreshingly open-minded journalism.
Subscribed to The Week? Register your account with the same email as your subscription.
Sign up to our 10 Things You Need to Know Today newsletter
A free daily digest of the biggest news stories of the day - and the best features from our website
Scott Meslow is the entertainment editor for TheWeek.com. He has written about film and television at publications including The Atlantic, POLITICO Magazine, and Vulture.