The 5-star soup kitchen
"Our guests, they were in awe that here's this fancy chef from this fancy place, cooking for them. It really makes people feel cared about."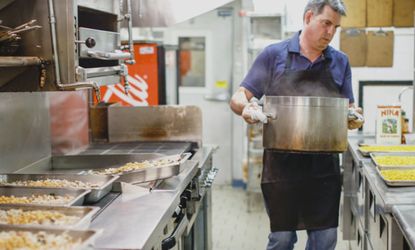 (Image credit: (<a href="http://narrative.ly/do-gooders/five-star-soup-kitchen/">Narratively/Danielle Elliot</a>))
Sign up to our 10 Things You Need to Know Today newsletter
A free daily digest of the biggest news stories of the day - and the best features from our website
Thank you for signing up to TheWeek. You will receive a verification email shortly.
There was a problem. Please refresh the page and try again.
On the second Wednesday of each month, in the damp pre-dawn hours generally reserved for the city's late-night revelers, David Garcelon rises for the day. By five o'clock, sleeves rolled up to his elbows, black apron tied on and coffee in hand, he takes his place as sous chef at St. Bart's soup kitchen. Garcelon spends the early morning hours helping a crew of volunteers rinse and chop dozens of heads of lettuce and cabbage, then tomatoes, bell peppers and whatever other ingredients make up the daily salad. He slices open 102-ounce cans of green peas and sweet corn to pour into a bubbling vat of stew, which will stuff enough shepherd's pie to feed the 150 or so homeless men and women who'll be waiting at the door by 7 a.m.
By 7:30, Garcelon removes his apron and crosses 50th Street, where the opulent 42-story Waldorf Astoria rises high above St. Bart's dome. He enters the 1,413-room hotel, with its decadent Art Deco decor and crystal chandeliers. There, donning a crisp white hat and coat, he takes his place as the Director of Culinary, overseeing 148 chefs and cooks who serve more than 600,000 meals each year, visiting royals and heads of states among their guests. But when asked what he is most proud of about his work, Garcelon looks back across the street to the soup kitchen.
(More from Narratively: If you see something, do something)
Subscribe to The Week
Escape your echo chamber. Get the facts behind the news, plus analysis from multiple perspectives.
SUBSCRIBE & SAVE
Sign up for The Week's Free Newsletters
From our morning news briefing to a weekly Good News Newsletter, get the best of The Week delivered directly to your inbox.
From our morning news briefing to a weekly Good News Newsletter, get the best of The Week delivered directly to your inbox.
Garcelon, 47, began his career at 14 in the kitchen of The Pizza Place in his small hometown of St. Stephen, Canada. "At the beginning it was just a job," he remembers. "But I loved learning new stuff daily. We made everything from scratch and I loved the adrenaline rush when it got busy."
From St. Stephen, he went on to study at the Culinary Institute of Canada and Cornell University's world-renowned School of Hotel Administration, then worked his way up the ladder in the Canadian culinary scene over the next decade.
One of his defining career moments came on July 5, 2010. At 4:42 that afternoon, about two hours before he was to serve a state dinner for Queen Elizabeth II, Prince Phillip and 375 other guests at the Fairmont Royal York hotel in Toronto, a city hydro transformer station caught on fire. The hotel, along with about 250,000 homes, lost power. Garcelon scrambled to find a working kitchen, finally ending up at the chef's training school at George Brown College, where his wife Kylie was an instructor. Toronto police escorted Garcelon and a van full of vegetables, sauces, beef tenderloin and curried mushroom risotto through rush hour traffic, zipping back to the hotel just in time for the scheduled dinner. As he arrived home that evening, he got a call: The Queen had requested to meet him so she could thank him for his efforts.
Garcelon moved to New York to work at the Waldorf Astoria in September 2011. A year later, he was inducted into the inaugural American Chef Corps, a diplomatic program started by former Secretary of State Hillary Clinton to design menus for visiting diplomats.
The soup kitchen, an initiative managed by the community service organization Crossroads, is housed in St. Bartholomew's, a nearly 100-year-old Episcopalian church running from Park to Lexington Avenues. Part of the lease agreement between the church and the on-site Inside Park farm-to-table restaurant is that Crossroads can use the restaurant's kitchen on Sunday, Monday, and Wednesday mornings to prepare a sit-down breakfast for homeless guests. Amongst its many programs overseen by Reverend Edward Sunderland, Crossroads also provides a nightly dinner service in partnership with Coalition for the Homeless, as well as a women's shelter that houses and feeds 12 women each night. Altogether, Crossroads has served more than 84,000 meals in the past year.
On any given Sunday, Monday, or Wednesday morning, head chef John Neely, 65, a Le Cordon Bleu-trained chef with more than 20 years of experience, whirls around the kitchen opening cans and recommending spices. He reminds volunteers to go easy on the salt, because homeless people often have hypertension issues. Garcelon samples a bit of the salad dressing. He recommends adding a bit more honey, maybe a dash of freshly ground black pepper.
"It doesn't matter who's eating, whether you're starving or not, you want your food to taste good," Garcelon says over coffee at the Waldorf Astoria's Peacock Alley restaurant, his towering white chef's hat momentarily placed on the table. He speaks with shy enthusiasm, his Canadian accent coming through as he describes the differences between the experience at St. Bart's and the Waldorf Astoria, neighbors a world apart. "There's a sense of urgency when there's 200 people lined up at the door in the rain. It's the real world. I don't get to do a lot of that here."
At the Waldorf, the chefs can expect him to drop in at any time, calmly glancing over their shoulders to see how dishes are coming along. At St. Bart's, Garcelon welcomes the opportunity to step back from the leading role. Neely creates new recipes for the soup kitchen every week, offering a lesson in resourcefulness. "I'm definitely learning from him in terms of how you can be creative with the ingredients you have," says Garcelon with a slight chuckle.
(More from Narratively: Kickstarting a cure)
"It's fun to make it up as we go," he adds. No matter how perfectly Neely plans a menu, there is no guarantee they will have all the ingredients. Most of the produce is donated, and the balance has to come out of the $750 weekly budget. The meals end up costing less than $1 per person.
Neely designs more elaborate menus when Garcelon is there to handle the main dish, freeing Neely up to work with other volunteers on a series of side dishes like fresh mozzarella-cheese bread and feta-watermelon salad.
"Our guests, they were in awe that here's this fancy chef from this fancy place, cooking for them," says Hazel Crews, who oversees the breakfast service. "It really makes people feel cared about."
"John does a great job. But we noticed one Wednesday that the meal quality jumped," says Peter Myhre, 46. "You know when David's here." Myhre is the informal Crossroads food critic, one of six or seven guests who Neely seeks out for menu feedback. He previously worked in the restaurant industry, but has been homeless since 2008.
"Our numbers are through the roof this year," says Neely. "I have guys tell me that last year, they used to come, and it was good to eat. But this year, they never miss a meal. For many of them, this is the only meal for the whole day."
On the dreary morning of October 30, 2012, as New Yorkers started to assess the damage wreaked by superstorm Sandy, Rev. Sunderland wondered how he would go about feeding his homeless patrons. In the wake of the storm, he knew the local restaurants and businesses that provide Crossroads with rescue food would be closed.
"We didn't have dinner," he recalls, "but we were going to have diners. We had to figure something out."
Less than an hour before the diners arrived, Sunderland thought of calling Garcelon. Because of the storm, a large client had just cancelled a dinner party at the hotel, and the chef promptly had trays upon trays of chicken breast and lightly-cooked green beans ready for the shelter.
"David didn't just give us dinner for the night," Sunderland says. "He gave us enough for Tuesday, Wednesday, Thursday, Friday. It was amazing."
When a snowstorm disrupted the soup kitchen's dinner service, Sunderland again called Garcelon. This time, the chef was also stranded — his flight from Toronto to New York was delayed due to the storm. But even from so many miles away, he found a way to help. He called his chefs, who again had trays of warm food ready when the Crossroads volunteers came over.
Since then, Garcelon has worked out a way for the shelter to regularly receive the hotel's excess: Crossroads volunteers stop by every Friday afternoon to pick up baked goods and other food items, as well as the Friday night dinner for the shelter. After adding rooftop beehives and a vegetable garden to the hotel's 20th-floor terrace, Garcelon ensured that the soup kitchen receive the excess produce, and he is helping Neely develop similar gardens at St. Bart's.
(More from Narratively: A beam of hope)
"I actually believe really strongly that one of the problems with institutional food is that it's not made fresh," says Garcelon. "It's not that hard to use fresh ingredients, and it makes a big, big difference. It's horrible how much processed food we feed to people in this country."
He hopes that the excess produce initiative will help ensure that the city's homeless have access to the same fresh ingredients and meals as diners at the Waldorf do.
"They're very proud of it," Neely says of Crossroads' guests. "They love it, they say we're the only soup kitchen with a five-star chef."
And the rating of Crossroads' kitchen may even go up, if Garcelon's latest plan comes to fruition. Together with Crews and Neely, as well as the general manager of the Waldorf Astoria, he is drafting a letter to other local hotels, such as the InterContinental and the Four Seasons, asking them to join the Waldorf Astoria in donating dinner for shelter guests. It would be easy for the hotels to do, Garcelon says, and would cost almost nothing. Garcelon is also trying to recruit fellow Waldorf chefs to join him at five a.m. It's one very early morning a month, but Garcelon doesn't think it's a big deal.
"It's so easy to do, it's a good thing to do," the ever-humble chef says. "Hopefully we can do more of it."
Read more of this story at Narratively.
Narratively is an online magazine devoted to original, in-depth and untold stories. Each week, Narratively explores a different theme and publishes just one story a day. It was one of TIME's 50 Best Websites of 2013.
Continue reading for free
We hope you're enjoying The Week's refreshingly open-minded journalism.
Subscribed to The Week? Register your account with the same email as your subscription.
Sign up to our 10 Things You Need to Know Today newsletter
A free daily digest of the biggest news stories of the day - and the best features from our website