Does welfare make people lazy?
Conservatives often claim that it does. It's not that simple.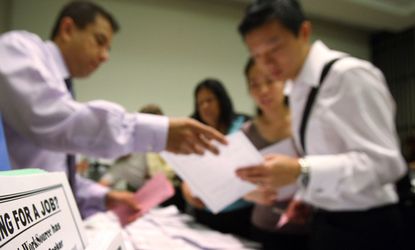 (Image credit: (David McNew/Getty Images))
Sign up to our 10 Things You Need to Know Today newsletter
A free daily digest of the biggest news stories of the day - and the best features from our website
Thank you for signing up to TheWeek. You will receive a verification email shortly.
There was a problem. Please refresh the page and try again.
In recent years, there has been a steep decline in labor force participation — essentially, the percentage of working-age adults who are either working or trying to get work. The House Budget Committee's recent War on Poverty report largely blames this trend on increased spending on anti-poverty programs, which supposedly reduce many people's incentive to work.
This echoes arguments that many conservatives have made for years — essentially, that the social safety net has been turned into a welfare hammock. Taken to its extreme (and it often is), this line of argument suggests that welfare recipients are cashing in on an easy ticket to a comfortable life in which they opt out of work and instead spend all day smoking dope or playing video games or creating welfare babies to get bigger welfare payments.
As Paul Ryan, chair of the House budget panel, said two years ago: "We don't want to turn the safety net into a hammock that lulls able-bodied people to lives of dependency and complacency, that drains them of their will and their incentive to make the most of their lives."
Subscribe to The Week
Escape your echo chamber. Get the facts behind the news, plus analysis from multiple perspectives.
SUBSCRIBE & SAVE
Sign up for The Week's Free Newsletters
From our morning news briefing to a weekly Good News Newsletter, get the best of The Week delivered directly to your inbox.
From our morning news briefing to a weekly Good News Newsletter, get the best of The Week delivered directly to your inbox.
The broad strokes here shouldn't be particularly controversial. After all, a person who can get $500 a month for free is going to be a lot less desperate for work than someone who doesn't get $500 a month for free. Both people may still be quite desperate — $500 a month isn't exactly a ticket to Easy Street — but there should be no doubt about who is more desperate.
The real question is whether that effect actually produces any big effects, like being a cause of the falling labor force participation rate.
The best way to measure whether the unemployed are behaving lazily is by examining the ratio of job seekers to job openings. If the problem is that unemployed people are slacking off work to enjoy the fruits of government welfare, we would expect to see a shortage of labor in the economy. Employers trying to recruit workers to expand their businesses would come up against the fact that job seekers are in short supply. Job vacancies would go unfilled and wages would be bid upward as businesses fight to recruit scarce labor away from the easy option of free welfare money. In such a scenario, cutting welfare would incentivize work, and help businesses fill vacancies.
And here is where the evidence undercuts conservative attacks on welfare. The data shows decisively that the problem is not laziness at all, but a lack of job openings. There are still three jobseekers for every job opening. In the dark days following the 2008 recession, that ratio was as high as seven people for every job opening. Wage growth remains weak. Surely there are still people who would rather claim welfare than try to work, but with so few jobs available, these people don't make a real difference. Trying to nudge them off welfare won't expand the supply of jobs. It would increase the number of people looking for a job — and remember, there are already not enough jobs for those seeking employment.
Here's the counterargument to what I just laid out: The number of job openings does not accurately represent the amount of work that is potentially available in the economy. Without welfare, the poor would have to find a way to eat and put a roof over their heads without the assistance of government. They would make their own jobs. In many poor countries, for instance, those with nothing to eat must sell trinkets or food on the side of the road. Desperation forces them to scrounge up some sort of money-making enterprise. So, the argument goes, welfare is still a job-killer because there are lots of jobs that would be created if life were even tougher for welfare recipients.
I don't dispute that cutting welfare would make job-seekers more desperate. But that is not the same thing as creating more jobs. Without a strong enough supply of jobs for current levels of jobseekers, pushing more people into the job market is a recipe for desperation and misery rather than economic growth. It might lead to more trinket-sellers and window-washers at the roadside (as well as more thieves, hustlers, prostitutes, and beggars), but there is no guarantee that any of these people would make enough money to support themselves or their families.
Additionally, as Frances Coppola and I argue, the drop in labor force participation in recent years is explained by young people spending more years at school. Instead of starting work at 16 or 18, greater numbers of young people aren't starting work until after college — when they might be 22 or even 25 or 26 if they complete post-graduate studies.
It is foolish to enact measures that make the jobless more desperate for a job. There are three job seekers for each job opening. At some point in the future, if that ratio falls, and there are more job openings than job seekers, such welfare-constricting measures may well be appropriate. But we are a very, very long way from that.
What is needed to reduce welfare bills and get more people into work is measures to create more jobs. Boosting infrastructure spending, as well as investing in basic research and technology, would be a start.
Continue reading for free
We hope you're enjoying The Week's refreshingly open-minded journalism.
Subscribed to The Week? Register your account with the same email as your subscription.
Sign up to our 10 Things You Need to Know Today newsletter
A free daily digest of the biggest news stories of the day - and the best features from our website
John Aziz is the economics and business correspondent at TheWeek.com. He is also an associate editor at Pieria.co.uk. Previously his work has appeared on Business Insider, Zero Hedge, and Noahpinion.