The Wind Rises: Hayao Miyazaki's flawed reckoning with Japanese history
The revered animator's final film is an instructive example of Japan's ambivalence about its wartime past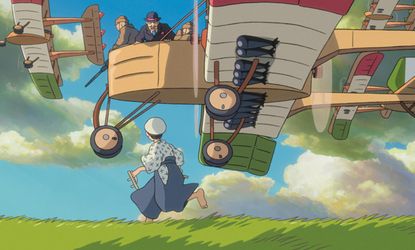 (Image credit: (Facebook.com/<a href="https://www.facebook.com/thewindrisesmovie" target="_blank">TheWindRisesMovie</a>))
Sign up to our 10 Things You Need to Know Today newsletter
A free daily digest of the biggest news stories of the day - and the best features from our website
Thank you for signing up to TheWeek. You will receive a verification email shortly.
There was a problem. Please refresh the page and try again.
In the first of many dream sequences in The Wind Rises, the latest and supposedly final film from beloved Japanese director Hayao Miyazaki, a boy scampers across the spine of his home's gabled roof to board a small airplane docked at the roof's edge. The plane has feathered wings that flap up and down, a steering wheel glued to one side like an Ikea project gone awry, and a steam-punk engine whose pistons pump crazily and puff smoke. It is, in other words, a classic Miyazaki invention, a childhood doodle brought to soaring life on the big screen.
But the boy's exuberant flight over rice paddies and under bridges, accompanied by applause from crowds below, is brought to an abrupt end by the emergence of an immense airship above him, which drops scores of bombs ridden by black blobs whose red mouths jabber demonically. The boy's aviator goggles bulge in horror, and he strips them from his face; his plane breaks apart and he falls; he wakes up at home.
From the very beginning, then, we are warned that this is not typical Miyazaki fare, since the boy appalled by the ominous vision in his dream is meant to be Jiro Horikoshi, the engineer who invented the Zero fighter plane that was used to devastating effect by Japan's Imperial Army in World War II. For his swan song, Miyazaki has taken on the defining moment of modern Japanese history, an epoch of unchecked military aggression that resulted disastrously in two mushroom clouds and a deep scarring of the Japanese psyche. And as a reckoning with history, The Wind Rises is an instructive example of just how ambivalent the Japanese can be about their bloody past.
Subscribe to The Week
Escape your echo chamber. Get the facts behind the news, plus analysis from multiple perspectives.
SUBSCRIBE & SAVE
Sign up for The Week's Free Newsletters
From our morning news briefing to a weekly Good News Newsletter, get the best of The Week delivered directly to your inbox.
From our morning news briefing to a weekly Good News Newsletter, get the best of The Week delivered directly to your inbox.
In one respect, Jiro is a natural subject for Miyazaki. "Airplanes are beautiful dreams," Gianni Caproni, the Italian engineer who serves as Jiro's inspiration, says in another dream sequence. "Engineers turn dreams into reality." That could be a motto for much of Miyazaki's career, which since 1984's Nausicaa of the Valley of the Wind has returned time and again to the theme of flight. Like his contemporary Terrence Malick, another director born in the midst of World War II, Miyazaki lavishes loving attention on the whimsical, homespun machines that enable his characters to cut through the air and traverse long distances, elevating the gadgets to symbols of the human capacity for imagination and ingenuity.
Jiro is clearly a stand-in for Miyazaki himself, an obsessive inventor who not only dares to dream, but has the chops to back it up. A notorious perfectionist, Miyazaki has outdone himself in The Wind Rises, which is easily the most visually beautiful movie he has ever made. Though his films are not known for their verisimilitude, this one delivers moments of recognition — the gleam of a wooden floorboard, snowflakes drifting through an open door — that return the world to you unembellished, in all its quiet, original glory. And despite a romantic plot line that can teeter into the melodramatic, his final movie is his most mature, a cartoon for adults that examines the only true consolations in life: love and the struggle of meaningful work.
"Artists are only creative for 10 years," Caproni warns Jiro. "Live your 10 years to the full." Never mind that in Miyazaki's case we could bump that number to 30 — this is a director's statement on his career, and nowhere is the sentiment more evident than a film that is full of so much craft and feeling.
But in another respect, Jiro is a major departure for Miyazaki. For all their imaginative pyrotechnics, his most successful films focus on the most personal of subjects. My Neighbor Totoro, for example, is essentially about how two sisters respond to their sick mother being bedridden in a hospital. Spirited Away is as much about the anxiety of moving to a new town as it is about dragons and spirits. Indeed, that Miyazaki can see elaborate emotional universes in these quotidian crises is a testament to his empathy and to his singular appeal. But he has not been one to tackle so-called big issues; the closest he has come in this respect is Princess Mononoke, a fantasy epic that is also an allegory about the cost of environmental destruction.
For the Japanese, there is no bigger big issue than World War II and its legacy. Unlike Germany, which went to self-flagellant lengths to confront its wartime atrocities, Japan has never truly come to terms with its militant history. Japan's equivalent of Nuremberg, the Tokyo War Crimes Trials, were infamously lenient on military and civilian leaders who pillaged a good part of Asia in a nationalistic rampage; indeed, many of them went on to serve in post-war governments. Under an American nation-building project that turned Japan into both a democracy and a vassal, Emperor Hirohito escaped censure completely and remained the head of state. As the historian John W. Dower put it in his book Embracing Defeat, "[I]f the nation's supreme secular and spiritual authority bore no responsibility for recent events, why should his ordinary subjects be expected to engage in self-reflection?"
Meanwhile, the nuclear attacks on Hiroshima and Nagasaki gave many Japanese cause to view themselves as victims, even though they were anything but during the war. Japanese textbooks gloss over some of the worst atrocities of the Imperial Army, including the Rape of Nanking. Japan's revisionism and continued reluctance to own up to its past remain the most controversial aspects of its current foreign policy, symbolized by Prime Minister Shinzo Abe's recent visit to Yasukuni shrine (where the remains of alleged war criminals are kept), and his public doubts about Japan's role in turning thousands of Korean women into sex slaves. And amidst a decades-long economic slump, the sad result of a triumphalist period in the 1980s that was to mark a new kind of ascendance for the Japanese, the war remains a humbling, even humiliating moment for a proud people, which Abe hopes to reverse by repealing a U.S.-imposed article in the pacifist constitution that prohibits Japan from building an army and waging war.
All of which is to say that The Wind Rises, like any historical monument, is not only a story about the past, but a window into how the past is being shaped by the present. Unfortunately, Miyazaki comes up short on the former, inadvertently revealing quite a lot about the latter. He warns quickly and often that Jiro's inventions will be used for darker purposes, and that Japan is bringing catastrophe upon itself. He takes a dutiful dig at the wartime government's thought police. He makes it clear that war is terrible, though in this context it is not unlike George W. Bush passively declaring that "mistakes were made." Responsibility for the war is always located offstage, where a god-like imperial-military clique is pulling the strings.
This is especially strange given that Jiro was not some peasant working a rice field, but, as a top engineer for Mitsubishi, a particularly bright spark plug at the heart of a raging military-industrial complex. His patriotism, however, is presented as the most innocent kind, a bid to raise a people out of poverty and backwardness through technology and innovation. There is no evidence of the top-down jingoism that seeped into every corner of society, which was effectively portrayed in a memorable scene in Clint Eastwood's Letters from Iwo Jima. There is no hint of the insidious mentality that would drive kamikaze pilots into a "death frenzy," as the historian Ivan Morris described it in The Nobility of Failure, before they smashed their Zero planes into Allied warships. Indeed, wartime Japan in Miyazaki's hands is a land of pastel colors and rainbows, an iridescent bubble completely sealed off from more gruesome realities of mass slaughter.
This is not to say that Miyazaki should have used his final film to condemn his country for all its historical failings. That is not his style, and that is certainly not the point of the story. But if he is trying to create a new kind of Japanese hero out of the ashes of the past — which I very much suspect is the point — one who, like Miyazaki himself, has changed the world through a creative mind and a generosity of spirit, then he would have done his subject and his audience a service by presenting Jiro's world in a more truthful light, since what we're left with is a main character who is oddly out of touch with reality. It turns out that Miyazaki is not prepared to take on the big issues after all.
Continue reading for free
We hope you're enjoying The Week's refreshingly open-minded journalism.
Subscribed to The Week? Register your account with the same email as your subscription.