Why I'm sick and tired of seeing naked women on HBO
Harrumph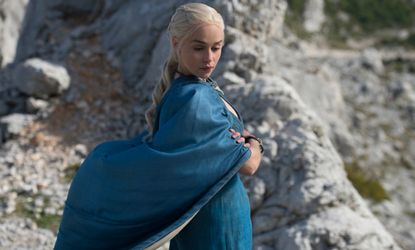 (Image credit: (HBO/Macall B. Polay))
Sign up to our 10 Things You Need to Know Today newsletter
A free daily digest of the biggest news stories of the day - and the best features from our website
Thank you for signing up to TheWeek. You will receive a verification email shortly.
There was a problem. Please refresh the page and try again.
I'm a prude.
There, I said it. Indeed, I'm probably more of a prude than I'd care to admit, and certainly more of a prude than I imagined a couple of decades ago.
And yet... I don't think it's my prudishness that has led me to this conclusion: There is way too much nudity on cable television these days, especially at HBO and Showtime. Indeed, it has essentially reached the point of self-satire.
Subscribe to The Week
Escape your echo chamber. Get the facts behind the news, plus analysis from multiple perspectives.
SUBSCRIBE & SAVE
Sign up for The Week's Free Newsletters
From our morning news briefing to a weekly Good News Newsletter, get the best of The Week delivered directly to your inbox.
From our morning news briefing to a weekly Good News Newsletter, get the best of The Week delivered directly to your inbox.
Nudity in film and its effects on society have been debated since film began, and certainly since it prompted the Hays Code in Hollywood following the occasionally libertine silent-film era. And at this point, those who oppose nudity in film and television have lost.
These days, the question has evolved into how much of this nudity is art, and how much crosses over into something else entirely. The issue arose (again) last week when BuzzFeed's Kate Aurthur interviewed Nic Pizzolatto, the creator of HBO's excellent True Detective, the first season of which ended on Sunday. Aurthur mainly focused on the storylines within the series and the themes evoked — religious, ethical, and relational — but also noted the "HBO-y" nudity that appeared in several of the eight episodes in Season 1. Pizzolatto defensively noted that "there's not a great deal of nudity in the series at all," but that "a clear mandate in pay-cable for a certain level of nudity" exists.
No kidding. As anyone who has watched original series on premium channels knows, the only constants are bare breasts and slapping pelvises. Ever since 1982's A New Day in Eden, the market has defined itself by its willingness to bare all. The fact that this definition holds to this day speaks to an anachronistic view of cable television and its audience, and to a stunted point of view from the people who produce it.
In the beginning, this nudity made at least some market sense. Series like A New Day in Eden had to differentiate themselves from their broadcast competition. Most of them couldn't compete on quality — A New Day in Eden was a bad soap opera even for soap operas — so the only way to keep viewer attention was by putting skin literally into the game.
After a decade or so, though, the premium channels started emphasizing quality and superior storytelling as ways to compete against the unoriginal programming of network television. Especially with The Sopranos, the focus shifted from nudity as a novelty (although The Sopranos featured plenty of it) to the drama and rich characters themselves being the focus. As investment in story and original thinking increased, the stature of the platform increased as well, and it attracted better writers, directors, and actors. The main selling points for cable TV series now have become originality and prestige.
Why, then, do we see endless loops of gratuitous nudity in original premium-channel television? Defenders of the practice claim it shows authenticity and artistic honesty, but the examples seen by audiences seem like anything but honesty. In Showtime's The Tudors, which ran for four seasons, we barely got past the opening credits of the first episode before the ridiculously young Jonathan Rhys-Meyers (playing a middle-aged King Henry) and a female bit player began discarding royal clothing. The series wound up making Tudor England look like a nudist colony.
HBO's Game of Thrones is arguably even more licentious. One of its directors, Neil Marshall, talked in June 2012 about the pressure executives placed on him to amp up the nudity and sexuality. One executive producer, whom Marshall declined to name, told Marshall, "I represent the perv side of the audience, and I'm saying I want full nudity in this scene." Clearly the motivation here isn't honesty.
That's not to argue that nudity never belongs in art — the classics of Renaissance paintings and frescoes clearly show otherwise, and the same is true in modern film at times. The scene in The Last Detail when a young, condemned sailor sees a naked woman for the first time resonates artistically, for instance. But here, nudity is used sparingly to tell a significant part of the story, rather than used as an abundant commodity to pander to the lowest impulses of an audience that largely watches for better reasons anyway.
Also, the "truth-telling" aspect of all this skin has a limit. That limit is the female gender, and mostly those women who fit within the current cultural female ideal. While the series Girls on HBO gets some criticism for the amount of screen time Lena Dunham spends unclothed, she at least provides an underrepresented body type. Almost all of the nudity supplied in these other cable shows feature women of a particular body type — young, slim, and buxom — and mainly from actors who aren't particularly well known otherwise. That was almost entirely the case on The Sopranos, and largely the case on True Detective, The Tudors, and many other cable shows.
Almost none of the nudity comes from the men, either. "Now, you're not going to get our two lead movie stars to go full-frontal," Pizzolatto told Aurthur about True Detective, "but we at least got Matthew's butt in there." Well, why wouldn't those stars — Woody Harrelson and Matthew McConaughey, both of whom turn in magnificent performances — offer the same "artistic honesty" as their female cast members? Given their roles on the other side of the cameras as executive producers for the series, that's certainly a call within their power.
When nudity appears in film and television, it should be used to drive the story and respect the humanity and intelligence of both the cast members and the intended audience. While cable television has won some deserved plaudits for pursuing complicated dramas and adult themes where its broadcast competitors usually cannot compete, the industry still seems intent on selling to the lowest possible denominator. And that's hardly a new day in entertainment, let alone Eden.
Continue reading for free
We hope you're enjoying The Week's refreshingly open-minded journalism.
Subscribed to The Week? Register your account with the same email as your subscription.
Sign up to our 10 Things You Need to Know Today newsletter
A free daily digest of the biggest news stories of the day - and the best features from our website
Edward Morrissey has been writing about politics since 2003 in his blog, Captain's Quarters, and now writes for HotAir.com. His columns have appeared in the Washington Post, the New York Post, The New York Sun, the Washington Times, and other newspapers. Morrissey has a daily Internet talk show on politics and culture at Hot Air. Since 2004, Morrissey has had a weekend talk radio show in the Minneapolis/St. Paul area and often fills in as a guest on Salem Radio Network's nationally-syndicated shows. He lives in the Twin Cities area of Minnesota with his wife, son and daughter-in-law, and his two granddaughters. Morrissey's new book, GOING RED, will be published by Crown Forum on April 5, 2016.